A second shooting in Virginia this month has renewed calls for Governor Glenn Youngkin to address gun violence in the state and legislate change that would restrict access to firearms in the commonwealth.
On Tuesday night, a longtime Walmart manager opened fire on fellow employees at a store in Chesapeake, Virginia, killing six people and injuring at least a half-dozen others in the second high-profile shooting in the state this month.
Last week, three students at the University of Virginia, all members of the school's football team, were shot and killed, allegedly by a fellow student and former football player.
Addressing the most recent shooting, Youngkin ordered flags to fly at half-staff and said he'd remain in contact with law enforcement officials to make resources available to the investigation.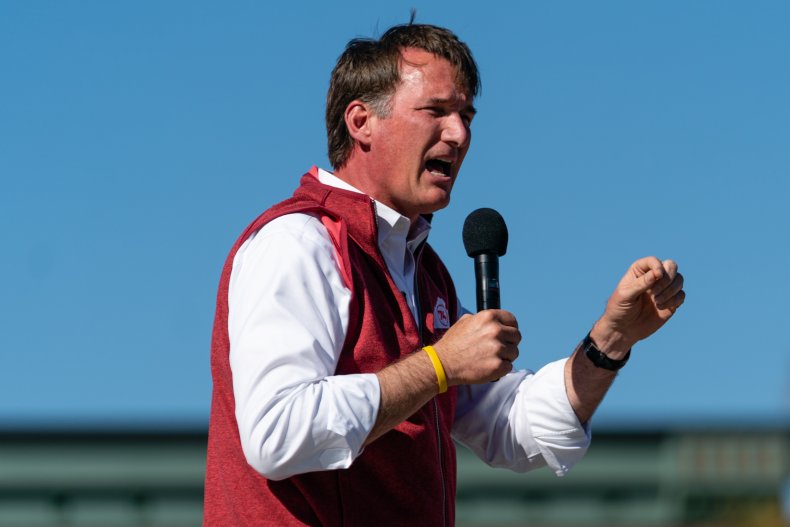 "Heinous acts of violence have no place in our communities," he said.
However, his response has been met with backlash from gun control activists who urged Youngkin to "call it what it is."
"It happened under your leadership. Instead of dishonesty, reach out and let's work together to solve this," Fred Guttenberg, whose daughter was killed in the 2018 Parkland, Florida, school shooting, tweeted at the governor.
Retweeting a clip of Youngkin describing the Walmart shooting as an example of the nation's "mental health crisis," gun control advocacy group Brady said that only 3 percent to 5 percent of violent shootings are linked to people living with serious mental illness.
"Continuing this false rhetoric deters from the evidence-based solutions that will end America's gun violence epidemic," the organization tweeted on Wednesday. "Virginians, next Nov you can vote for real gun safety champions."
"Instead of tweeting your thoughts and prayers, take action to prevent other Virginians from being senselessly shot and killed," Brady President Kris Brown added.
Youngkin's spokesperson referred to Newsweek to the governor's comments from Wednesday morning, when he said he would wait until investigations into both of Virginia's November shootings are completed before taking action.
"I think today, the most important thing we need to do is come around families and support them," Youngkin told reporters in Richmond. "It is unimaginable what they're dealing with today. When the facts come in at the end of all the investigations, then we'll have time to come together and talk about what actions we can take."
Everytown for Gun Safety, the largest gun violence prevention organization in America, ranks Virginia—the longtime home of the National Rifle Association—14th in the country regarding strength of gun laws.
The state tightened its gun laws after Democrats took control of state government in 2019. In the last two years, state legislators have passed laws requiring universal background checks, reporting lost or stolen firearms, limits on handgun purchases and red-flag laws that allow the seizure of guns from people who pose immediate threats to themselves or others.
However, Democrats lost control of the governor's office to Youngkin and the House of Delegates to Republicans last year.