A woman has been backed for refusing to greet her in-laws when they arrived at her home unannounced.
The 26-year-old woman shared her frustration on Reddit's popular r/AmITheA**hole forum on Monday, where it has received thousands of upvotes and comments.
Your in-laws arriving unexpectedly is an age-old tale, and a survey by Porch in 2020 revealed that over 70 percent of people felt their relationship with their parents-in-law caused some strain on their marriage.
When it comes to the in-laws coming to visit, proximity to partner's family can make all the difference.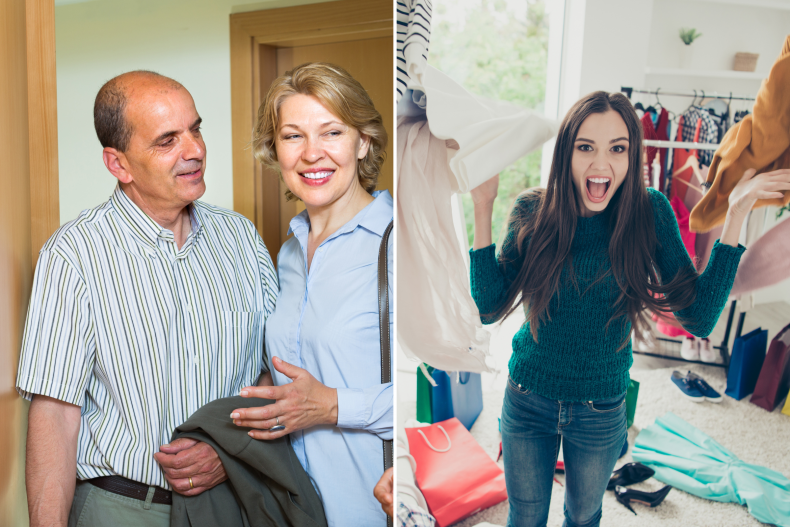 Couples content with the distance from their parents-in-law lived an average of 328 miles away, while parents-in-law who were happy with the distance lived an average of just 71 miles away.
In the now-viral Reddit post, the user explained: "My husband and I have been married for almost two years. His family are a very close knit group and although they are kind and giving, it can also be overbearing."
Sharing the story that had driven her to ask the internet for advice, she wrote: "His family likes to show up to our house unannounced. This usually happens about once a month and it's usually on a Sunday.
"I personally find this very rude, to show up to someone's house whenever you want and not say anything to them. On Sundays I don't usually get ready, the house is a wreck, I don't have a bra or makeup on, I don't fix my hair, because it's my day to relax. So when they just show up, I have to fly through my a** to get dressed, put a bra on, run a brush through my hair, etc."
But after two years of these unexpected visits, the poster explained that she had recently simply stopped making this effort: "I just don't even go outside to say hi anymore because I simply don't want to," she said.
Following a few occasions of not greeting her in-laws, the woman's husband had raised the issue. "My husband thinks I'm being rude," she wrote: "But I think it's his family that is rude. It's rude to show up to unannounced someone's home."
It's no surprise that the woman feels stressed when it comes to preparing for a visit as one in two couples told Porch that they commit a significant amount of time to cleaning and organizing their homes when their in-laws are on the way.
At the end of the post, the woman asked the internet: "Am I the a**hole?"
Users rushed to respond and share their thoughts on the situation, with Redditors overwhelmingly siding with the wife and agreeing that her parents-in-law were overstepping boundaries.
"NTA," said one commenter: "Doesn't sound like you're even saying you don't want them to come, just asking for advance notice which is a fair request."
Another reply said: "You are setting a very reasonable boundary in asking for notice before they show up, and they are violating that boundary."
"They're doing this on purpose," said another Redditor: "Your husband should have your back on this."
Newsweek has reached out to the Reddit user who declined to comment for this story. We were unable to verify the detail of this case.
If you have a similar family dilemma, let us know via [email protected] We can ask experts for advice, and your story could be featured on Newsweek.

Source : https://www.newsweek.com/wife-backed-refusing-greet-rude-laws-visit-1740164