Maury Povich has become a trending topic on Twitter, following the death of fellow talk show veteran Jerry Springer.
British-born Springer died peacefully at his home in suburban Chicago aged 79 on Thursday, a representative for Springer at WME agency told Newsweek.
Springer hosted the eponymous show for 28 seasons from September 1991 to July 2018. The show was often ripe with family drama, confrontation, controversial topics, screaming matches, and physical altercations between guests while on set.
After news of the talk show host's death surfaced, clips from Jerry Springer flooded social media, with people recalling fond memories of Springer's show and paying tribute to its well-known host. The social media users also made a point of mentioning Povich, 84, who, like Springer, launched his eponymous show in 1991.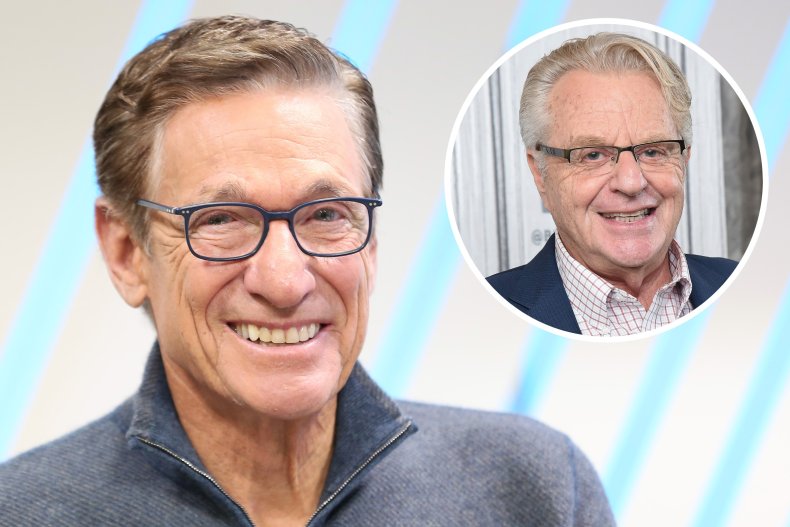 Povich's show, which aired until 2022, was also known for the wild antics of its guests, a number of whom memorably underwent lie detector and paternity tests.
As Springer's death became a trending topic on Twitter, so too did the discussion around Povich and the childhood memories both men's shows provided them.
Sharing an image of Noah Schnapp's Stranger Things character Will Byers crying, one Twitter user wrote: "Man Jerry Springer passed away….RIP Legend. Man protect Maury."
Posting a video clip of highlights from past basketball games featuring Shaquille O'Neal and the late Kobe Bryant, another said: "Jerry Springer and Maury Povich being the kings of TV that you would watch staying home from school."
"Jerry Springer dying got me shook a lil bit," another tweeted. "Now somebody go check on Maury Povich l can't take no more bad news this year."
Reacting to Springer's death, another commented: "The cultural impact this man had on those of us who had to stay home sick from school in the 90s is incredible. RIP, and someone check on Maury Povich pls!!!"
Meanwhile, another listed a number of other TV personalities whose shows they enjoyed, stating: "Judge Mathis, Judge Judy, Jerry Springer, and Maury kinda raised me. Add Law [&] Order and a CW original. And throw in Wendy Williams."
Echoing that sentiment, one Twitter user posted a "90s hall of fame" collage that included Springer and Povich alongside other presenters, including Arsenio Hall, Ricki Lake, Phil Donahue, Jenny Jones, Sally Jessy Raphael, Pat Sajak and Geraldo Rivera.
Povich paid tribute to Springer on Thursday, telling People that he was "absolutely shocked" upon hearing the news regarding his fellow daytime TV star.
"We were all rivals, but at the same time, Jerry and I, because for the last 20-odd years, we both worked for the same company, we had the same bosses," Povich told the publication. "We also taped in the same studio for the last 10 or 12 years. So we would see each other, and we would reminisce."
While Povich recalled how the former Cincinnati mayor was "a joy to be with" and "very funny," he also noted the differences between their shows.
"People always ask, you know, you and Jerry are the same kind of show," he said. "Jerry used to say to me, he says 'Here's the thing, Maury. You're the real deal. And I'm just the deal.' I said, 'Jerry, I might be the real deal but you're your deal, okay?'
"And he always said, he said, 'You got it right,' when some of the media asked me one time the difference between you and Jerry. I said, 'Well, I do real people's stories and he, he's doing WWE.' And he says, 'You're right! It's wrestling on my show.'"
"Jerry didn't change TV, he radicalized it," Povich added.