Russian state media have reported in recent days that three downed drones have been found near Moscow.
The Kremlin-backed news outlets said that one of these drones was a Ukrainian-made UJ-22 Airborne, which was allegedly equipped with explosives when it was found Sunday in a forest about 19 miles from Moscow.
A day later, Tass reported that law enforcement officials said they found two more drones equipped with cameras near Moscow. These three alleged discoveries of drones follow a report last month from Russian authorities on the presence of a drone about 9 miles northeast of Moscow that they suspected came from Ukraine.
Ukraine has not claimed responsibility for any of these drones, and the presence of the unmanned aircraft near Russia's capital city has not been independently verified.
However, the alleged discoveries come as the Moscow-appointed head of the port city of Sevastopol in Crimea has made repeated claims about Ukrainian drone strikes in his region. At the same time, speculation about a coming Ukrainian counteroffensive continues to mount.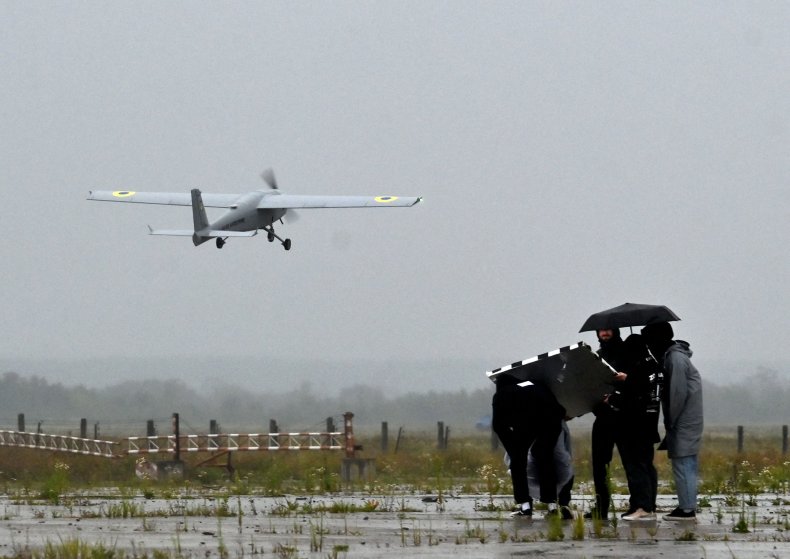 The fact that the drone reports have come solely from Russian state media has led to some skepticism, though. Northwestern University political science professor William Reno told Newsweek that he doesn't "put much stock in these reports" because of the stories' timing.
"It is too convenient to claim that Ukraine is launching attacks deep into Russia at just about the time that the latest U.S. Department of Defense leak describes how Ukrainians wanted to strike deep into Russia while U.S. officials struggled to convince them not to do that," Reno said.
The leak Reno referred to was included in classified documents from the U.S. government that spread across social media platforms in early April after being leaked. Some of the documents reportedly revealed that Ukrainian officials advocated for strikes inside Russian territory.
Despite requests from Ukrainian President Volodymyr Zelensky, the Biden administration has not provided Ukraine with long-range missile systems or advanced fighter jets. Part of the reason behind this hesitancy is reportedly due to concerns of an escalation in the war if Ukraine used the weapons to strike targets within Russia.
Guy McCardle, managing editor of the Special Operations Forces Report, or SOFREP, told Newsweek that he also doubts the Russian media's reports.
"This seems like pure typical Russian propaganda. If Ukraine were to attack Russia, it would not do it by launching the odd drone here and there," he said.
McCardle noted that the smaller "quadcopter" drones mentioned in the stories can be purchased online or at hobby stores.
"Seeing a drone around a major city is like saying you see a car on the highway," he said. "It doesn't mean it's loaded with explosives and on a mission to blow up the Kremlin."
Thus far, strikes within Russia that outside observers believe were conducted by Ukraine have been on "deliberate military targets," retired U.S. Army Major John Spencer told Newsweek.
"It'd be a great disadvantage for Ukrainians to strike Moscow and sway the Russian population to be for the war in Ukraine," said Spencer, who is the chair of Urban Warfare Studies at the Madison Policy Forum.
Spencer acknowledged that "this is war…it's hard to tell who's behind what." But he said that Ukraine would be more likely to hit something like training centers or any type of military target rather than the Kremlin.
"They're not scouting out how to kill Putin, that's for sure," he said.
Another possibility is that individuals or groups within Russia that are opposed to the war in Ukraine could be behind the drones, Spencer said.
Spencer is not alone in this opinion. Mark Katz, a George Mason University Schar School of Policy and Government professor, also said the drones could have come from within Russia.
"Russian media want to scare the Russian public about Ukrainian drones whether these particular ones actually are from Ukraine or not," Katz told Newsweek. "But there is another possibility besides that they are actual Ukrainian drones or the story is false: The drones may be operated by internal Russian opposition groups, which may or may not receive help from Ukraine."
Katz added that Russian state media reporting on the drones could backfire on them.
"It strikes me that there is one danger for Moscow in hyping the story about drones, whether they are real or not: At some point, questions will be raised about why it is that Russian defenses are letting these operate over Russian airspace at all," he said.
Newsweek reached out to the Russian Ministry of Foreign Affairs via email for comment.