Florida Governor Ron DeSantis made his campaign "Twitter official" Wednesday night, kicking off his 2024 bid for president with a glitchy but well-covered audio announcement with Elon Musk and entrepreneur David Sacks.
Already well known nationally and with tens of millions of dollars in the bank well before his formal announcement, DeSantis will likely be a top contender for the Republican nomination with staying power that will last well into the height of campaign season.
But his campaign will also put him on a direct collision course with Donald Trump, the clear front-runner in the GOP race. The former president has dismissed DeSantis as nothing more than a tribute act to the Make America Great Again movement, a candidate who has cribbed everything from Trump's bombastic rhetoric to his baggy suits and flamboyant hand gestures.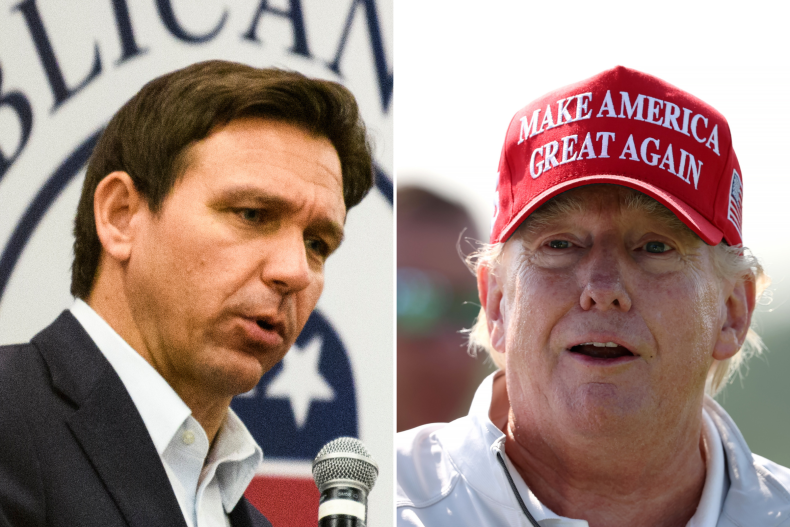 "We don't have time for cheap imitations being pushed by the Never Trump RINO establishment," Donald Trump Jr. tweeted shortly after DeSantis' announcement, using the acronym for Republican in name only. "Donald Trump is the America First warrior we need back in the White House in 2024."
While they may share mannerisms, both candidates will need to develop a compelling pitch to not only win a plurality of the Republican vote but also to keep their brand intact with enough independents to remain competitive in the general election. Here's where the two men stand on some defining issues and where either one might be vulnerable.
Abortion
Abortion rights were the defining issue of the 2022 midterm elections, eclipsing independent voters' concerns about topics like crime and the economy and tempering what many believed would be a Republican sweep in the House and Senate races.
Abortion is also likely to play a key role in the 2024 Republican primaries—and it could set Trump and DeSantis apart from each other early.
Arguably, nobody was more responsible for the nation's spate of anti-abortion legislation than the former president, whose 2016 victory led to the appointment of three conservative Supreme Court justices and the revoking of the constitutional right to an abortion last June.
After the midterms, however, Trump's stance on abortion bans shifted. He has chastised Republicans who supported the most draconian bans on abortion during their campaigns, saying they were making a mistake. DeSantis, who recently signed a six-week ban in his state, was among them.
"If you look at what DeSantis did, a lot of people don't even know if he knew what he was doing," Trump told media startup The Messenger in an interview earlier this month. "But he signed six weeks, and many people within the pro-life movement feel that that was too harsh."
While Trump has shown some willingness to support a national 15-week ban, he has largely dodged the issue when confronted on it. This has prompted some anti-abortion activists to openly question their support of the former president, even in the early stages of the midterms.
DeSantis, meanwhile, is leaning into his position—and hitting Trump for his.
"I think that, as a Florida resident, you know, he didn't give an answer about 'would you have signed the heartbeat bill' that Florida did," DeSantis said about Trump in a news conference earlier this month. "It had all the exceptions that people talk about. The Legislature put it in. I signed the bill. I was proud to do it. He won't answer whether he would sign it or not."
Education
Within the conservative movement, DeSantis' education policies in Florida are considered the gold standard and an expression of the GOP's culture wars in action.
While states like Virginia were arguably the birthplace of the "parents first" movement, DeSantis has escalated the fight in the Sunshine State, from kindergartens to the state's university system. Florida has implemented restrictions on how race is taught in schools, changed how involved parents are in banishing content they find objectionable from school libraries, and outlawed talk about gender expression in public classrooms under the controversial "Don't Say Gay" law.
These are moves the governor hopes to take nationally. During his town hall announcement Wednesday, DeSantis suggested a federal plan to target college accreditation boards similar to one he'd passed in his state, changing the process that private and even public institutions undergo to become certified institutions of higher learning.
While education is a relatively niche issue, strategists say it's one that—if sold right—could be used to draw voters, particularly amid the ongoing surge of "school choice" legislation and education voucher programs in red states around the country.
"DeSantis was absolutely right to call the college accreditation boards cartels because they are running a racket," Giancarlo Sopo, a pro-DeSantis Republican strategist, told Newsweek. "It makes no sense that you can take classes on art and history, you know, at places like Harvard and MIT for free online while schools are charging $7,000 for each of those classes."
He went on: "That's a real pain point that voters have, especially these white voters who don't have college degrees. In part because they just couldn't afford it. So if he's able to channel his public policy expertise toward improving that for not just cultural victories but tangible economic benefits for his constituency, then I think it would make for an extremely formidable public policy platform."
While Trump's education policies have been less coherent on the campaign trail, his administration championed similar policies while he was in office.
Notably, at the start of his term Trump appointed billionaire school choice activist Betsy DeVos to be his secretary of education.
He had little success implementing legislation to dramatically alter the nation's education system because of the roadblocks in federal law. But his administration was successful in gaining congressional support for funding school choice initiatives for private and religious institutions, downsizing the Education Department and reversing Obama-era initiatives bolstering action against civil rights offenses in public schools based on a victim's race, sexual orientation or gender identity—a touchstone of DeSantis' policy agenda in Florida.
Immigration and the Border
On immigration, both candidates have very similar positions. Both want severe restrictions on immigration. Both want to build a border wall between the U.S. and Mexico. And both want zero amnesty for those found crossing the border illegally.
"Under my leadership, we will use all necessary state, local, federal and military resources to carry out the largest domestic [immigrant] deportation operation in American history," Trump told attendees at the Conservative Political Action Conference earlier this year. "We will pick them up and we will throw them out of our country, and there will be no questions asked."
It was an issue that came to define the Trump administration. Now, both candidates are seeking to exploit flaws in their opponent's stance.
Speaking to Real Clear Politics on Wednesday following his 2024 announcement, DeSantis eviscerated Trump for allegedly supporting an amnesty plan for undocumented migrants in 2018. It called for providing approximately 1.8 million immigrants a pathway to U.S. citizenship in exchange for hard-line immigration policies that included funds to build Trump's border wall.
"I oppose amnesty," said DeSantis. "I thought it was supposed to be America First policy to oppose amnesty, and yet he endorsed and tried to ram through an amnesty."
DeSantis has also proposed hammering drug cartels carrying narcotics into the country, but with a twist. On Thursday, he told a New Hampshire talk radio station he hoped to promote a treatment program for drug abusers, something critics consider a Trump failure during the opioid crisis.
But in the race to the right on immigration, DeSantis' hard-line approach could expose him to attack. Recent reforms to the state's E-Verify law for migrant workers are expected to have highly detrimental effects on the state's economy. And policies to ship undocumented migrants to liberal cities in the Northeast have been polarizing.
Foreign Policy
Trump took a strongman approach to U.S. foreign policy during his time in the Oval Office, embracing despotic leaders like Russia's Vladimir Putin and Brazil's Jair Bolsonaro while maligning perceived U.S. adversaries like Iran and China's Xi Jinping.
However, his noninterventionist posture as president has raised questions over how he would address the United States' continuing role in bolstering Ukraine's defense in its war with Russia and how his relationship with Putin would play in. Trump has advocated a peace deal at a time when Russia's demands include the surrender of Ukrainian-held territory and has advised against Washington's continued willingness to sign "blank checks" to secure Ukrainian victory.
DeSantis, a Navy veteran and a former member of Congress, is likely aware of the country's geopolitical challenges. He has made numerous visits to U.S. allies in the Middle East, like Israel, in recent years and has favored a hard-line approach to China.
But DeSantis—who generated widespread controversy for labeling the Ukraine war a "territorial dispute"—has tread carefully with foreign policy as he seeks to navigate the GOP's anti-interventionist attitudes.
Asked by Fox News host Trey Gowdy about his position on the war Wednesday night, DeSantis seemed to stall with a comment about how "woke" the military had become. He offered scant details about his position, other than concerns about U.S. involvement.
Medicaid, Social Security, Other Domestic Programs
One area where Trump has tried to attack DeSantis early is entitlement reform as Social Security and Medicaid race toward potential insolvency.
Earlier this year, Trump's campaign has run numerous ads criticizing DeSantis for his congressional voting record supporting entitlement reforms, including a potential increase in the federal retirement age. It's a key but unpopular change some believe is needed to keep Social Security alive but could cost a candidate support from older voters.
Trump is looking to hammer that point. In a string of Truth Social posts before DeSantis' announcement, Trump blasted him for voting to "obliterate" Social Security and to "badly wound" Medicare while trying to associate the governor with former House Speaker Paul Ryan.
DeSantis, meanwhile, has criticized Trump's willingness to increase the federal deficit—a sticking point at a time when House Republicans are battling with the Biden White House over raising the national debt ceiling.
"He's running attacks, attacking me for voting against an omnibus spending bill that he signed when he was president," DeSantis said earlier this week. "Absolutely, I think he should not have signed those omnibus spending bills. He added almost $8 trillion to the debt in a four-year period of time.
"I'm happy to be on the conservative side of that debate because I think our debt has gone up way too much," the governor added.
Flying Cars
One of Trump's earliest policy proposals was also a unique one: the creation of 10 futuristic "freedom cities" on federal land that would feature flying cars—a pledge ripped straight out of Walt Disney's utopian vision for Epcot.
"I want to ensure that America, not China, leads this revolution in air mobility," Trump said in a four-minute video detailing his plan.
Meanwhile, DeSantis' campaign launch Wednesday night came at an event hosted by a billionaire entrepreneur whose car company, Tesla, has actively sought to develop a flying car. Musk said in 2017 he does not believe flying cars are the future or likely to become a viable form of public transit.
DeSantis' position on flying cars is, at this point, unknown.