Ukraine's defense ministry praised women fighters on Saturday who have helped defeat Russian-occupying troops as the war in the Eastern European country rages on.
"70,000+ eliminated occupiers…They played their part in this. Victory's name is female," the ministry tweeted along with pictures of Ukrainian women soldiers.
More women have joined the country's military since the beginning of war, with around 50,000 women serving in the armed forces in combat and non-combat roles, Al-Jazeera reported last month.
"I didn't think I would be in the military when I was growing up," said 23-year-old Diana who joined the military six months before the war, according to the outlet. "As every little girl, I just wanted to live a happy life, working to be able to travel and see the world."
Ukrainian military officials, cited by Al-Jazeera, said that 10,000 Ukrainian women involved with the army are either on the front lines of the battlefield or are working in jobs that could send them there.
Women are not obliged to serve in the military in Ukraine, but the government is considering recruiting women with certain skill sets to mandatorily join. Around 32,000 women were serving in the Ukrainian military by late 2021, according to Voice of America (VOA).
Evgenia Emerald, a special regiment officer, told VOA in April that she wanted to join the Ukrainian army in 2014, the year Moscow annexed Crimea from Ukraine, but couldn't because she had a baby at the time.
The number of casualties on both sides are not regularly updated. However, Valeriy Zaluzhny, commander-in-chief of the Ukrainian Armed Forces, said in August that his country lost 9,000 military personnel, according to Ukrinform.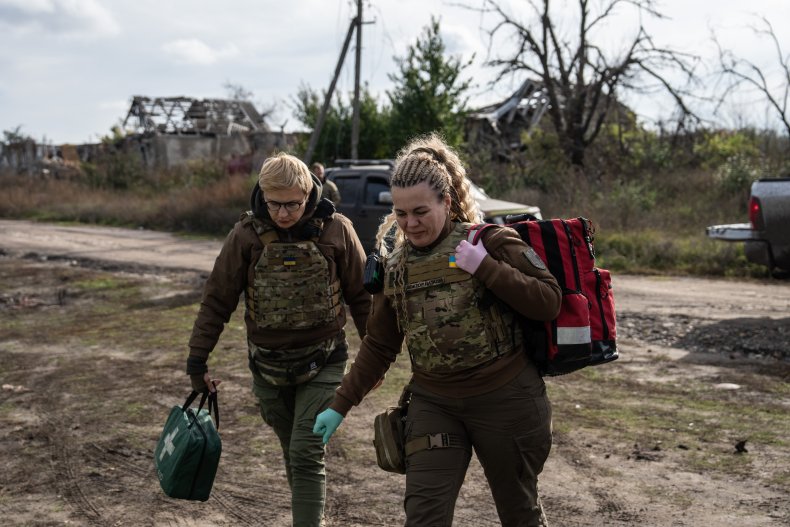 The General Staff of the Armed Forces of Ukraine said during the same month that Ukraine killed or wounded 45,200 soldiers from the Russian military. Newsweek was unable to independently verify those figures.
Meanwhile, Sergei Shoigu, Russia's defense minister, said that 5,937 Russian soldiers have been killed since the country's invasion of Ukraine in February, Reuters reported in September.
Russia has been experiencing some setbacks as it continues to face Ukrainian troops who recently advanced in taking back some of their territories, including parts of the Kherson Oblast. Meanwhile, Russian troops have been reportedly suffering from poor morale and a difficulty in obtaining equipment and armor.
Newsweek reached out to the Russian and Ukrainian defense ministries for comment.