Ukrainian President Volodymyr Zelensky insisted on Saturday that diplomacy is the only way to end the Russian invasion of his country, even as peace talks continue to stall.
"There are things that can only be reached at the negotiating table," Zelensky said in an interview with a Ukrainian news channel.
Ukraine has so far been able to keep Russia from attaining its initial military goals, beating back the invading forces from the capital city of Kyiv and the northern city of Kharkiv. The fighting is now focused on the eastern Donbas region, which has for several years been gripped by pro-Russian separatist forces. As Zelensky made his comments on Saturday, the Times of Israel reported that Russian forces had destroyed a shipment of weaponry bound for Ukraine from ally nations.
Zelensky stressed that the fighting will continue while a diplomatic solution is sought, and that it will "be bloody" and can "only definitively end through diplomacy." The leader also added that his government would only accept ceasefire terms that are "fair" to Ukraine.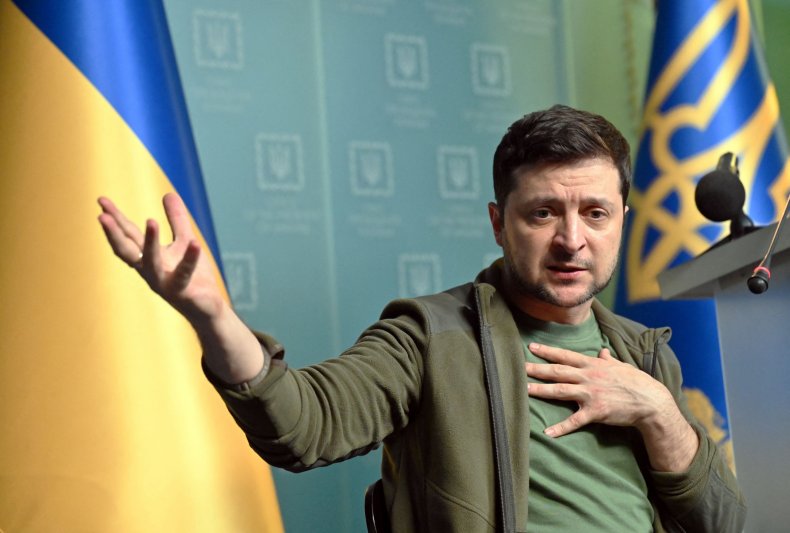 Numerous rounds of peace talks between Ukraine and Russia have stalled out over the nearly three months of military conflicts, with each nation unwilling to accept the conditions put forward by the other. Ukraine, in particular, has said that it will not negotiate away its own territorial claims and national sovereignty.
"We want everything back," Zelensky summed up in the interview. "Russia does not want to give anything away.
"Discussions between Ukraine and Russia will decidedly take place. Under what format I don't know—with intermediaries, without them, in a broader group, at presidential level."
Zelensky also used the interview as an opportunity to praise Ukrainian military forces for their fight against Russia, claiming that they had broken the "backbone" of "one of the strongest armies in the world."
"We've already done that," he added. "Including psychologically. They won't get back on their feet for the next few years. But let's not forget that all our soldiers also want to live."
Contrasting the views of his successor, former President Petro Poroshenko said in a Saturday interview with Current Time that Vladimir Putin can only be dealt with through force.
"Putin only understands force, [and he] will go as far as the world allows him," Poroshenko said. "We can't create a precedent for the world—and even more so in Europe—where one state can forcefully change [borders]."

Source : https://www.newsweek.com/ukraine-wont-end-war-against-russia-battlefield-zelensky-1708887