Former President Donald Trump used his social media platform Truth Social to wish literally everyone a Happy New Year before midnight struck. His message ranged from the far left to even haters within his own Republican Party.
Trump sent good wishes to folks he called "Strong American Patriots" and other loyal Americans. He also hinted sarcasm while sending New Year's greetings to "Radical Left Democrats, Marxist Lunatics" and GOP Senate leader Mitch McConnell.
"HAPPY NEW YEAR to all of the Radical Left Democrats, Marxist Lunatics, China loving Coco Chow and her Obedient Husband, Mitch, and Clueless RINOS, who are working so hard to DESTROY our once great Country. More importantly, HAPPY NEW YEAR to the Incredible, Brave, and Strong American Patriots who Built, Love, and Cherish America. The REAL leaders of our Country will always remain FAITHFUL and LOYAL to you. The USA will be back, Bigger & Better & Stronger than ever before. GOD BLESS YOU ALL!," Trump wrote Saturday night on Truth Social.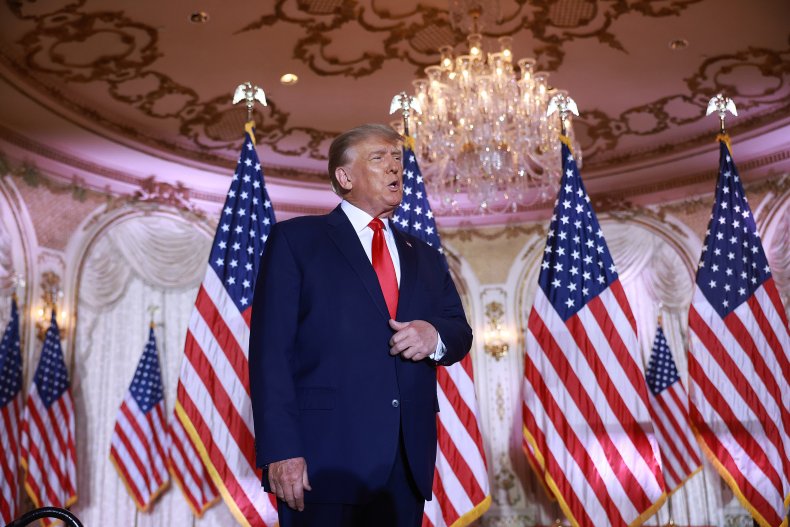 Trump's message comes one day after his tax returns from 2015-20 were released, and one week after he sent a similar massage on Christmas Eve. He sent this message earlier on New Year's Eve.
"This is the year that Nancy Pelosi became the first woman to lose the House of Representatives twice in a lifetime, and lose two highly partisan and ill conceived Impeachment Hoax's to a President who created the best Economy, with no Inflation, Energy Independence, and the safest Southern Border in the history of our Country. Pelosi also failed to follow my recommendation to have 10,000 to 20,000 soldiers available to protect D.C. from the Election Fraud Protest of January 6th."
Just a week earlier, Trump also posted to Truth Social a somewhat similar message. On the afternoon of Christmas Day, Trump began attacking "Radical Left Democrats" through social media.
"Our Country is under attack by the Radical Left Democrats. They are truly seeking to DESTROY AMERICA!!!"
"THE RADICAL LEFT DEMOCRATS HAVE WEAPONIZED THE CRIMINAL JUSTICE SYSTEM AT A LEVEL NEVER SEEN BEFORE IN THE USA. WITH NO BORDERS AND CROOKED ELECTIONS, OUR COUNTRY IS IN THIRD WORLD TROUBLE!!!," he also wrote. "PRESIDENT TRUMP WAS 233-22 IN THE MIDTERM ELECTIONS. HE IS ALSO LEADING, BY A LOT, ALL REPUBLICANS, AND BIDEN, IN ALMOST EVERY POLL." This, despite the horrendous and never ending FAKE NEWS – Incredible statistics that people just don't want to talk about!"
Trump has sent a barrage of posts through social media since Christmas, most of them aimed at the January 6 Committee and Democrats he claimed "stole" the 2020 presidential election.
Trump's post to Truth Social came shortly after he made another dig at January 6th, calling it a "HOAX" like the "other Scams that the Disinformation laden Democrats have been planting for years."
"The Unselect Committee's January 6th Report is a Hoax, no different than RUSSIA, RUSSIA, RUSSIA, and all of the other Scams that the Disinformation laden Democrats have been planting for years. If I weren't leading by a lot in the Polls, against both parties, this continuation of falsehoods and lies would end quickly. I won in 2016, did much better in 2020 (RIGGED!), and the Radical Marxists don't want to run against me or MAGA in 2024. I had almost nothing to do with January 6th. FREE SPEECH!"
Trump left office on January 20, 2021 but has not been out of the spotlight during that time, especially in the last couple of months. Trump has announced that he will run for president again in 2024, his Twitter account was reinstated by Elon Musk after a popularity poll and the public hearings of the Jan. 6 Committee wrapped up two weeks ago.
Newsweek reached out to the Trump campaign for comment.