Former President Donald Trump did not cave on his criticism for the social network giant Meta, even after the company promised to reinstate his accounts on its Facebook and Instagram platforms.
Meta said it was ending Trump's over two-year suspension "in the coming weeks" in a release Wednesday. The former president had originally lost his account privileges in January 2021, a day after his supporters attacked the U.S. Capitol.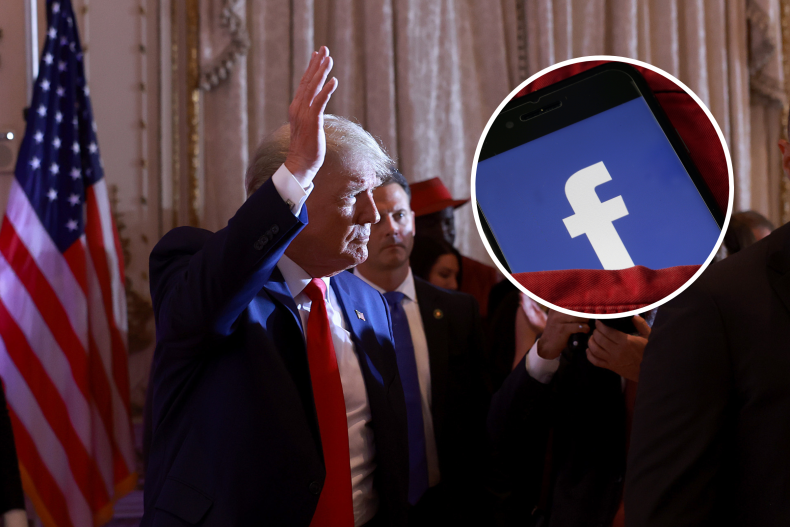 When asked for comment, Trump's press team directed Newsweek to the former president's Wednesday evening Truth Social post in which he addressed his accounts' reinstatement, repeating claims he made this month that Meta had "lost Billions of Dollars in value since 'deplatforming' your favorite President, me."
"Such a thing should never again happen to a sitting President, or anybody else who is not deserving of retribution!" Trump wrote in response to Meta's announcement. "THANK YOU TO TRUTH SOCIAL FOR DOING SUCH AN INCREDIBLE JOB. YOUR GROWTH IS OUTSTANDING, AND FUTURE UNLIMITED!!!"
Following the turmoil of January 6, the former president was also permanently banned from his Twitter account out of fear that he would use the platform to incite further violence. Meta stated in its release Wednesday that Trump's suspension from Facebook and Instagram were for similar reasons, but that after evaluating "the current environment according to our Crisis Policy Protocol," the company determined that Trump's risk to public safety "has sufficiently receded."
Twitter CEO Elon Musk reinstated Trump's account in the fall. The former president has yet to utilize the platform after the ban was lifted.
Trump has stayed consistent on his own social media site, Truth Social, which he launched in February. According to an April report from Forbes, the platform has at least 2 million active users, including many prominent conservatives who argue that platforms like Twitter are too restrictive.
In an interview with Fox News last week, Trump said that he was attempting to organize a meeting with Meta CEO Mark Zuckerberg in order to convince the company to let him back on its social platforms. Trump's campaign team had also reportedly written a letter to Zuckerberg asking that Trump be reinstated on Facebook, given his presidential campaign for 2024.
"We believe that the ban on President Trump's account on Facebook has dramatically distorted and inhibited the public discourse," Scott Gast, Trump campaign general counsel, wrote in the letter.
It is unclear if Trump plans to use the Meta accounts once reinstated.