Former President Donald Trump "carefully staged" his mugshot in Georgia to look like "a thug," according to Trump's former national security adviser John Bolton.
Trump's mugshot was taken while he was booked Thursday at the Fulton County Jail on 13 felony charges related to attempts to overturn his 2020 presidential election loss. As with his three prior arrests on felony charges this year, the former president has protested his innocence in Georgia and claims to be the victim of political "persecution" and "election interference."
The mugshot instantly inspired a flood of jokes and memes online, with some suggesting that Trump's scowl resembled the bad-tempered Dr. Seuss character "The Grinch." Trump's 2024 campaign also began fundraising off of the image almost immediately after was released. The campaign previously raised funds off of a fake mugshot when no official photo was taken during Trump's first arrest earlier this year in New York.
Bolton, who has become one of Trump's harshest critics since leaving his administration in September 2019, said during an interview with CNN's Kaitlan Collins on Friday that the former president "could have smiled" in the mugshot but instead intentionally adopted a scowl in hopes of projecting "intimidation" towards prosecutors and judges.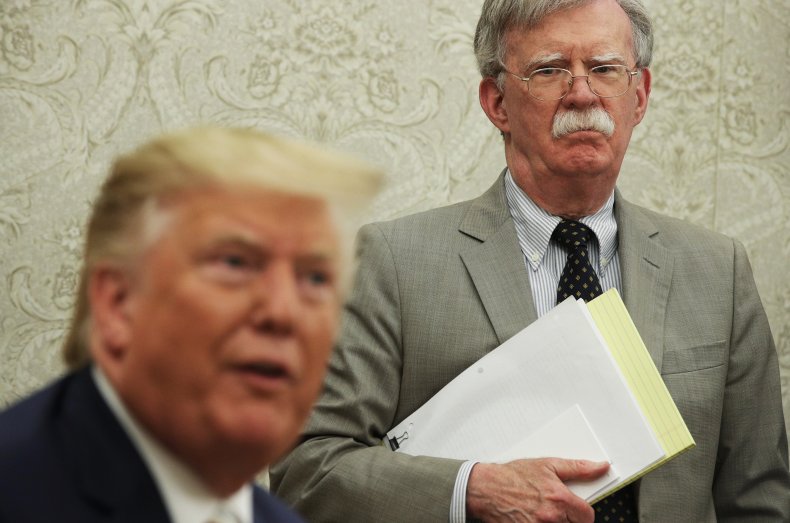 "I thought it was, as with most things Trump does, carefully staged," said Bolton. "They must have thought about what look they wanted. He could have smiled, he could have looked benign. Instead he looks like a thug. And I think it's intended to be a sign of intimidation against the prosecutors and judges. That's what they picked, and we'll see that picture everywhere."
Bolton went on to suggest that Trump's team dedicated "almost as much time as they spent combing his hair" to practicing his expression for the mugshot.
Newsweek reached out for comment to Trump's office via email on Friday.
All 18 of Trump's co-defendants in Georgia were also photographed for mugshots while being arrested and processed. Most appeared less than pleased or without any discernible expression in their photographs, although some—such as former Trump lawyer Jenna Ellis—took the opportunity to crack a smile.
While it is not clear that Trump's mugshot expression is intended to intimidate anyone, the former president was released in Fulton County on the condition that he does not "intimidate" any co-defendants and witnesses or "otherwise obstruct the administration of justice."
The $200,000 bond, set by Fulton County Superior Court Judge Scott McAfee on Monday, also prohibits the ex-president from making any "direct or indirect threat of any nature against the community or to any property in the community," including in "posts on social media or reposts of posts."
Trump posted bail on Thursday with the help of local Georgia bondsman Charles Shaw of Foster Bail Bonds, prompting some to question the finances of the nation's first billionaire president.