A federal appeals court on Thursday halted the third-party review of documents seized from former President Donald Trump's Mar-a-Lago estate, siding with the Department of Justice (DOJ) and allowing the federal government to use the documents in its criminal investigation.
In the 21-page opinion from the 11th Court of Appeals, the three-judge panel wrote that Judge Aileen Cannon, who granted Trump's request for a special master in September, did not have the "jurisdiction to block the United States from using lawfully seized records in a criminal investigation."
"The law is clear," read the order. "We cannot write a rule that allows any subject of a search warrant to block government investigations after the execution of the warrant. Nor can we write a rule that allows only former presidents to do so."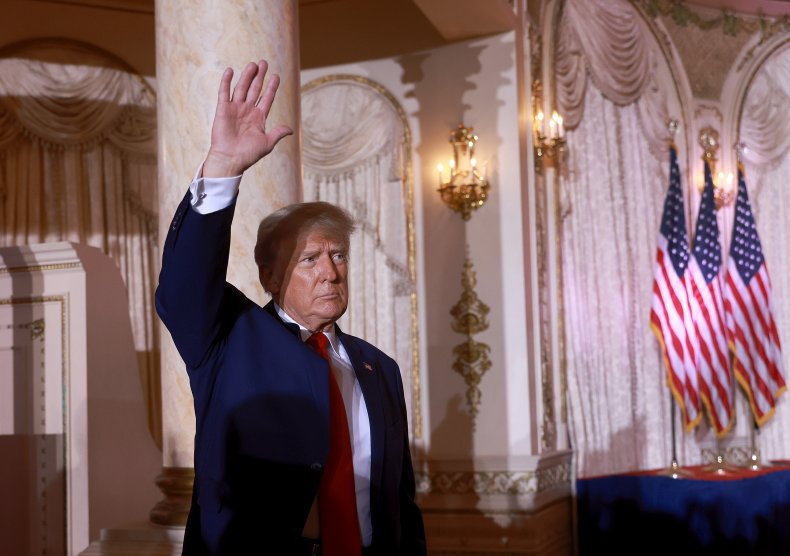 Trump's legal team had originally argued for the special master to protect the former president's constitutional right to privacy. The DOJ, which is investigating if Trump violated federal law after taking classified documents from the White House after leaving office in January 2021, was granted access to some of the documents by the 11th Circuit in September.
In its opinion Thursday, the appeals court acknowledged that it was "indeed extraordinary for a warrant to be executed at the home of a former president—but not in a way that affects our legal analysis or otherwise gives the judiciary license to interfere in an ongoing investigation."
Several legal experts have taken to Twitter praising the court's decision. New York-based lawyer Tristan Snell wrote in a tweet that the order was a "Massive DOJ win," adding that it marked a "Great day for democracy and the rule of law."
Teri Kanefield, a legal analyst and former appellate court defender who previously predicted that the DOJ was likely to win its appeal, broke down the court's decision in a series of tweets Thursday. She wrote that the court "marches through the facts" in its decision, pointing out that the federal government had tried multiple times prior to its forceful search to retrieve the documents from Trump, to which the former president did not comply.
"That's because all year he thought he was entitled to keep them," Kanefield wrote. "He thought he could play games with the National Archives and FBI."
The 11th Circuit wrote in its decision that the federal government had obtained a subpoena for all classified documents that Trump had in his possession prior to searching his Florida home in August. As the court writes, the former president "did not assert claims of privilege or declassification in response to the subpoena."
Kanefield added, "It was later that he came up with these arguments (because he was lying. duh. He never declassified anything.)"
Other experts ripped Cannon for issuing the special master in the first place, including author and attorney Adrienne Lawrence, who wrote on Twitter that Cannon "demonstrated that she lacks integrity and deserved to get dunked on by the Court of Appeals twice."
"I truly hope she considers another career path because the judiciary is not for her," she added.
George Conway, attorney who's married to Trump's former senior counselor Kellyanne Conway, previously told CNN that Cannon's special master ruling was a "disgrace." He reposted his on-air comments, writing that the court's opinion Thursday "makes it brutally clear that they agree."
"To say that the court of appeals today completely eviscerated Judge Cannon's ruling and Trump's arguments is an understatement," Conway wrote.
Newsweek has reached out to Trump's press team for comment.