Former President Donald Trump has announced he is writing a book titled The Crime of the Century based on his allegations of voter fraud in the 2020 presidential election.
"This is the crime of the century," Trump told rally-goers Saturday in Austin, Texas, at the American Freedom Tour. "I'm actually writing a book about it called The Crime of the Century. I don't think you'll enjoy it. You'll be very depressed when you read it, but we want to have it down for historic reasons."
The book title reflects a phrase commonly used by Trump to describe his ongoing allegations of voter fraud in battleground states, which have been disproven in the courts more than 60 times.
In Austin, Trump continued to rail against the election's integrity and insinuated that votes were tampered with, causing him to lose the presidency.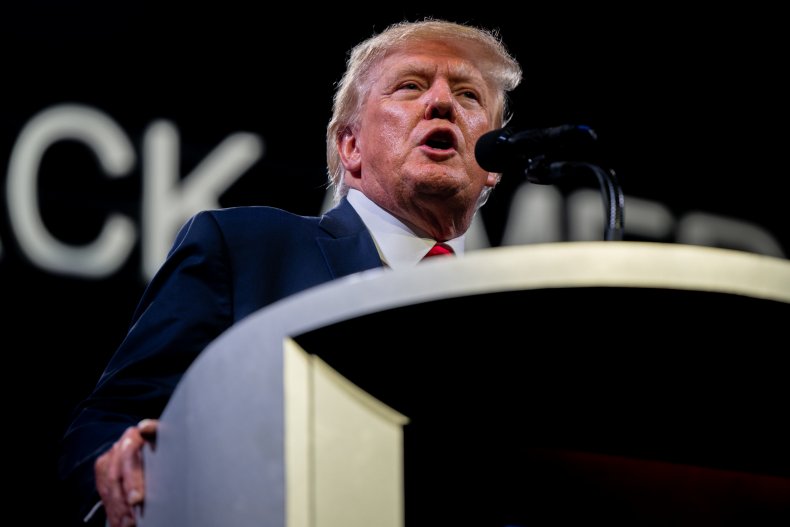 "This is the greatest hoax, heist," he said. "This is one of the greatest crimes in the history of our country. And sadly, the prosecutors don't want to do anything about it."
Trump's rally on Saturday included an appearance by conservative filmmaker Dinesh D'Souza, whose documentary 2000 Mules alleges the stuffing of ballot boxes.
Last week, Trump and D'Souza took aim at Fox News and Newsmax for not providing coverage of the film, criticism disputed by the networks.
On Monday, Winning Team Publishing announced the book on Twitter.
"NEW BOOK ALERT: CRIME OF THE CENTURY by President Donald J. Trump! More details coming soon at the company tweeted.
Founded by Sergio Gor and Donald Trump Jr., Winning Team Publishing bills itself as "the nation's premier conservative publishing house." It got its start in 2021 "to promote authors who represent the Silent Majority, America First patriots, and liberty minded readers," according to the company.
The announcement on Twitter garnered mixed reactions.
"Will it be in the horror, or fiction section?" one user asked.
"We lived it for 4 years. I certainly don't need to read about his single term to know what a crime it was," said another.
Others were excited at the possibility of another book by Trump.
"thank you for this. please tell me it's real, and you will make my day!!," read another tweet.
Trump is the author of nearly 20 books, including his popular The Art of the Deal from 1987 and Our Journey Together, written after his time as 45th president.
Newsweek reached out to Trump for additional comment.



Source : https://www.newsweek.com/trump-says-hes-writing-depressing-book-about-crime-century-1707169