Former President Donald Trump flaunted his status as a "proud insurrectionist" by hugging a convicted January 6 rioter, according to former federal prosecutor Glenn Kirschner.
Trump embraced Micki Larson-Olson, who was sentenced to 180 days in jail last year after being convicted of resisting police orders during the siege on the U.S. Capitol, during a campaign stop in Manchester on Thursday, according to The Washington Post.
The ex-president has repeatedly praised January 6 rioters, who were largely fueled by his false claims that the 2020 presidential election was "stolen" from him, in the years since he left office. He has suggested that "full pardons" could be given to rioters if his 2024 bid to return to the White House is successful.
"Listen, you just hang in there," Trump reportedly told Larson-Olson during their encounter on Thursday. "You guys are gonna be OK."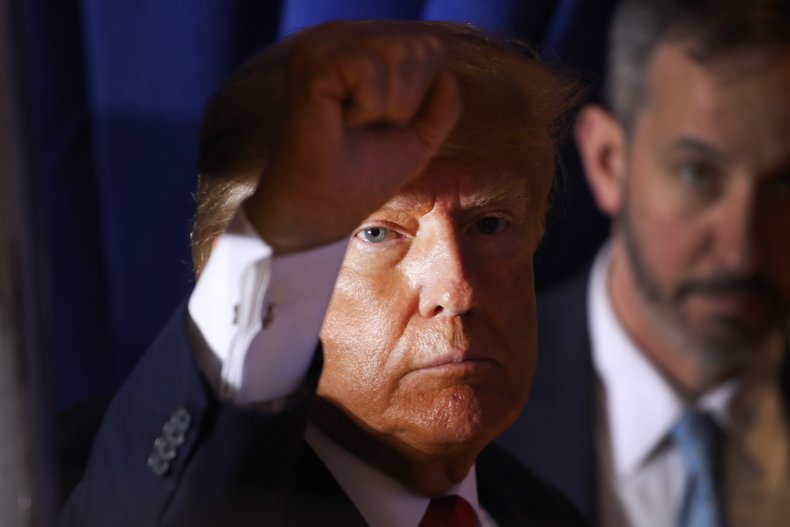 Larson-Olson gushed and said, "I can't tell you how much that meant to me," after Trump signed a backpack that she had taken to the Capitol, the Post reported. The former president reportedly lamented that the rioter had "been through too much" but insisted that she would "wind up being happy."
Kirschner, a frequent Trump critic and part-time legal analyst for MSNBC, said during the latest episode of his Justice Matters podcast on Friday that the exchange was evidence that Trump had violated federal law.
"Donald Trump is not only an insurrectionist—he is an unrepentant, unapologetic, proud insurrectionist," Kirschner said, before citing a federal statute that mandates a jail sentence of up to 10 years and a ban on holding public office for anyone who incites, engages or "gives aid or comfort" to a rebellion or insurrection.
"Donald Trump is giving aid and comfort to the insurrection and the insurrectionists," added Kirschner. "He's celebrating them and their January 6 accomplishments. He's congratulating them, he's promising to pardon them."
Kirschner went on to say that Trump "remains an insurrectionist and he must be held accountable."
Newsweek has reached out via email to the office of Trump for comment.
Trump spokesperson Steven Cheung previously denounced Kirschner in a statement to Newsweek, saying that the legal analyst is "a notorious trafficker of wild conspiracy theories and dubious legal analysis" who has "been shunned by the legal community at large."
On January 6, 2021, according to the Department of Justice, a Captain America costume-wearing Larson-Olson swore at police and accused them of being "traitors" while participating in the riot at the Capitol. Six officers were forced "to physically carry her" away as she "screamed at and fought them."
Larson-Olson told NBC News on Friday that she considers Trump to be "the real president" and said that her "only regret" was that she wasn't "stronger" so she could have resisted officers for longer.
She also called for former Vice President Mike Pence and "every" member of Congress who voted to certify President Joe Biden's 2020 election win to be executed.
"The punishment for treason is death, per the Constitution," Larson-Olson said, while adding that she "would like a front seat of Mike Pence being executed."