Donald Trump's continued support of Capitol rioters could potentially be used as evidence against him in a future trial, according to one former U.S. attorney.
Trump is currently facing numerous criminal investigations as he attempts to mount a 2024 presidential campaign. Among the most serious of these cases is the Department of Justice's (DOJ) probe into his alleged hand in fomenting the January 6, 2021, insurrection at the U.S. Capitol building during the certification of the 2020 election, which is being overseen by special counsel Jack Smith. Trump has denied all wrongdoing in the matter, as he has with all of the cases being brought against him.
On Thursday, the former president stirred further controversy during a campaign stop at a New Hampshire diner where he was greeted by a crowd of supporters, including alleged QAnon believer and Capitol riot participant, Micki Larson-Olson. When it was pointed out to the former president who the woman was, he told her to "hang in there," gave her a hug, and posed for a photo.
The interaction fit a consistent pattern for Trump, in which he has continued to speak out in support of the Capitol rioters, despite the mounting legal pressure on him.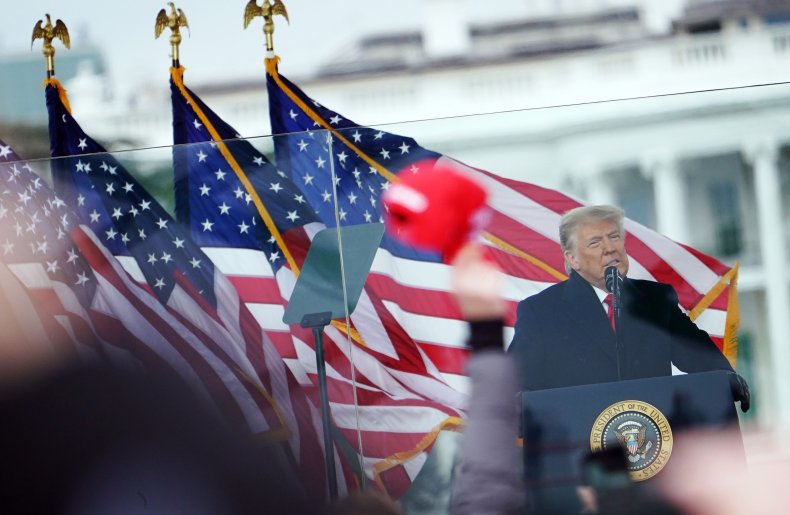 During a Friday evening appearance on MSNBC, Barbara McQuade, a former U.S. attorney for the Eastern District of Michigan, said that these continued statements and behaviors from Trump could be "very damaging as evidence against" him in a future trial stemming from the January 6 investigation.
"All these statements that he is making are potential evidence against him in a trial," McQuade told host Ali Velshi. "It doesn't change what he did on January 6, but it can be a window into what he intended on January 6. So, when he is seen praising them, it does suggest that he was intentional about what happened on January 6, that he saw it, that he approved of it."
She continued: "Even if he didn't deliberately set it into action when he sent that tweet at 2:34 p.m. knowing that the mob was already there in the building and talking about how [Vice President] Mike Pence didn't have the courage to do what was necessary, if he sees what's unfolding and he approves of it, that suggests that it could have been an act to assist in inciting an insurrection. So, all of those things are potentially very damaging as evidence against Donald Trump. It's the reason that prosecutors pay very close attention to everything people say, and it's the reason defense attorneys tell their clients to keep their mouths shut."
Following an extensive year-long investigation, the House select committee investigating January 6 opted to refer Trump to the DOJ for criminal charges relating to the riot. The charges included obstruction of an official proceeding, conspiracy to defraud the United States, conspiracy to make a false statement, and attempts to incite or assist in fomenting insurrection.
Newsweek reached out to Trump's press office via email for comment.