Moments before WNBA star and Houston, Texas, native Brittney Griner is anticipated to land in San Antonio after being released from a Russian prison following detainment nearly 10 months ago, Texas Governor Greg Abbott tweeted a plea to discharge another American held by the Kremlin, ignoring Griner's newfound freedom.
Griner was freed Thursday morning after being detained in February at a Russian airport when customs officials said they found vape canisters with cannabis oil in her luggage. In exchange for Griner's safe return, the White House released Russian arms dealer Viktor Bout, who was serving a 25-year prison sentence in the U.S.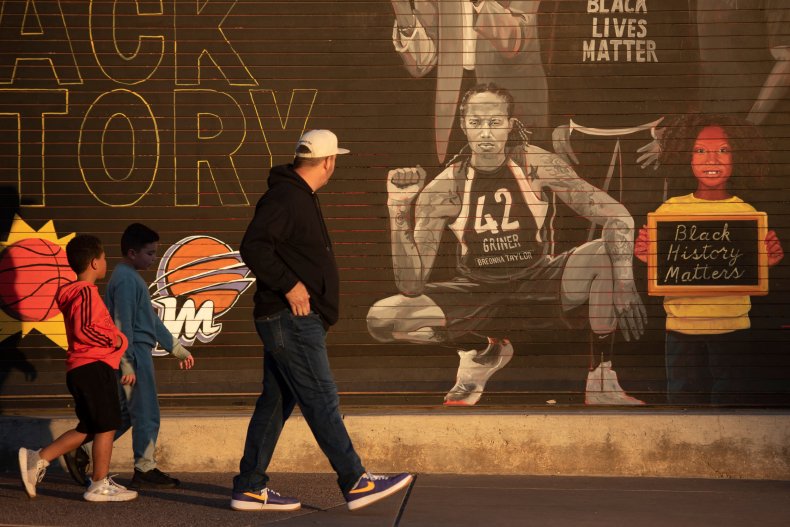 The release of the Phoenix Mercury center sparked controversy over President Joe Biden's decision to exchange Bout while Russian authorities still detain former U.S. Marine Paul Whelan, who was arrested in 2018 while traveling to Russia for a wedding and sentenced in Russian court in 2020 on espionage charges. On Thursday, Abbott joined the calls for officials to negotiate for Whelan.
"US Marine Paul Whelan," the governor wrote on Twitter. "Bring him home."
Abbott, however, has yet to extend a welcome-home to Griner, who is expected to land at the Kelly Field Airport in San Antonio late Thursday night or early Friday morning, reported KSAT. Upon her arrival, ABC News reports Griner will receive a routine medical exam at Brooke Army Medical Center.
Other Texas politicians did celebrate Griner's release on Thursday, including Houston Mayor Sylvester Turner, who said in a statement on his office's Twitter account that Houston's City Hall would be "lit up in Red, White and Blue in her honor."
"Even in a time of major conflict between Russia and the United States, positive things can and do still occur," Sylvester wrote.
The mayor's office account followed up Sylvester's statement in a separate tweet, adding that staffers "support efforts to bring home all U.S. citizens wrongfully detained anywhere in the world.
"We pray for Paul Whelan and stress that he must be released and returned to his family," the tweet read.
Texas Representative Sheila Jackson Lee, who represents the city of Houston and the surrounding area, also shared her excitement for Griner's return on Twitter Thursday afternoon. In a following tweet that same evening, Lee added that she was "still committed to bring Paul Whelan home."
Biden said on Thursday that his administration had "not forgotten" about Whelan's prison sentence, but added that "for totally illegitimate reasons, Russia is treating Paul's case differently than Brittney's."
"And while we have not yet succeeded in securing Paul's release, we are not giving up," the president added.
Newsweek has reached out to Abbott's office for comment.