There has been a rise over the last year in the percentage of American adults who believe Asian Americans are "at least partly" to blame for COVID-19, according to a survey released this week by nonprofits Leading Asian Americans to Unite for Change (LAAUNCH) and The Asian American Foundation (TAAF).
American perceptions of Asian Americans "are worsening in the U.S.," LAAUNCH said in a Wednesday tweet. The 2022 STAATUS Index Report, which serves as an "assessment of attitudes and stereotypes of Asian Americans" based on national survey results, found 21 percent of American adults said they believe Asian Americans "are at least partly responsible for COVID-19," a 10-point increase from LAAUNCH's 2021 survey results.
"They are also more likely to agree that referring to the coronavirus as the 'Wuhan virus' or 'Chinese virus' is appropriate—disregarding the World Health Organization's advice of not attaching locations or ethnicity to disease in order to avoid stigmatization," the survey said.
There has similarly been an uptick in the percentage of Americans who question the "loyalty" of Asian Americans, with 32 percent of respondents saying they believe Asian Americans "are more loyal to their country of origin than to the United States." Twenty percent of respondents held that same opinion in 2021.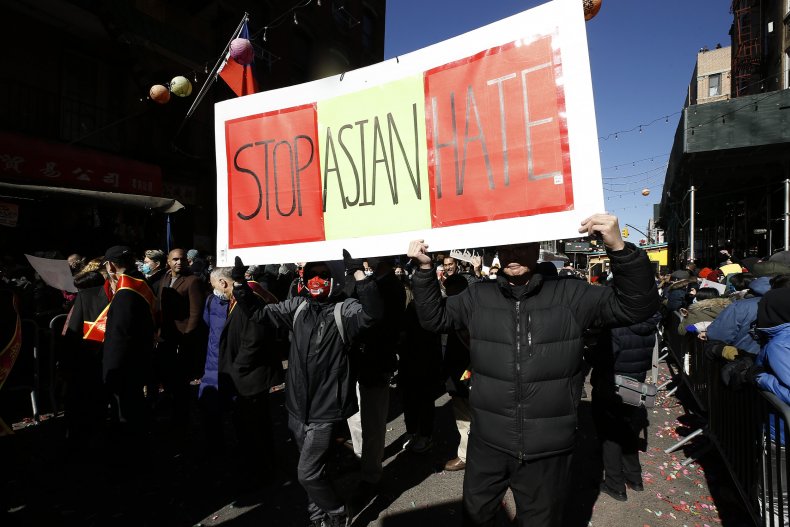 Since the start of the pandemic, there has been a surge of anti-Asian attacks in the U.S. The nonprofit Stop AAPI Hate said in a report released earlier this spring that it received more than 10,900 reports of anti-Asian hate incidents between mid-March 2020 and the end of 2021.
Even with the rise in reported incidents, LAAUNCH said its 2022 survey found about one in three Americans did not realize anti-Asian attacks were on the rise. Among survey respondents, 26 percent said they thought the volume of attacks had "stayed the same" over the last year, 5 percent believed the number of attacks "somewhat decreased" and 2 percent believed the number of attacks "extremely decreased."
Aside from respondents' perceptions about the pace of anti-Asian attacks, a majority of Americans—56 percent—said they "recognize that Asian Americans are being discriminated against." Seventy-two percent of respondents said anti-Asian racism in the U.S. "is a problem that should be addressed."
In the report's executive summary, LAAUNCH researchers wrote that blame for attacks targeting Asian Americans could "no longer" be placed "on a single politician or on a pandemic."
"The root causes are deeper, systemic and tied to the xenophobia, fear, and 'othering' of Asian Americans, manifested in harmful stereotypes and misperceptions, that have persisted in our society since Asians first arrived in the U.S.," the survey said.
While respondents' perceptions about Asian American "loyalty" and blame for COVID-19 shifted since LAAUNCH's 2021 survey, the nonprofit noted that high-profile Asian Americans are still "not top of mind," with a majority of Americans "unable to name a prominent Asian American." As in 2021, descriptors such as "smart," "nice" and "hard-working" were commonly applied to Asian Americans, terms that researchers said "continue to reflect damaging stereotypes from the 'model minority' myth, which has harmed Asian Americans for decades."
Norman Chen, LAAUNCH's co-founder and the CEO at TAAF, described the survey's results as "very alarming" in a Wednesday press release.
"These results reveal just how deeply embedded anti-Asian sentiment is in America right now, fueled by generations of systemic racism that has pervaded every aspect of our society and culture," Chen said.
LAAUNCH noted within its survey that the results were gathered online from 5,113 adults in the U.S. between February 10 and 28, with a 1.4 percent margin of error and a 95 percent confidence level.
Newsweek reached out to LAAUNCH for comment.



Source : https://www.newsweek.com/survey-shows-1-5-americans-partly-blame-asian-americans-covid-1704024