Russian forces are struggling to advance in the Donbas region of eastern Ukraine, with U.K. intelligence saying Moscow may struggle to reach its goal of September 15 to take Donetsk—a large region of the Donbas that Russia has claimed to be independent from Kyiv.
In its Monday intelligence update on the Ukraine war, the British Defense Ministry tweeted that despite the Ukrainian counter offensive in the southern region of Kherson, Russia's main efforts in Ukraine "almost certainly remain its Donbas offensive operation."
It said Russian forces' main advance in the Donbas was at Avdiivka near Donetsk City, and, 37 miles to the north, around Bakhmut.
"Although Russia has had the most success in this sector, its forces have still only been advancing around 1km per week towards Bakhmut," the ministry said.
"The political goal of the Donbas operation almost certainly remains to secure the whole of Donetsk Oblast, which would enable the Kremlin to announce the 'liberation' of the Donbas. Russian forces have highly likely repeatedly missed deadlines to achieve this aim," it added.
"The Ukrainian authorities have claimed that Russian forces are now under orders to complete this mission by 15 September 2022. The force is highly unlikely to achieve this, which will further complicate Russia's plans to run referendums on the occupied areas joining the Russian Federation."
Sources familiar with the plans have also said that the goal of the September 15 deadline is for the Kremlin to conduct referendums on whether captured Ukrainian territories should join Russia. The Kremlin has not publicly commented on a deadline.
A referendum plan will infuriate Ukraine and its Western allies, who do not recognize the Crimean Peninsula or the Donbas as Russian territory. Moscow annexed it during an invasion of Ukraine in 2014 with help from proxy forces.
Russian President Vladimir Putin has previously claimed the Donbas regions of Donetsk and Luhansk as independent "People's Republics" that are not part of Ukraine. Like Crimea, the Donbas is a primarily Russian-speaking part of Ukraine. However, a poll in May indicated that those living in Luhansk and Donetsk do not view Russia favorably — some 82 percent of Ukrainians in territory seized by Russia since it began its invasion on February 24 have a negative attitude to Moscow.
Newsweek has contacted the Russian and Ukrainian defense ministries for comment. Newsweek has also contacted defense analysts for comment.
Meanwhile, gas prices rose sharply on Monday morning as Russia kept Nordstream I, its main oil pipeline into Europe, closed. Russian state-owned oil firm Gazprom halted supplies to Western Europe on August 31. Gazprom has said it would halt supplies due to "maintenance work" but only until Saturday.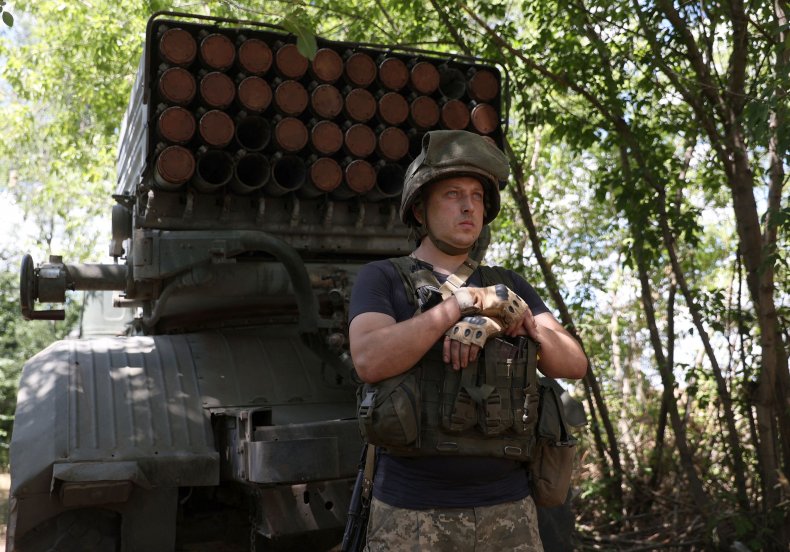 Source : https://www.newsweek.com/russian-advance-struggling-donbas-u-k-1739786