Ukraine joining the European Union would be the same as joining NATO in Moscow's eyes, Russia's deputy ambassador to the U.N. has said, indicating a toughening of Russia's position on any settlement to end the war in Ukraine.
Moscow had previously signaled that it may allow Ukraine to join the EU, which is mainly a political and economic body, if it vowed not to apply for NATO membership, which Moscow regards as a national security threat, the Financial Times reported on March 28.
However, Russia's deputy ambassador to the U.N. Dmitry Polyanskiy said in an interview on Thursday that Moscow no longer sees much difference between Ukraine's accession to the EU and NATO.
"Our position on the European Union now is more similar to NATO because we don't see a big difference," Polyanskiy, Russia's first deputy permanent representative to the U.N., said in an interview with the British news outlet UnHerd.
Asked if Russia was now seeking guarantees that Ukraine would not join either NATO or the EU, Polyanskiy appeared to nod his head in assent.
However, the Russian diplomat suggested that he does not see "any diplomatic opportunities" to resolve the conflict now. "There is no way for diplomacy right now," he said.
Polyanskiy said the Kremlin's position on Ukraine's desire to join the EU changed after Josep Borrell, the EU's top diplomat, suggested last month that the Ukraine war "will be won on the battlefield."
"The situation has changed after Mr. Borrell's statement that this war should be won on the battleground and after the fact that the European Union is the leader of deliveries of arms," he said in the video interview.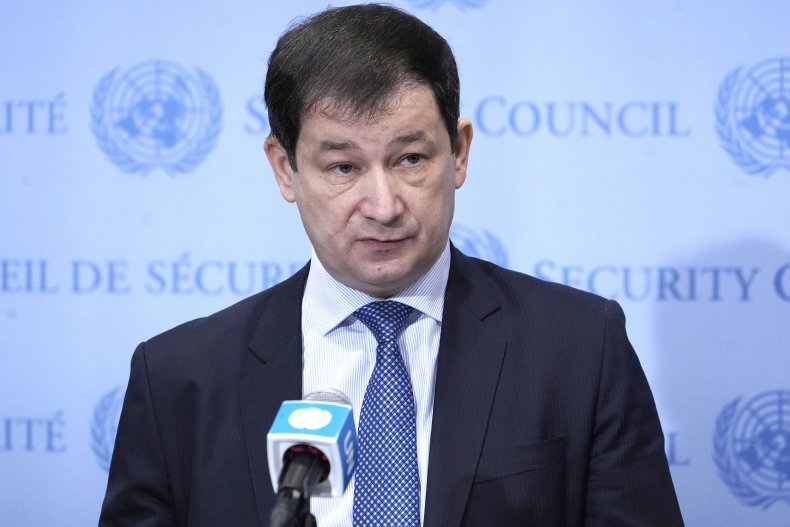 The EU has provided Ukraine's military with $1.6 billion worth of military amid the country's conflict with Russia.
Ukrainian President Volodymyr Zelensky has made EU membership a key goal amid the Russian invasion that began on February 24.
Zelensky acknowledged on March 15 that his country will not become a member of NATO, one of Russian President Vladimir Putin's demands before his troops invaded nearly three months ago.
Talks on Ukraine's possible accession to the EU are ongoing.
The Ukrainian leader formally applied to join the EU on February 28, requesting fast-track admittance due to Putin's invasion. Joining the bloc could help protect the country from future Russian aggression.
European Commission President Ursula von der Leyen, who runs the EU's executive branch, said in an interview with Euronews shortly afterwards that she wants Ukraine to join the bloc "over time."
The European Commission is expected to announce in June whether to grant Ukraine candidate status.
"The EU Commission will aim to deliver its opinion in June," von der Leyen said on May 9.
Granting Ukraine candidate status will allow the issue to be taken up by the 27 existing EU member states.
Newsweek has contacted the Ukrainian and Russian foreign ministries for comment.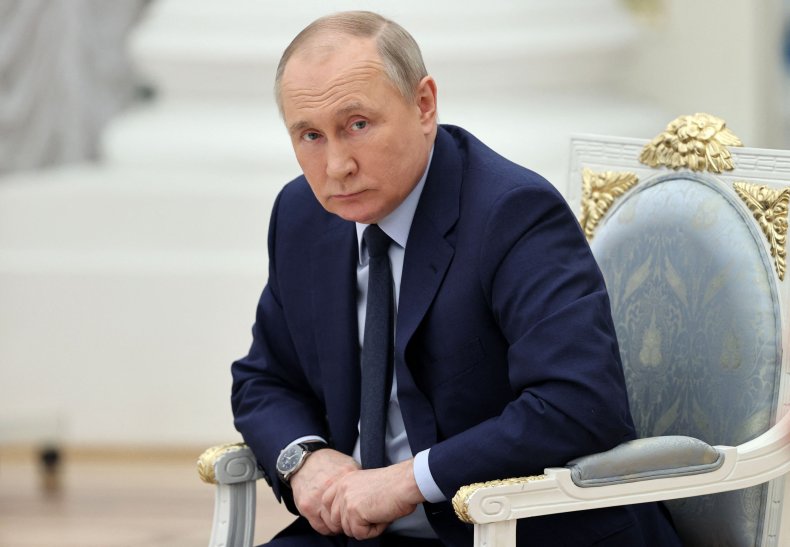 Source : https://www.newsweek.com/russia-warns-ukraine-eu-nato-membership-1706302