Florida's Republican Governor Ron DeSantis has had a difficult week that could put a dent in his presidential ambitions before he even enters the GOP primary race.
DeSantis has not yet formally declared a presidential campaign but he's long been seen as the strongest potential rival to former President Donald Trump, who remains the Republican favorite in recent polls.
However, the governor's presumptive White House campaign may have been dealt a blow this week amid poor polling, doubts among Republican donors, and a new lawsuit from Disney.
Polls and Donors
DeSantis lost the support of a second high-profile donor in two weeks on Wednesday when New York-based billionaire John Catsimatidis ruled out supporting the governor's presidential bid.
"Why would I support somebody to become president of the United States that doesn't return phone calls?" Catsimatidis told The Washington Examiner.
Those comments came after GOP donor Thomas Peterffy—a financier and the 65th richest man in the world with a net worth of $25 billion—said he had put donations to DeSantis "on hold" because of "his stance on abortion and book banning."
Recent polls also show that DeSantis would perform less well against President Joe Biden in a hypothetical 2024 match-up.
A Redfield & Wilton Strategies survey conducted for Newsweek found that half of the Americans polled said that the president would win that match-up, with just 38 percent backing the Florida governor. The survey of 1,500 "eligible voters in the United States," was conducted on April 24.
Trump performed better against Biden, with 46 percent of Americans thinking Biden would be "more likely to win" and 40 percent opting for Trump.
Other recent polls paint a similar picture, with an Emerson College poll among 1,100 registered voters from April 24 to 25 showing Biden beating DeSantis 43 percent to 37 percent. In the same poll, Biden leads Trump with 43 percent to the Republican's 41 percent.
An Ipsos/Reuters poll conducted among 1,005 adults from April 21 to 24 found Biden with 38 percent support to DeSantis' 30 percent. In a Trump/Biden match-up, the former president had 36 percent support to Biden's 38 percent.
DeSantis and Tucker Carlson
Governor DeSantis' political ambitions may have been overshadowed this week by the fact that Fox News parted ways with its most high-profile host, Tucker Carlson, leading to strong criticism of the network from conservatives.
Carlson's departure from Fox could complicate DeSantis' path to the nomination, according to political strategist and former Republican Rick Wilson.
Wilson took to Twitter this week and theorized that Carlson would "instantly have an online fundraising juggernaut second only to Trump, and perhaps surpassing him" if he chose to run for president.
"He's polarizing, terrible, and utterly amoral…in short, better than Ron DeSantis for the base," Wilson said.
Republican strategist John Feehery told Newsweek that "[I]f Tucker decided to run for president, he would be an immediate threat to Trump and to the rest of the field."
Nonetheless, recent betting odds suggest Carlson would be facing an uphill struggle. British betting firm Betfair was offering odds of 80/1 on Carlson winning the 2024 presidential election on Friday, along with odds of 50/1 on him being the Republican Party's candidate at that election and 6/1 on him being Trump's pick for vice president.
Republicans Criticize Disney Feud
Amid apparently poor polling against President Biden, DeSantis' feud with Disney continues to rumble on and the governor has come under fire from some fellow Republicans over the issue.
Disney filed a federal lawsuit against the state of Florida on Wednesday, accusing DeSantis of trying to "weaponize government power" over the company by appointing a board that nullified agreements that gave Disney control over expanding its resort in the state.
In 2022, Disney publicly opposed the state's controversial "Don't Say Gay" bill, which restricts classroom discussions of gender identity and sexual orientation and which DeSantis signed into law.
Some Republicans, including former Arkansas governor and GOP presidential candidate Asa Hutchinson, have criticized DeSantis for the conflict with Disney.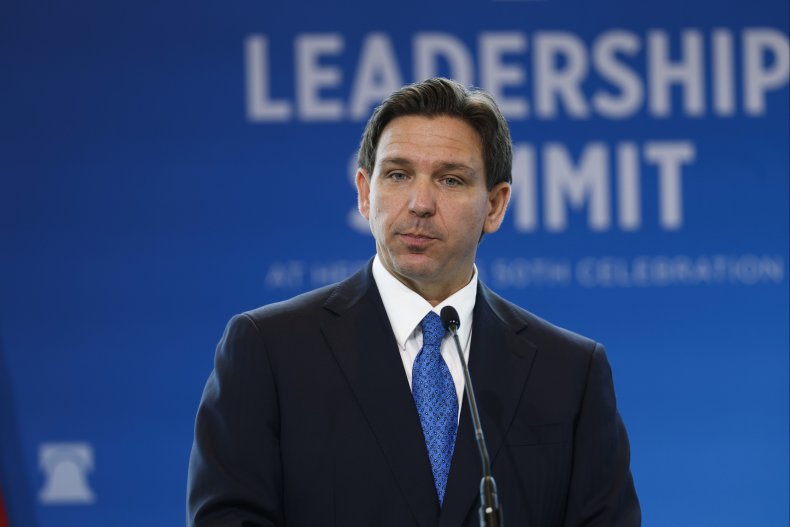 "You don't use the heavy hand of government to punish business. The left does that," Hutchinson told Fox News.
Former U.S. Ambassador to the UN Nikki Haley, another GOP presidential candidate, told Fox News that Disney was welcome to move to her home state of South Carolina, adding on Twitter that the state isn't "sanctimonious" – a remark aimed at DeSantis, whom Trump has referred to as "Ron DeSanctimonious."
Guantánamo Bay and Foreign Trip
DeSantis angrily denied an accusation that he had overseen the force-feeding of a prisoner at Guantánamo Bay after former detainee Mansoor Adayfi claimed in an op-ed for Al-Jazeera that DeSantis had been present when he was force-fed during a hunger strike.
"No, no, all that's BS," DeSantis told reporters in Jerusalem on Thursday. "No, totally, totally BS."
"How would they know me?" he went on. "OK, think about that. Do you honestly believe that's credible? So, this is 2006. I'm a junior officer. Do you honestly think that they would have remembered me from Adam? Of course not."
DeSantis' visit to Jerusalem was part of a wider overseas trade mission which also included Tokyo, Japan as well as South Korea and the U.K..
One interview conducted with Fox News Sean Hannity during his visit to Japan garnered mockery after the governor was seen squinting throughout the interview because he had been positioned facing the sun.
DeSantis' foreign trip may have been aimed at boosting his foreign policy credential ahead of a potential presidential announcement and there was one clear win for the governor this week before he's expected to enter the race.
A new Florida bill is now heading to DeSantis' desk that will allow him to remain governor while running for president.
An amendment was added to a bill, SB 7050, exempting elected officials in the state from having to resign their current office should they run for president or vice president. Currently, Florida law requires officials to resign from their current position when they decide to run for a new one but that looks set to change.
Newsweek has reached out to DeSantis' office via email about this week's events.