Some might think that taking a vacation is just for people, but a viral video showing a cat joining his owners at an Airbnb has left the internet in hysterics.
The video was shared by TikTok user @winston.naughtypaws on April 23, revealing Winston tucked away in an overnight bag. Alongside the video, which has generated over 3.2 million views already, the caption reads: "So much for a weekend away."
The caption on the video led many to believe that Winston was an unintended stowaway. However his owner Emily, who doesn't wish to disclose her full name, has explained to Newsweek that it was just a fun joke.
They were having work done on their home so needed to vacate the property for a weekend, Winston included.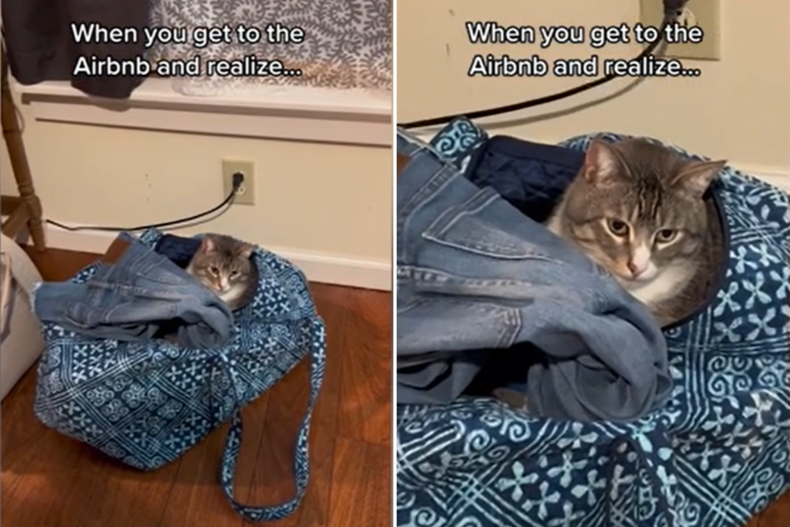 Many owners take their beloved pets on vacation with them, but the vast majority of traveling pets are dogs, according to a survey by PetRelocation.
For those wishing to take their cat or dog with them on a trip, 90 percent said they would consider changing their original plans to better accommodate their pet. Additionally, 60 percent of owners said that when planning to travel with their pet, the animal's safety is the most important factor.
Pet-friendly travel isn't without its problems though, as 40 percent of respondents said the most difficult part is finding somewhere to stay that allows pets.
Emily, from Atlanta, explained that Winston, a rescue cat, was due to come along with them for the weekend trip. However her video left much of the internet believing he'd secretly climbed into her bag.
She told Newsweek: "We were just in a neighborhood over as we had to leave due to repairs in our apartment. So, we had to take Winston with us too.
"I didn't expect the video to go so viral. So many people thought that he actually snuck into my bag.
"As lots of people believed that Winston accidentally tagged along, I've had to clarify it to many people. Although he didn't do it this time, sneaking into a bag and coming along with us is something he is very likely to do."
Thankfully for Emily, Winston is comfortable with any mode of travel, from planes to cars. So, if he does join them again in the future, she can be sure that he'd be fine.
Emily continued: "He travels surprisingly well. We previously moved him down to Georgia from Massachusetts via car, and he did great. He also recently flew on an airplane for the first time."
The TikTok video has generated over 502,000 views and hundreds of comments in just a matter of days.
As Emily suggested, many of the comments joke about Winston seemingly tagging along for the ride.
One person commented on the post: "It's a family vacation now."
Another person joked: "Guess you could say the cat's out of the bag."
Do you have funny and adorable videos or pictures of your pet you want to share? Send them to [email protected] with some details about your best friend and they could appear in our Pet of the Week lineup.