Raven-Symoné jokingly told her wife, Miranda Maday, to cut her finger off as she prepared to meet Amber Heard last year in a resurfaced video.
In a clip posted to YouTube on her channel 8PM with Raven and Miranda! in April 2021, the That's So Raven star excitedly shared in self-shot footage that while she and Maday were charging their Tesla, they realized that they were sitting next to Heard.
"We are charging our Tesla right now, and I swear to God, the girl next to us right now is Amber Heard," said Raven-Symoné, who said that the Aquaman star was sitting with a female companion. Heard was not directly filmed in the clip.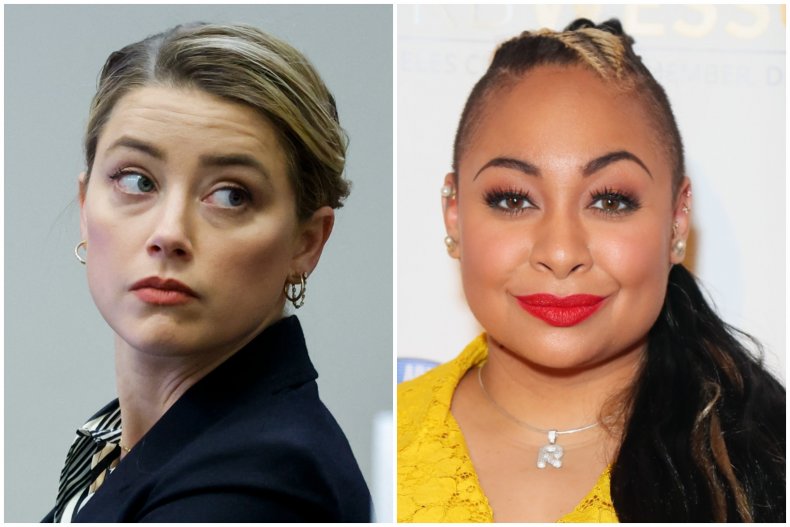 As the couple discussed ways to get Heard's attention while she spoke on the phone in her vehicle, Raven-Symoné raised a laugh from Maday as she quipped: "Cut my finger off and see if she'll claim it."
The comment appeared to refer to Heard's ex-husband, Johnny Depp, who had alleged during his 2020 libel trial that she threw a large bottle of vodka at him, resulting in injuries that included the severing of part of his fingertip.
Depp's allegations were raised once again when he took the stand during his high-profile defamation trial against Heard, which is taking place in Fairfax, Virginia.
Heard has disputed the claim, saying that Depp cut his fingertip himself while he was intoxicated for three straight days. She also alleged that Depp hit her, choked her and sexually assaulted her during the fight in question.
Elsewhere in Raven-Symoné's video, which this week became a talking point on TikTok, the TV personality at one point said of Heard: "Oh my God, I really wish I could film this right now, guys. This is Amber Heard, we're at the Tesla charger… She's crying, she's so upset right now I can't even take it."
A reflection filmed in the reflection of Maday's sunglasses showed the two people, said to be Heard and her companion, strolling through the parking lot.
However, the drama didn't end there. Later on in the video—titled IS AMBER HEARD GOING TO SUE US?!?—Raven Symoné revealed that she took a selfie with Heard after approaching her—leading to quite the frustrating mishap.
Recounting the series of events, Maday said: "So Amber gets out of her Tesla, and when she walked back up I noticed that she didn't have her car key. She had to open her car through the app. OK, perfect.
"She gets out of the car, takes a picture with Raven and closes her door, which then means as soon as Raven walks away, she goes back to her car and her car is locked, with her phone inside, her purse inside, the snacks that she was nibbling on, and her jacket.
"I watched this woman try to keep it cool and just try and act like she meant to get out of her car and close the door, turn around and then she's just like there, locked out of her car."
"Can't go anywhere," Raven-Symoné added of Heard. "I was like, 'Babes, unplug the car, we gotta go!' [Heard] doesn't know who I am, so everything's good. But Amber, I'm so sorry you got locked out of your car, but my picture's amazing. Thanks, Amber!"
Raven-Symoné showed two photos of herself posing with a smiling Heard as the clip came to its conclusion.
Heard is battling a $50 million lawsuit filed by Depp, who has accused her of defaming him in an op-ed published by The Washington Post in 2018. Heard stated that she was a victim of domestic abuse in the article.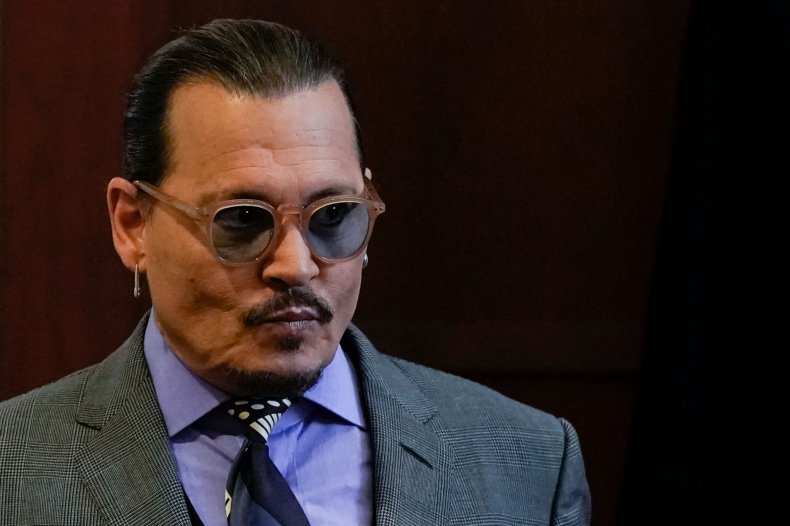 While she didn't name Depp in the article, the Pirates of the Caribbean star's lawyers have argued that it was obvious she was referring to him. Heard has countersued for $100 million for nuisance.
Their courtroom showdown comes almost two years after Depp lost his 2020 libel case against British tabloid The Sun, which had called the Charlie and the Chocolate Factory star a "wife-beater," in reference to Heard's allegations.
Heard accused Depp of domestic abuse during their divorce proceedings in 2016.
While Depp had repeatedly denied ever having been violent to Heard during the three-week trial in London, a judge found that The Sun's claims that the Kentucky-born actor was abusive to Heard were "substantially true."
Depp and Heard are set to return to court on May 16, following a weeklong break due to a previously scheduled engagement for Judge Penney Azcarate.

Source : https://www.newsweek.com/raven-symone-meets-amber-heard-jokes-cut-my-finger-off-resurfaced-clip-1706009