Quordle is one of the most popular Wordle-inspired games, and the puzzle's user base is reportedly growing all the time.
Quordle is considered to be far harder to solve than its similar-sounding cousin, meaning it is plausible you will require the #95 answer on Friday, April 29.
This should actually read "answers" plural, as Quordle has four times as many solutions to solve on a daily basis.
Quordle #95 is reliably tricky to solve, so why not read on for some gnomic signposts towards solving April 29's puzzle?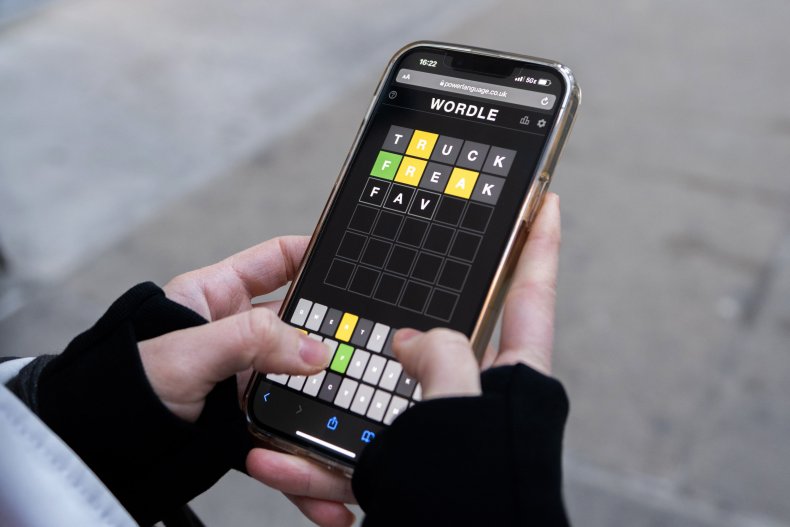 Quordle Origins
Quordle has joined its namesake Wordle on many puzzle enthusiasts' to-do lists.
Quordle #95 requires a lot more work from participants of the daily puzzle, as they are required to guess four five-letter words in nine tries or fewer.
There are four grids on the screen and every choice made reflects in all of the grids, and one of your nine chances will disappear.
Quordle's developer reported there were 500,000 daily players more than six weeks ago and two million in total since the game was introduced, and now these numbers have now swollen to two million and 15 million respectively.
Tricia Fox, managing director of PR firm WeAreCunninglyGood is one of the many people who describe themselves as "daily Quordlers.'
She told Newsweek: "I started with wordle (still do that too but find it boring by comparison).
"I enjoy Quordle as it's a bit more challenging to solve 4 words simultaneously however I use the nine guesses to my advantage."
Read on to find helpful hints for the four-word answers for Quordle #95.
Please note, the following article includes Quordle #95 spoilers, so take care while scrolling down.
Quordle April 29 Hints & Tips
The tips here concern only the meaning of the answer, rather than any specific letters used in the word itself.
Generally speaking, the Quordle #95 answers for Friday, April 29, are less common when compared to previous puzzles.
Hint 1: Word 1 incorporates a brace of identical consonants straddling a consonant in the middle o of the five-letter word, which is a synonym for "at no time in the past or future."
Hint 2: With a popular vowel sitting prominently in the answer's center, this word means "to break something by forcing it inwards or piercing it roughly."
Hint 3: This pejorative third word is a synonym for a "cad", "cootie", "knave" and "a scoundrel."
Hint 4: The final word is potentially one of the trickiest to get, as it is the only one to feature a "qu," while meaning "an uneasy feeling of doubt, worry, or fear, especially about one's own conduct."
Quordle #95 Answers
Still having trouble working out Tuesday, April 29's problem puzzle?
Without further delay, Newsweek provides your Quordle #95 answers.
Answer 1: Never
Answer 2: Stave
Answer 3: Louse
Answer 4: Qualm

Source : https://www.newsweek.com/quordle-95-answer-today-hints-friday-april-29-word-puzzle-1702075