Authorities in the Netherlands seized a plot of land that belongs to the former son-in-law of Russian President Vladimir Putin, according to a report published Friday.
Dutch prosecutors took the land belonging to Jorrit Faassen, a Dutch businessman who was once married to Putin's elder daughter, Maria Vorontsova, on May 12, according to The Guardian. The report was the result of a joint investigation conducted by the newspaper, the independent Russian news site Proekt Media and an investigative journalism platform called Follow the Money.
The land, located in Duivendrecht, a village located about four miles away from Amsterdam, was reportedly seized in relation to a criminal investigation. Though the media outlets did not have more details on the investigation, the seizure was reportedly conducted by the Netherlands' National Office for Serious Fraud, Environmental Crime and Asset Confiscation. Among the agency's tasks is enforcing sanctions.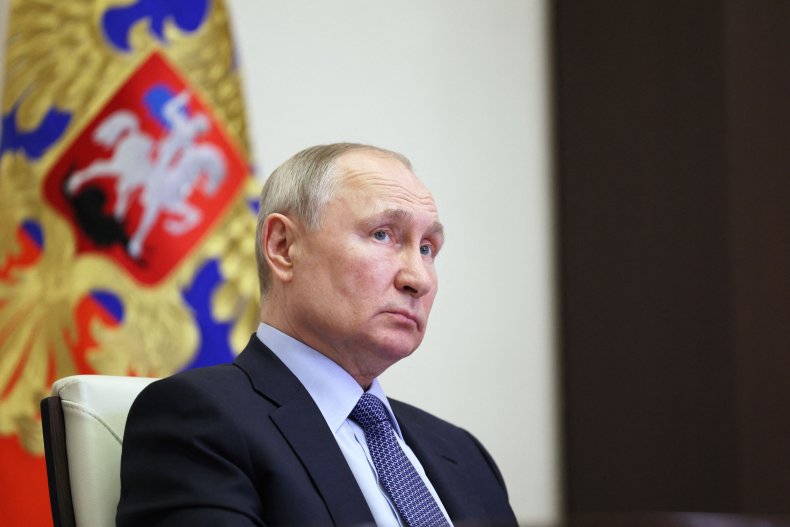 Vorontsova, as well as Putin's other adult daughter, Katerina Tikhonova, were both sanctioned by the European Union and the United States in April 2022 following their father's invasion of Ukraine two months earlier. However, The Guardian noted that Faassen himself is not named on any sanctions lists.
Faassen is believed to have been questioned by authorities at a Dutch airport recently. He was reportedly questioned on suspicion of "sanctions evasion," and authorities confiscated his mobile phone and laptop computer," according to Proekt Media.
Putin's daughters have largely avoided the spotlight during their father's time in office, but Vorontsova is believed to have married Faassen in 2008. Russian media has said that the two share a young son together. It is unclear when Vorontsova and Faassen divorced.
After Putin announced his divorce from Lyudmila Ocheretnaya—mother to Vorontsova and Tikhonova—in 2013, speculation began that he was in a relationship with former gymnast Alina Kabaeva.
Neither Putin nor Kabaeva has ever confirmed their relationship, but Western media reports have said that the two share two young sons as well as twin girls. Newsweek could not independently verify these reports.
The Guardian said that Faassen, who lives in Moscow, applied two years ago for permission to build on the Duivendrecht land, but his permit was halted after Putin launched the war in Ukraine. The area's municipality reportedly stopped the project due to Faaseen's "close ties" with the Russian leader.
Faassen's land is currently empty, but The Guardian said the public is aware of its owner's ties to Putin. The paper wrote that protesters placed anti-Putin signs on the land soon after Russia began its invasion of Ukraine, including ones that had messages for Vorontsova about her father.
Newsweek reached out to the Netherlands' National Office for Serious Fraud, Environmental Crime and Asset Confiscation via email for comment.