Russian President Vladimir Putin on Thursday ranted about "cancel culture" during a speech in which he blamed the West for the war in Ukraine.
"It is no coincidence that the West says that its culture and its worldview should be recognized as universal. They are not saying that outright, but this is how they behave," Putin said during his televised speech at the Valdai Club, a think tank and discussion forum. "And they insist through their policies on everyone accepting these values unconditionally.
"Right now, the Western champions of liberalism and progress have slipped into banning [Fyodor] Dostoyevsky and just [Pyotr Ilyich] Tchaikovsky. The so-called cancel culture is basically a constellation of culture that annihilates everything that is alive and creative. It stands the growth of free thought, economy, politics and culture. The very liberal ideology itself has today changed beyond recognition."
Putin defended the conservative notion around "cancel culture" in March when he showed support for British author J.K. Rowling, claiming that the West is trying to cancel markers of Russian culture, including the works of Russian composers such as Tchaikovsky, Dmitry Shostakovich and Sergei Rachmaninov.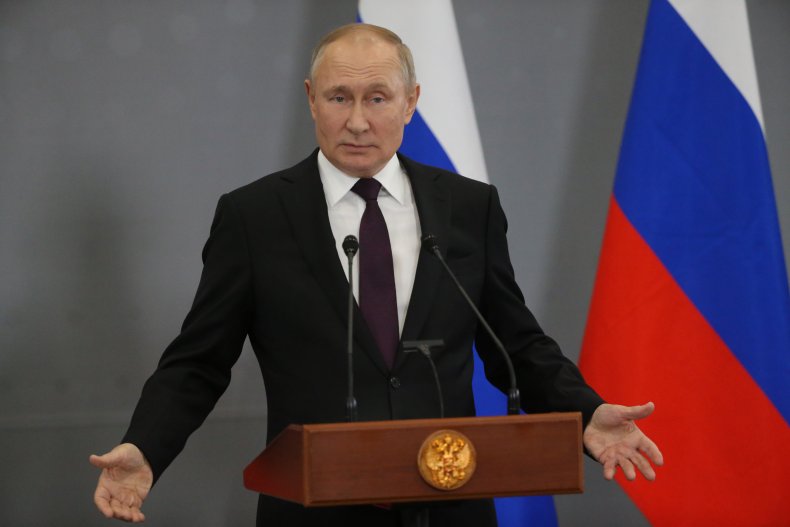 Putin referenced Rowling as someone who has been a victim of "cancel culture."
"They canceled Joanne Rowling recently—the children's author, her books are published all over the world—just because she didn't satisfy the demands of gender rights," Putin said. "They are now trying to cancel our country. I'm talking about the progressive discrimination of everything to do with Russia."
Putin also blamed the West for the war in Ukraine, where he sent his forces on February 24 on what he called a "special military operation."
"The West over the recent years, and especially over the last months, has taken several steps towards escalation and they're always trying to escalate. There's nothing new in that," he said. "They are fueling the war in Ukraine, organizing provocations around Taiwan, destabilizing the world food and energy markets.
"And right now they [the West] have reached an absurd situation where any alternative point of view is declared to be a subversive propaganda and a threat to democracy. Whatever comes from Russia, well, it's all the Kremlin's doing, but they should look at themselves first."
Putin also criticized a concept around free society as he argued that a so-called "open society" has enemies that should be dealt with.
"The very liberal ideology itself has today changed beyond recognition. In the very beginning, classical liberalism interpreted the freedom of each and every person as the freedom to say what you want, do what you want, but in the 20th century, liberals started to proclaim that the so-called open society has enemies," he said. "Well, it turns out open society has enemies and the freedom of these enemies could and should be restricted, if not abolished altogether."
Putin's speech and his comments about cancel culture were criticized online by Anton Barbashin, the editorial director of Riddle, an online journal focusing on Russian affairs.
"Putin's speech so far is Soviet criticism of capitalism/imperialism + rant about 'cancel culture' and 'death of liberalism,'" Barbashin wrote on Twitter.
Newsweek reached out to the White House for comment.