Moscow has been accused of trying to destroy Ukrainian identity by repopulating territories it occupies with Russian citizens.
Ukraine's deputy defense minister, Hanna Maliar, said on Wednesday that Moscow was involved in the large-scale resettlement of people from poorer and remote regions of Russia into Ukraine, most significantly in the occupied eastern Luhansk region. She also said that Russia was deporting Ukrainian citizens and forcibly resettling them in Russia.
She wrote on Telegram that Russian settlers in occupied parts of Ukraine were given financial help, accommodation, and employment, while local residents, often accused of following pro-Ukrainian positions, were deported.
Kyiv has been adamant that it would only consider peace talks once Russian troops have vacated the entirety of Ukrainian territory, including the Crimean Peninsula, which Moscow annexed in 2014. Russian President Vladimir Putin has, in various declarations, denied Ukraine's national identity as well as its legitimacy as a sovereign nation.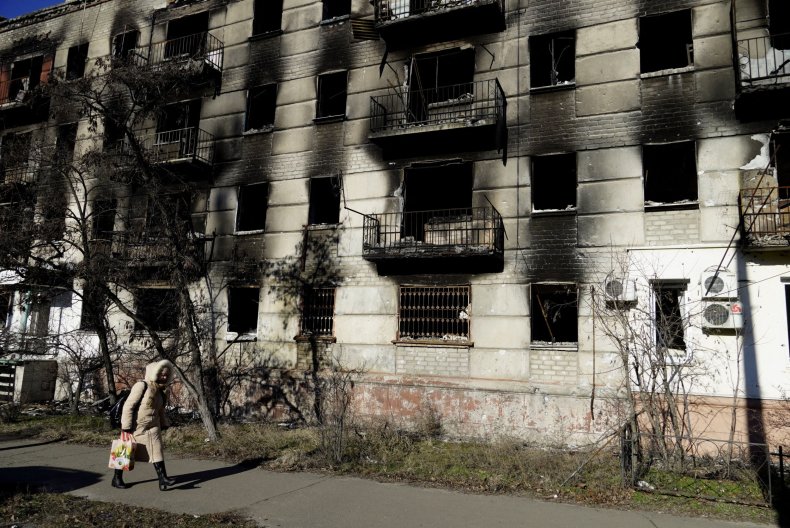 "In this way, the enemy seeks to destroy Ukrainian statehood and the national self-identity of society in the temporarily occupied Ukrainian territories," she said, according to a translation. "The aggressor country is trying to influence the change in the ethnic composition of the population," of the areas Russia occupies.
The Institute for the Study of War (ISW), a U.S.-based think tank, said on Wednesday that Moscow's intentions may be to deepen Russia's social, political, and economic integration in occupied land "thereby complicating conditions for the reintegration of these territories into Ukraine."
The ISW had previously described such a depopulation and repopulation campaign as part of "a deliberate ethnic cleansing effort" that would violate the Geneva Convention on the Prevention and Punishment of the Crime of Genocide.
The think tank had also reported how Russian authorities had overseen the depopulation and repopulation of occupied Ukraine, particularly in the southern Kherson region in 2022. Russian troops withdrew from the city of Kherson in November 2022 but still occupy much of the region.
Ukrainian sources said in October 2022 that Russian authorities in then-occupied parts of the Kherson region deported many Ukrainian residents to Russia under the guise of humanitarian evacuations and then repopulated their homes with Russian soldiers. Newsweek has contacted the Russian Foreign Ministry for comment.
Meanwhile, British defense officials said this week that Russian troops were forcing residents in occupied areas to accept Russian Federation passports.
The U.K. Ministry of Defense said on Monday that Moscow's authorities in occupied areas of Ukraine, including Kherson, were coercing locals to accept a Russian passport by June or be deported and have their property seized. This was part of a "Russification" process it employed in the easter regions of Donetsk and Luhansk before the start of the full-scale invasion, the ministry added.
This comes amid a widely anticipated Ukrainian counteroffensive and recent reports that Kyiv's troops have crossed the Dnieper River in the Kherson region.
The ISW said on Wednesday that comments made by Russian officials and prominent voices in the Russian information space, including from Wagner Group boss Yevgeny Prigozhin, show a "pervasive anxiety" over Ukraine's next move.
One Russian military blogger suggested that Kyiv's counteroffensive could be timed to ruin Victory Day celebrations on May 9, marking the end of World War II.