Riot police in the Parisian suburb of Saint-Denis repeatedly fired tear gas at Liverpool supporters forced to endure long waits to get into the Champions League final.
Liverpool FC has called for an investigation after the British club's fans were repeatedly tear-gassed outside the Stade de France on Saturday.
The start of the match, which Liverpool lost 1-0 to Real Madrid, was delayed by more than half an hour as security struggled to deal with the crowds trying to enter the stadium.
The Union of European Football Associations (UEFA), the governing body of European soccer, and French authorities appear to have pinned blame on British supporters—but fans said they were tear-gassed for "no reason" and that the fault lies squarely with the organizers and French police.
UEFA's initially blamed the delay on the late arrival of fans, but in a later statement said turnstiles "at the Liverpool end" of the stadium became blocked because thousands of fans were trying to access the stadium with fake tickets.
"This created a buildup of fans trying to get in," UEFA said. "As a result, the kickoff was delayed by 35 minutes to allow as many fans as possible with genuine tickets to gain access. As numbers outside the stadium continued to build up after kickoff, the police dispersed them with tear gas and forced them away from the stadium."
French Interior Minister Gérald Darmanin alleged British fans without tickets or with counterfeit tickets had forced entry and in some cases, assaulted stewards.
"Thousands of British 'supporters,' without tickets or with counterfeit tickets, forced entry and sometimes assaulted the stewards," he tweeted.
The Paris Prefecture de Police issued its own statement saying people without tickets or with fake tickets were "exerting strong pressure to enter the enclosure," delaying access for those with tickets.
But Merseyside Police, the British force that covers Liverpool, said in a tweet that the "behaviour of the fans at the turnstiles was exemplary in shocking circumstances."
Videos on social media showed tear gas being fired by police from inside a security perimeter at people outside the fences. Children were among those seen struggling after being hit by eye-irritating chemicals. A police officer was seen collapsing to the ground and other officers rushing to his aid in one video.
The game eventually kicked off at 9.37 p.m. local time despite frustrated supporters still trying to get into the Stade de France.
The Associated Press reported that angry Liverpool fans stuck in lines hung onto railings and could be heard shouting: "Let us in. We've got tickets."
There were also many instances of fans breaking through security and attempting to get into the stadium, according to the AP, noting that two fans—including one wearing Liverpool attire—was wrestled to the ground by stewards and bundled out of the gates.
Three others were seen dodging stewards and sprinting through the concourse and into the bottom level of the stadium. But other people, wearing no obvious club attire, climbed the fences as Liverpool fans shouted at them to get down, the AP reported.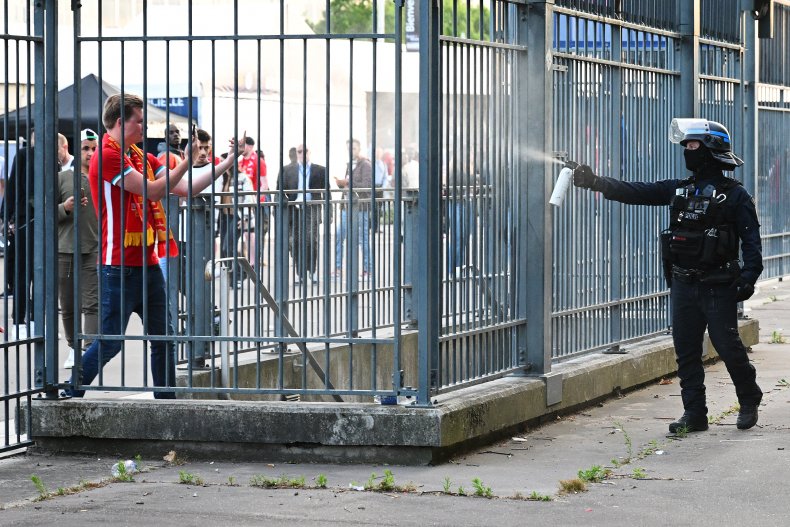 Liverpool defender Andy Robertson criticized UEFA's handling of the event and French police for using tear gas on fans, saying that the friends and families of the players had been caught up in the melee, according to the Press Association (PA) news agency.
He also hit back at claims about counterfeit tickets, saying: "Someone told one of my mates he had a fake ticket, which I assure you it wasn't because it was obviously through me."
Others invoked the Hillsborough disaster, when 97 fans were killed in a crush during the 1989 FA cup semi-final between Liverpool and Nottingham Forest—and was followed by Liverpool fans being falsely blamed for the tragedy by police and media. An inquest in 2016 concluded the dead were unlawfully killed, pointing to police failures, and that fans played no part in the deaths.
"I've been everywhere and I've never seen anything as bad as this, other than Hillsborough," an 82-year-old Liverpool fan said in a video shared by AP correspondent Rob Harris.
"It's Hillsborough-like," another fan, who said he had been separated from his brother, said. "I was almost in tears walking in here, I don't want to watch this European Cup final now. I want to go home."
Jim Beglin, a former Liverpool defender who is now a commentator, said fans departing the stadium after the match were assaulted and robbed by local "gangs."
"Post-match last night was the scariest I've ever experienced. Organised gangs set about mugging departing fans," he tweeted.
"We ran a gauntlet of thuggery on our way to the Metro. Not a police officer in sight. Witnessed so many ambush attacks on unsuspecting attendees. Reprehensible @UEFA."
Liverpool said it had requested a formal investigation into the chaos of the security issues.
"We are hugely disappointed at the stadium entry issues and breakdown of the security perimeter that Liverpool fans faced," the club said in a statement.
"This is the greatest match in European football and supporters should not have to experience the scenes we have witnessed tonight. We have officially requested a formal investigation into the causes of these unacceptable issues."
UEFA said it is "sympathetic to those affected by these events and will further review these matters urgently together with he French police and authorities with the French Football Federation."



Source : https://www.newsweek.com/police-fire-tear-gas-champions-league-final-liverpool-fans-slam-uefa-1711185