Former Vice President Mike Pence's testimony before the grand jury investigating ex-President Donald Trump will likely produce the "most sharply incriminating evidence" in the probe of Trump's efforts to overturn the 2020 election, legal analyst Glenn Kirschner said.
Pence appeared before the grand jury on Thursday for over five hours, according to several media reports featuring individuals familiar with the matter. The testimony took place behind closed doors, and the former vice president was swept in and out of the Washington, D.C., courthouse without garnering attention of the media.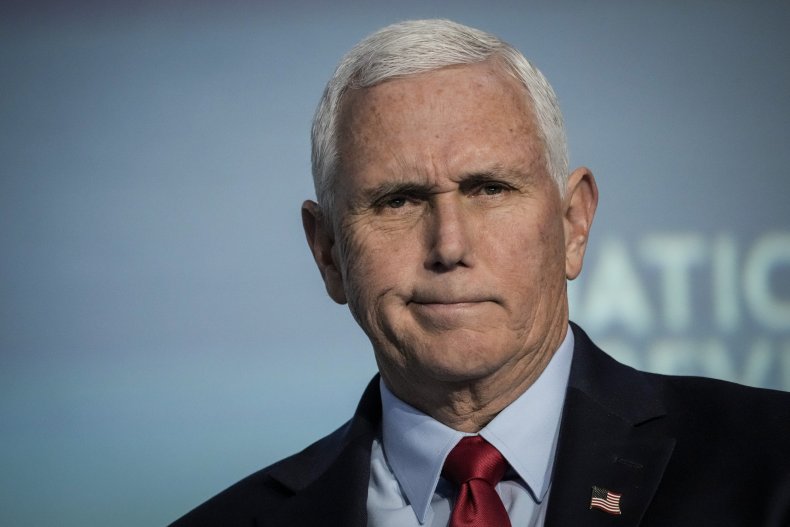 Pence and Trump had attempted to block a subpoena for the former vice president issued by Special Counsel Jack Smith, who is leading the Department of Justice's (DOJ) criminal probe into Trump's effort to overturn the 2020 presidential election after losing to President Joe Biden. Trump's request to block the subpoena was denied on Wednesday, but the judge presiding over the investigation granted Pence guardrails about what could or could not be discussed during his testimony.
According to previous testimonies given before the House select committee investigating the attack on the U.S. Capitol on January 6, 2021, Trump repeatedly pressured Pence to block Congress' certification of the 2020 election by acting in his role as president of the Senate. Trump also reportedly threatened his former running mate that there would be repercussions if Pence did not halt Biden's victory.
Kirschner, a former federal prosecutor, said during Thursday's episode of his Justice Matters podcast that Pence's testimony against the former president will likely move the DOJ "one giant step closer" toward charging Trump.
"Take it from this old prosecutor," Kirschner said. "Mike Pence's testimony is some of the most sharply incriminating evidence any witness can offer against Donald Trump."
"Donald Trump told Mike Pence, 'If you don't break the law, if you don't do what I'm telling you to do, if you don't help me retain the power of the presidency, then I made the wrong decision four years ago when I selected you as my vice president," Kirschner added, referring to the House select committee hearings that focused on Trump's pressuring of Pence leading up to January 6.
"And now, all of this testimony is in the hands of Special Counsel Jack Smith and is available to the grand jury," he continued. "And friends, indisputably this moves matters one giant step closer to a Donald Trump indictment for his democracy-busting crimes on and around January 6, and that is a damn good thing."
Trump has already become the first sitting or former U.S. president in history to face criminal charges, following an investigation led by Manhattan Attorney General Alvin Bragg, who indicted the former president on 34 felony counts related to falsification of business records in connection to several alleged hush money payments made during Trump's 2016 presidential campaign.
The former president's legal troubles have stockpiled since he left the Oval Office. On Thursday, a New York jury listened to a heated day of testimony during the third day of trial in former columnist E. Jean Carroll's defamation lawsuit against Trump.
Smith also recently made leaps in his investigation into the classified documents found at Mar-a-Lago after issuing several subpoenas last month to speak with employees who work at Trump's estate in Florida.
Trump is also facing pressure in Georgia, as Fulton County District Attorney Fani Willis investigates Trump's alleged attempt to overturn the 2020 election result in the state. And New York Attorney General Letitia James previously sued The Trump Organization for $250 million, accusing the former president's business of misrepresenting its assets to obtain favorable loans and tax benefits.
Trump has maintained throughout all the accusations that he is innocent, calling the investigations a "witch hunt" and an attempt to interfere with his 2024 presidential ambitions.
Newsweek has emailed Trump's communications team for comment.