Parents are driving hours to buy baby formula only to leave stores and come back home empty-handed amid a nationwide shortage that prompted many to take lengthy measures to feed their babies.
Some moms have recently launched different Facebook groups in which members share stock updates and other resourceful information that would help parents find baby formula.
However, some parents are still left disappointed after taking long drives to stores where baby formula is believed to be in stock, but it actually isn't.
Theresa Marchese Babb, who lives in North Carolina and runs the Facebook group Wilmington & Surrounding Area's Baby Formula Search, told Newsweek on Friday that "people are traveling hours away" and they are "contacting friends and relatives in other states" to get formula.
Babb said she has a friend who is sending her formula from Louisiana to help feed her granddaughter because her daughter is unable to breastfeed the baby.
Meanwhile, a young father drove for over two hours from Raleigh to buy baby formula at a CVS store in Wilmington after he knew online that it was in stock. He later found out that it wasn't there by the time he arrived, according to Babb who added that the father was "broken over it" and ended up going home empty-handed.
"This is so sad!" Babb said. "I really wonder about what will happen when people get really desperate."
The baby formula shortage began late last year as a result of disruptions in the supply chain due to COVID-19 where ingredients, labor, and transportation were lacking.
However, the situation worsened after Abbott Nutrition recalled several major brands and shut down its Sturgis, Michigan, factory. The recall came after the FDA said that several babies were hospitalized and two infants died of a rare bacterial infection that was connected to Abbott-manufactured products.
On Friday, Babb said that Walmart last week allowed her to buy only one bottle of formula per purchase, which she said lasts only for one day for her granddaughter. However, she was able to buy four bottles in Target at a time, but her local pharmacy would limit her to only two cans.
Meanwhile, Tammy Shields, a mother from Bowling Green, Kentucky told Newsweek that she would avoid nearby stores that don't have formula and drive to ones that have stock but are further in distance only to find that any formula is gone by the time she arrives.
"We risk the drive for our kids," said Shields who is moderating the Facebook group Baby Formula Locator -BGKY.
Shields, who has a 9-month-old daughter, noted that people are trying almost everything to buy formula, including ordering off Amazon and driving from one town to another, but "many still come up empty-handed."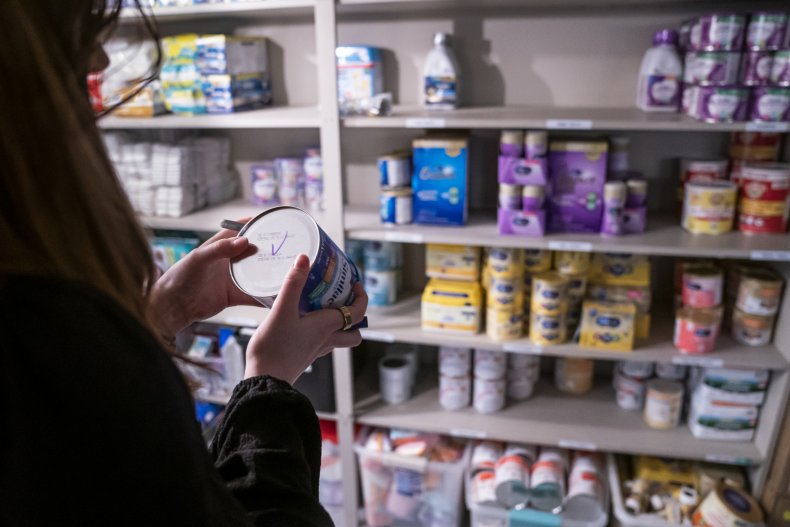 She shared pictures with Newsweek of empty shelves at a Kroger store in Bowling Green that she recently visited, adding that formula is running out fast.
"I [have] seen formula at Meijer I needed so it took me an hour to get there and when I got there it was gone I went to five stores and had to drive home empty-handed for the second day in a row," she added.
The formula shortage across the country is also causing medical issues among babies who are suffering due to the drop in supply and variety of formulas, according to parents.
"We have babies that are getting sick because parents are changing formulas because they can't find theirs," Babb explained. "Babies being subjected to medical problems, emergency room visits, allergies, [and] stomach problems, etc."
"It is scary times. What lengths would you go to feed your child? Is there a line you wouldn't cross?" she asked.

Source : https://www.newsweek.com/parents-are-driving-hours-baby-formula-exit-stores-empty-handed-1706615