Dr. Mehmet Oz, Republican Senate candidate in Pennsylvania, is seeking to undermine rival John Fetterman by playing a video of their debate on repeat outside of a high-profile Democratic Party fundraiser in Philadelphia.
Oz's campaign announced the move on Friday, saying it would display what they called Fetterman's "radical and extreme policies" for President Joe Biden, Vice President Kamala Harris and other guests. Fetterman, the state's lieutenant governor, is recovering from a stroke and stumbled in his responses during Tuesday's debate with Oz. With less than two weeks left in the tightening Senate race that could shift the balance in Washington, Oz's campaign is going on the offensive.
Following the announcement, Oz tweeted a Fox News segment covering Fetterman's fundraiser that showed a mobile billboard on a vehicle circling the Pennsylvania Convention Center in Philadelphia.
Political commentators reacted to Fetterman's verbal gaffes during the race's only debate by declaring he had lost the race to Oz, a celebrity physician and former television personality.
The statement from Oz's campaign did not mention Fetterman's verbal stumbles during the debate. Instead, the statement called out Fetterman's reversal on his previous opposition to fracking, his positions on taxes and crime, as well as his refusal to engage in additional debates.
"Pennsylvanians deserve to see this debate as much as possible since John Fetterman ducked six others," Brittany Yanick, communications director for the Oz campaign, said in the statement.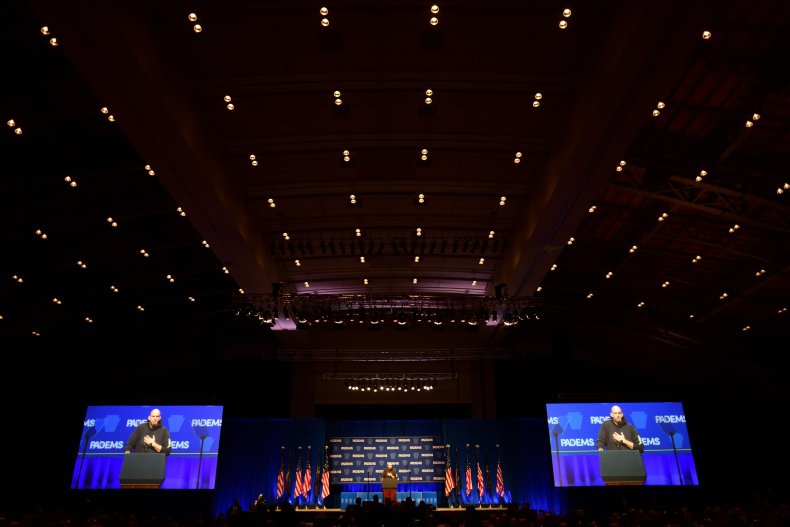 She also took a dig at Biden's handling of the economy, adding, "He won't be able to escape it during his fundraiser with the inflator-in-chief."
The Oz campaign sent an email to its mailing list following the debate, with the subject line: "WE WON." Fetterman's campaign also issued a statement after the debate, saying the candidate had "delivered a strong debate performance," calling out Oz for his statements on abortion, gun control and raising the minimum wage.
"We are thrilled with John's performance. He did remarkably well tonight, especially when you consider that he's still recovering from a stroke and was working off of delayed captions filled with errors," Joe Calvello, Fetterman campaign communications director, said in a statement Tuesday.
A poll released after the debate showed Oz pulling ahead with 47.5 percent to Fetterman's 44.8 percent. Poll tracking website FiveThirtyEight has Fetterman with a slight lead over Oz in the race that could determine if Democrats keep control of the Senate.
Senate Majority Leader Chuck Schumer was caught in a hot-microphone moment Thursday, telling Biden he didn't think Fetterman's debate performance hurt Democrats' chances "too much" in Pennsylvania.
Newsweek has reached out to the Fetterman campaign for comment.