New York state lawmakers have proposed the creation of a "Reproductive Freedom and Equity Fund" following news of the Supreme Court's expected striking down of Roe v. Wade.
Assemblymember Jessica González-Rojas and Senator Cordell Cleare, both Democrats, proposed a bill to form the fund on Tuesday, citing Monday's revelation that the landmark abortion rights case is likely to be overturned. The fund would provide "capacity building" grants for abortion providers and related nonprofit groups. Grants would also be available for out-of-state residents seeking abortions in New York due after the procedure is outlawed in their home state.
"With the Supreme Court poised to overrule Roe v. Wade, New York will become the nearest abortion provider for 190,000-280,000 women living out of state," a press release from González-Rojas states. "This bill is a necessary action to support individuals seeking abortion care as well as health care providers who do not have the necessary resources to meet the current or future need for care."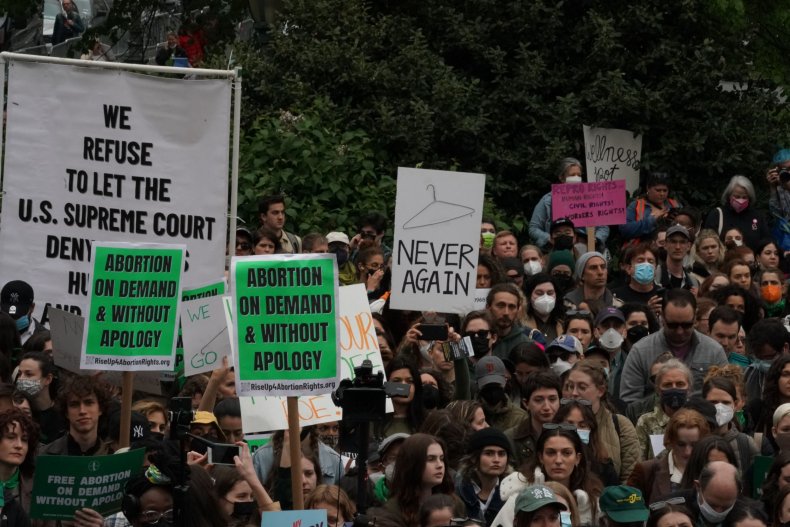 The bill, which González-Rojas said was drafted by Planned Parenthood Empire State Acts, would create a mechanism for the New York State Department of Health to direct grant money that would improve access to abortion care.
In addition to providing funding for those who do not have insurance coverage or are unable to use their insurance in New York, the fund would also help provide "practical support needs for individuals facing barriers to abortion care."
A Supreme Court majority draft opinion authored by Justice Samuel Alito, which was obtained by Politico and published on Monday night, indicates that both Roe v. Wade and a subsequent related case, Planned Parenthood v. Casey, are likely to be overturned when the Court's official decision is released this summer.
"The Supreme Court of the United States will roll back a generation of progress for people who give birth and overrule Roe v. Wade," González-Rojas said in a statement obtained by Newsweek. "Now more than ever, we need Congress to act and codify Roe. But we must also act here in New York, where we can be a haven for people who will look to us for abortion care and protection."
"The Reproductive Freedom and Equity Fund will address gaps that providers and organizations have uncovered in their provision of care," she added. "It will also help us address the incredible demand that will now increase because of this expected rollback. New York will lead where SCOTUS has failed."
Should the decision become final, reproductive rights will vary by state, with abortion becoming immediately illegal in at least 13 Republican-controlled states. Pro-abortion rights leaders in several other largely Democratic states have promised to maintain access to the procedure at the state level regardless of the Court's decision.
Democratic New York Governor Kathy Hochul vowed to provide abortion access to "anyone in need of care" during a press conference on Tuesday. Hochul said that the state Department of Health was "working closely with experts and advocates" on regulations to ensure access, although she did not address the proposed Reproductive Freedom and Equity Fund.
"Let me be clear: we're not playing defense, we're playing offense," Hochul said. "So my message to women all across this country is that New York, the State of New York, will always be there for anyone who needs reproductive healthcare, including an abortion."
"And my message to those who will deny this fundamental right, basic right: you don't want to mess with us," she added. "You don't want to mess with the State of New York. And I assure you, this is a fight that you will not win."
Newsweek reached out to Planned Parenthood Empire State Acts and the offices of Cleare and Hochul for comment.



Source : https://www.newsweek.com/new-york-lawmakers-propose-reproductive-fund-light-roe-revelation-1703190