The internet has slammed a neighbor for sending a new dad a "passive-aggressive letter" regarding the condition of his garden.
The new dad, who goes by the username mahelke, shared the letter on the sub-Reddit r/mildlyinfuriating on Saturday, and has so far reached over 95k upvotes and 13.5k comments.
In the letter, the neighbor asked mahelke to mow his lawn at least every two weeks rather than twice a year, which the neighbor claims is how often the new father cuts his grass.
In a further comment, mahelke explained that after having their second baby in February, his wife had postpartum complications and has been in hospital ever since. He said with his wife in hospital he was the sole caretaker of his newborn and 5-year-old son, so had no time to trim the grass.
"At no point has my yard been out of compliance with city or HOA [homeowners association] ordinances, and at no point has anyone bothered to approach me directly about the matter. Instead, we just received this anonymous passive-aggressive letter in the mail. They even postmarked it and sent it through the mail, rather than walking a few doors down and speaking to me like a human being."
According to data from the National Association of Landscape Professionals (NALP) 81 percent of all Americans have a lawn, and a vast majority, 79 percent of them, say that a lawn is an important feature when renting or buying a home.
About 47 percent of Americans say they entertain in their yards at least once a month, while 57 percent use their yards for recreation at least monthly. Around 77 percent report relaxing in their yards at least once a month and about 32 percent use their garden multiple times a week.
The internet didn't hesitate to side with the new dad. One user, shotgun_ninja, said: "You should put up a No-Mow May sign." Amithatfarleft commented: "Do it for the bees!!!!! /mostly srs." Aserranzira added: "The bees and the spite!"
Other users suggested different solutions. Immediate-Ad-8432 said: "Mow in a bizarre pattern or leave little Mohawks by not overlapping. That will drive this type A crazy!" And promonalg added: "Also add a sign you left this weird pattern for the pollinators… That should frustrate them further because it leaves them without a reason to ask you to cut it."
Cephal0poid suggested: "Here's an idea, replace your faux French aristocrat lawn with native plant landscaping. Your neighbors will really hate it (but the bees will love you)."
Another user, jacknimrod10, suggested: "Get a couple of sheep. No need to mow ever again." Maxemore joked: "Neighbors will LOVE that." Osirisrebel added: "Sheep are actually quite docile. Especially if you get a short hair variety, it's like having another dog. Goats on the other hand, are assholes." Vilerattata said: "There's a mowing service in my area that uses goats!"
AlertWar2945 came up with another revenge idea: "Only mow parts of your lawn at a time so it's always uneven and looks sloppy." DangerousDingoTango answered: "Actually a good call in terms of time management and leaving pollinator habitat, lol"
Yakeets said: "You should begin mowing your lawn regularly, but always leave the outline of a penis unmowed."
Newsweek has reached out to mahelke for comment.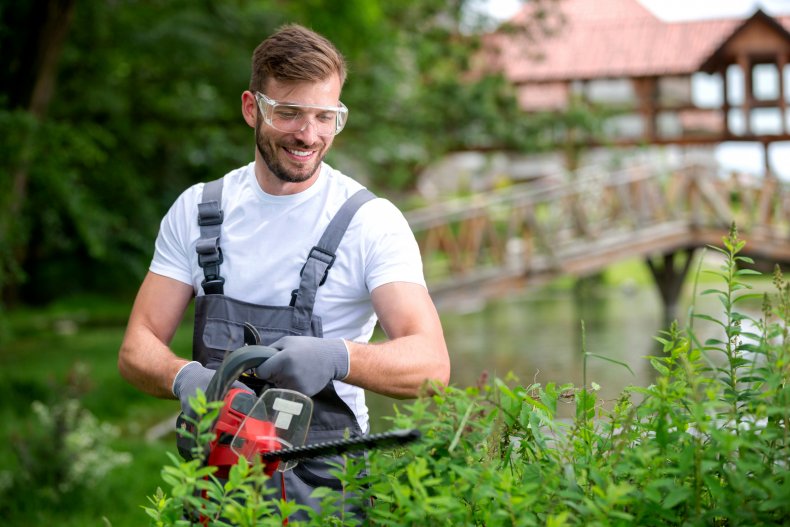 Source : https://www.newsweek.com/no-mow-may-neighbor-passive-aggressive-letter-new-dad-sparks-fury-1706838