Washington D.C. Mayor Muriel Bowser is being criticized for appearing indifferent to a man who confronted her with allegations that he was beaten and tased by police in his living room after getting out of the shower.
Lennon English, a U.S. Air Force veteran, pointedly asked Bowser during a press conference last week about her plan to end police brutality against Black residents. He told Bowser her office ignored his complaint about his earlier incident with police. A video of the exchange posted online has drawn criticism of Bowser's response to English as the mayor of the nation's capital seeks re-election amid calls for police reform.
English brought up the issue to Bowser during a May 13 press conference to highlight the city's mental health initiatives.
"I want to know what are you going to do about the effects of police brutality and police violence against African Americans in the city—both the mental health of the victims who are of African Americans—but also the mental health of the administration, police officers that are participating in this brutality?" English asked.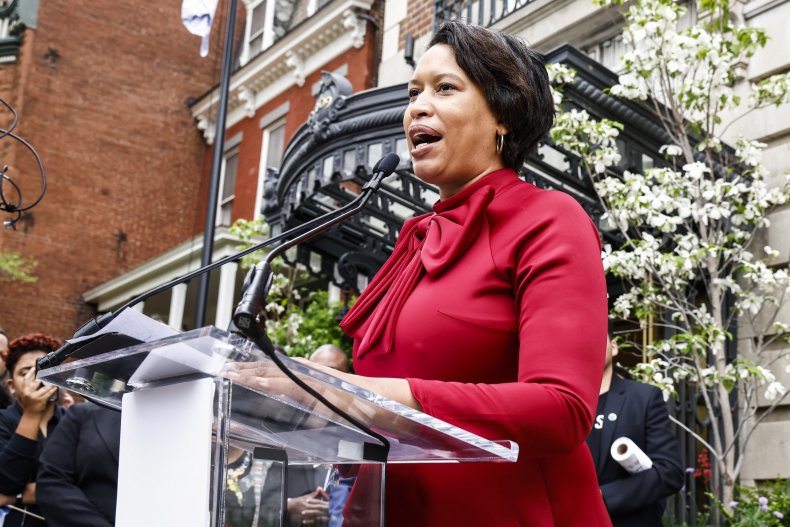 Bowser responded that her office doesn't tolerate officers who do not follow the rules. She asked English to file a complaint, saying she wanted officers who will build trust with the community.
English said he had filed a complaint, alleging that on January 26 of last year, Sergeant Matthew Nickerson and other officers came into his home without a warrant or probable cause, where they beat him and tased him while he was "fresh out of the shower," English said.
"I came to your office about it," he said. "I didn't do anything to those officers. Ya'll haven't done anything to help my mental health at all."
They mayor's response was panned on Twitter over her lack of apology and for asking English at one point if he was listening. Democratic Party activist Elizabeth Mitchell asked in a tweet if voters would choose Bowser after she treated "victims of police brutality with condescension and contempt."
Before the incident, English alleges, police took the front door to his apartment building off its hinges to serve an arrest warrant, he told Washington City Paper. According to the paper, he asked to see the warrant, which showed an address from a homeless shelter.
Police returned to the building two days later banging on the door, according to English, who stepped out of the shower after a neighbor concerned someone was breaking in texted him, the paper reports. With a towel around his waist and his landlady on speaker phone, English opened the door, according to body camera footage obtained by the paper.
"Look, man, y'all can't come in here and be banging on this s**t day in and day out. If y'all ain't serving no warrants, y'all can't be in here," English told police.
After Nickerson replied that they had business in the building, English became agitated and asked to see a warrant, the paper reported. English told the paper that he shoved the officer after he tried to enter his apartment.
Police then threw him to the floor, slammed his head into his coffee table and four officers knelt on his back with one putting him in a chokehold and tased him, alleged English.
A spokesperson for the Metropolitan Police Department told the paper that an officer "initiated an 'arc' of the Taser," which activates the weapon's electric current but doesn't fire the cartridge. Police did not release that portion of the body camera footage to the paper. English disputed the police's version of events.
Prosecutors dropped assault charges against English, who was released from custody within hours of his arrest, according to the paper. English told the paper that he has followed up with the mayor's office and will vote for another candidate if Bowser doesn't take action against the officers.
Newsweek has reached out to Bowser's office, the Metropolitan Police Department and English for comment.



Source : https://www.newsweek.com/muriel-bowser-doesnt-apologize-man-allegedly-tased-his-home-cops-1708825