A new poll found that 24 percent of men surveyed believe that a woman who gets an abortion should face murder charges.
The Economist/YouGov poll asked 1,500 Americans, during the period between May 8 and May 10, whether they think "that a woman who has an abortion that violates state law should or should not be charged with murder?"
Twenty-five percent of men said they are "not sure" while 51 percent of men said that women who get abortions shouldn't be charged with murder.
Also, 35 percent of Republican-leaning respondents said that women who get abortions should be charged with murder, compared to 33 percent who said that they shouldn't face those charges if a state abortion law is violated, and there are 32 percent who remained unsure.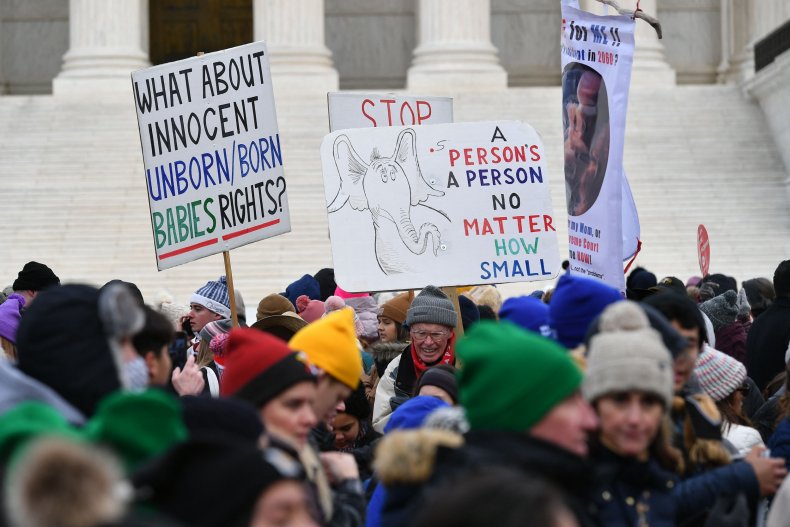 Meanwhile, 75 percent of Democratic-leaning respondents disagree with the statement that women should be charged for murder over abortion, compared to only 11 percent who said they should be charged, and 14 percent who weren't sure.
There was also a noticeable divide in the same poll in which respondents were asked whether they agree or disagree that "abortion is the same as murdering a child."
Thirty-three percent of men said they "strongly agree" with this statement, compared to 29 percent who "strongly disagree," and 11 percent who are not sure.
The poll also showed that 16 percent of men "somewhat agree" with this statement, while 11 percent "somewhat disagree."
The poll findings come after a leaked initial draft of a U.S. Supreme Court decision, suggesting that the majority of justices are leaning towards overturning Roe v. Wade, a 1973 landmark decision that allowed women to have abortions nationwide.
The leaked draft, authored by Associate Justice Samuel Alito, sparked ongoing abortion rights protests across the country, including demonstrations outside justices' homes.
The protests broke out amid concerns that some states could enact their "trigger" laws that would ban abortion if Roe is overturned.
Abortions would become immediately illegal in 13 states and possibly more if Roe v. Wade is repealed because some states still have pre-1973 bans on their statute books that could instantly go into effect, while others already have state constitutions that prohibits protecting abortion rights.
The 13 states include Kentucky, Idaho, Arkansas, Louisiana, Mississippi, Missouri, North Dakota, Oklahoma, South Dakota, Tennessee, Texas, Utah and Wyoming. Alabama and West Virginia don't have trigger laws, but have constitutions that ban abortion rights' protections.
Meanwhile, the Guttmacher Institute, a research organization, estimated that 22 states are "certain to attempt to ban abortion" while the Center for Reproductive Rights predicted that 24 states will do so.

Source : https://www.newsweek.com/murder-charges-women-getting-abortion-backed-24-men-poll-1706715