A 31-year-old Kentucky man shot and killed a volunteer firefighter who was trying to help after his car had run out of gas on an Indiana highway on Monday night, according to police.
After fatally shooting 24-year-old volunteer firefighter Jacob McClanahan with a shotgun, the man, Justin Moore, was shot and killed by a police officer who was already at the scene south of Palmyra, the Indiana State Police (ISP) said in a statement.
Moore's mother spoke to local media and said her son's health has been deteriorating and that he believed he was being hunted by vampires.
The incident unfolded around 9:30 p.m. Monday night when McClanahan and a friend pulled over their truck to provide assistance to Moore and Officer Zachary Holly who were on the side of the road.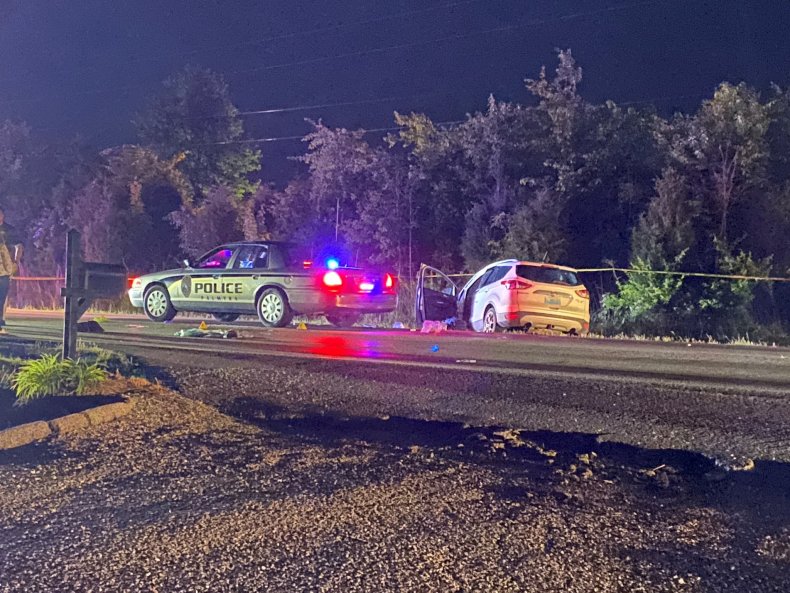 "At one point during the interaction, Officer Holly asked Justin Moore if there were any weapons in the car and Moore advised there were not," the ISP statement, shared on Facebook, said. "Justin Moore was however in possession of a small knife, which Officer Holly asked Moore to place back in his vehicle."
"The investigation reveals that as Justin Moore entered his car to return the knife, he quickly turned around brandishing a shotgun and fired at Officer Holly. Officer Holly then returned fire with his department pistol. Justin Moore fired the shotgun a second time and fatally struck Jacob McClanahan," the statement continued.
"Officer Holly continued to return fire with his department weapon, fatally striking Justin Moore. Medical aid was given to both gunshot victims after the shooting and numerous officers from the Harrison County Sheriff's Department, the Palmyra Fire Department, Harrison County EMS, and the Indiana State Police responded to the scene."
Moore's mother, Rachel Crisp spoke to Louisville news station WHAS11 about her son's mental health leading up to the incident.
"He was talking about vampires following him home. Just crazy nonsense stuff like that, it just doesn't make any sense" she told the news station, adding that her son believed he was a werewolf and that most of his family, including his own child, were vampires.
Police said that they have not confirmed if Moore suffered from any forms of mental illness and that he made no mention of vampires in bodycam footage from the incident.
She also offered her condolences to the McClanahan family and empathized with his parents.
"He was just there trying to help my son, I feel sorry for his parents, and his family members," she said. "Here he was, trying to do a good deed and everything, and then get caught up in the mess like this and end up losing his life."
Earlier this week the Harrison Township Fire Department posted pictures of McClanahan on Facebook and praised him for his selfless character.
"Nothing makes sense that anyone could be murdered while stopping and rendering aid," the post said. "Jacob is a true hero that will forever be remembered living the selfless life he did. A true fighter that was always there when you needed help. Godspeed Jacob T. McClanahan. Your brothers at Harrison township will miss you. Gone but never forgotten."
The Harrison County Highway Department issued a similar message on its Facebook page.
"Our hearts ache today over the senseless and tragic loss of our friend and coworker Jacob McClanahan," the post read. "Jacob was a young man, but had already touched so many lives in such a positive way. Please join us in remembering Jacob and lifting his friends and family in prayer during this terrible time."
Newsweek reached out to the Indiana State Police Department for comment.

Source : https://www.newsweek.com/firefighter-killed-shooting-indiana-vampires-1708118