The major city in western Ukraine is preparing defense strategies from a possible Belarus attack while Russia continues its blitz against Ukraine in the east. Lviv Mayor Andriy Sadovy called an operational meeting with military and civilian authorities to begin prepping for an attack from Belarus.
"We talked about the defense plan and the forces and means under the control of the city. The situation is changing, so our defense strategies also need changes and updates," said Sadovy, according to Pravda. "A defense headquarters will be established in each district of the city, and additional training will be conducted for members of the volunteer formations of territorial defense. Until we transfer them to 24-hour duty. But this decision can change at any moment."
And though it's just reaching the height of summer, Sadovy is already telling his staff and residents to be prepared for a long, cold winter with no way of heating places with no gas.
"We continue to form a strategic reserve of products in case of blocking supply routes," the mayor said.
Then there are other things to consider, like which residents will help fight any aggressions, whether it's from Moscow or Minsk.
"We are also considering the option of forming reserve volunteer battalions from employees of the city council and communal enterprises," Sadovy said.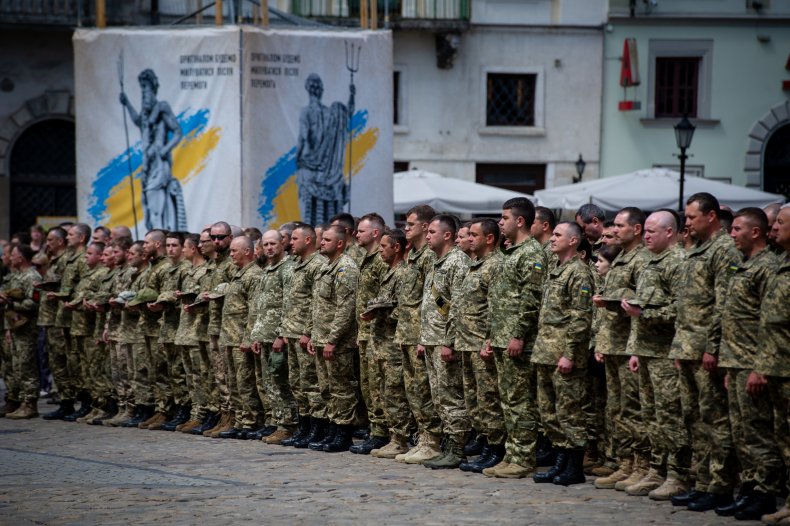 This comes during a week in which Russia has taken full occupation of Severodonetsk in the eastern Luhansk region and has now escalated fighting in nearby Lysychansk, which is a few miles away and south of the Siverskyi Donets River. Lysychansk is on higher ground than Severodonetsk, which gives some Ukrainians a little hope in these battles.
Severodonetsk had a population of 100,000 before the war began in February, but many have fled the city since Russia began attacks on the city. There were hundreds of residents who have sheltered at the Azot chemical plant. Stryuk said many have started to evacuate the plant, and that they'll likely need medical attention and psychological support.
Ukrainian President Volodymyr Zelensky said last week Russia is trying to break his country's spirit, as evidenced by shelling Ukraine with 48 rockets in one day.
Zelensky's government has said Belarus has already begun attacks against his country, reportedly from only seven days ago.
"This is the first case of an air strike across Ukraine directly from the territory of Belarus," Ukraine's Minister of Defense stated on June 25. "Today's shelling is directly related to the efforts of the Kremlin authorities to drag Belarus into the war in Ukraine as a direct participant."
Russian President Vladimir Putin has reportedly met with Belarusian President Alexander Lukashenko this year, mostly to bolster their relationship as war could possibly stretch beyond the Ukrainian border.
Lukashenko has warned any countries from the outside who want to escalate war "refrain from arms supplies, from information warfare and any provocations, from inflating hate speech in the media, from promoting racism and discrimination on the grounds of national, cultural, linguistic and religious affiliation, from legalizing and sending mercenaries."

Source : https://www.newsweek.com/lviv-prepares-belarus-attack-western-ukraine-russia-assaults-east-1721268