Former Representative Liz Cheney, a Wyoming Republican, tweeted her outrage on Friday about former President Donald Trump embracing a Capitol riot defendant at a diner during a campaign stop.
Trump embraced Micki Larson-Olson, a supporter of QAnon conspiracy theories, who was in jail for her involvement in the insurrection that occurred on January 6, 2021, when Trump's supporters stormed the U.S. Capitol building to try to stop the certification of Joe Biden's Electoral College victory. Larson-Olsen also called for the execution of former Vice President Mike Pence.
She was sentenced last September and released from jail last month after serving over 160 days, according to NBC News, and said that she was often confined in places with more restrictions because she refused to comply with COVID-19 protocols. Despite her imprisonment, Larson-Olsen said she would do it all over again to support Trump.
The January 6 defendant met Trump for the first time on Thursday night at the Red Arrow Diner in Manchester, New Hampshire, according to NBC News. She said that she drove nearly 2,000 miles from Abilene, Texas, to see the former president. During their encounter, Trump, who is running again for president in 2024, signed her backpack, told her to "just hang in there," and called her a "terrific woman."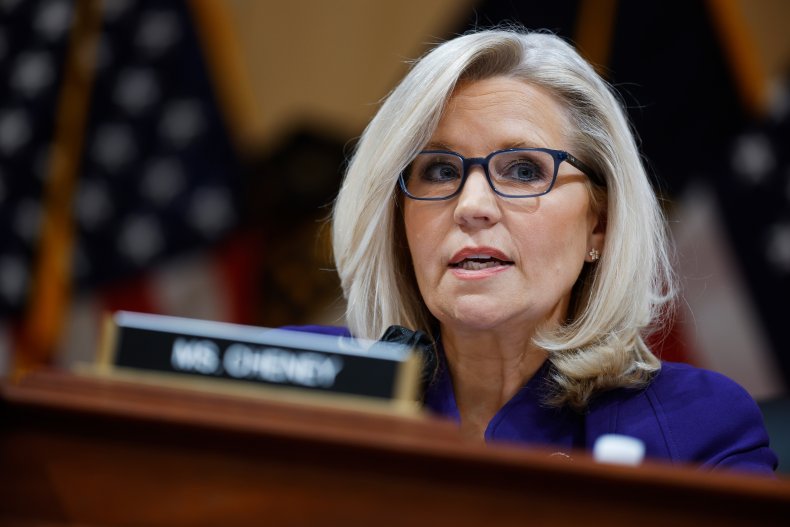 "If I were to imagine what it would be like to hug Jesus Christ—not that I'm saying President Trump is Jesus Christ—but if I was to imagine what it would be like to hug Jesus Christ, that's what it felt like for me," Larson-Olson said of her encounter with Trump, NBC News reported. "It was so personal and intimate."
Trump added on Thursday that what happened to the January 6 "patriots" was "so bad." He previously said that he would pardon the defendants—if he was reelected—who are facing charges related to the events that transpired that day.
"Trump is embracing a J6 Defendant who called for the execution of members of Congress. To elected Republicans who have endorsed him: You are endorsing his conduct on Jan 6th and every day since. 'The only thing necessary for the triumph of evil is for good men to do nothing,'" Cheney wrote on Twitter on Friday, sharing an old interview between Larson-Olsen and NBC News reporter Vaughn Hillyard.
In her interview with Hillyard, Larson-Olsen called Congress members "domestic terrorists" who have been "stealing elections for a very long time." She also called for their execution for being "traitors."
However, not all Republicans think that the January 6 defendants should be punished. Last month, Representative Mike Collins, a Georgia Republican, called for their release after former Fox News host Tucker Carlson aired new footage from the riot that was given to him by House Speaker Kevin McCarthy.
Collins, who represents Georgia's 10th congressional district, said in a tweet at the time, "I've seen enough. Release all J6 political prisoners now."
Newsweek reached out by email to Trump's press team for comment.