Ukraine's forces struck a bridge of strategic importance to Russia shortly after President Vladimir Putin's military managed to restore it, according to a local Ukrainian official.
Serhiy Khlan wrote in a Facebook post early Friday that Ukraine's armed forces created "fireworks" at the bridge in the city of Kakhovka. "It looks like there won't be a grand opening," wrote Khlan, who is a deputy chairman of the Kherson Regional Council, according to Ukrainian state news agency Ukrinform.
In a subsequent post, Khlan said that Ukraine's Operational Command South had also confirmed that Ukrainian forces "destroyed the plans of the occupiers to repair and use" the bridge.
Newsweek was not immediately able to locate where the operational command mentioned the bridge or independently verify the news of the latest strike. The defense ministries of Russia and Ukraine were contacted for confirmation and comment.
The Kakhovka bridge, which runs over the Nova Kakhovka dam, is important to Russia because it was being used to transport military equipment in Ukraine's occupied Kherson region. When Ukraine's Operational Command South detailed an earlier strike on the bridge in an August 12 Facebook post, Khlan said on the platform that it was the last bridge connecting the right and left banks.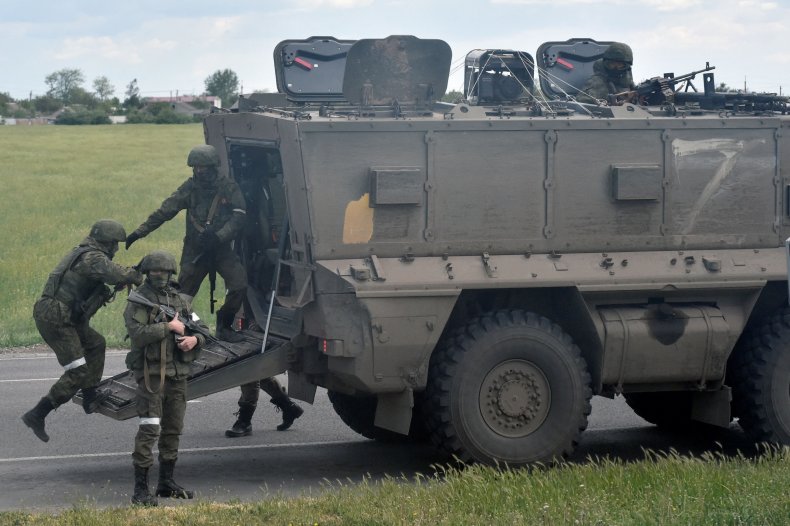 This meant that "the Russians no longer have any opportunity to completely transfer their equipment," he wrote, according to an English translation of his post.
"Of course, they will try to repair it, look for an alternative crossing, but it takes time and money and as soon as they prepare and gather equipment and strength, we will destroy it again," Khlan added.
Friday's reported strike, if true, seemed to follow through on that promise.
An August 18 operational update from Ukraine's Defense Ministry said that Russia was working to maintain its control over the Kherson region and parts of the Kharkiv, Zaporizhzhia and Mykolayiv oblasts (provinces). It is also trying to secure full control of the Luhansk and Donetsk regions while "restoring the combat capability of units that have suffered losses."
Operational Command South reported Friday that from the start of the war, on February 24, until August 19, Russia had lost about 44,700 soldiers. This has not been confirmed by Russia, which last estimated in March that it had lost 1,351 troops.
Meanwhile, Ukrainian President Volodymyr Zelensky stressed in an address on Thursday that Ukraine "can and should think only about how to win."
"To win on the battlefield, on the political front, in the information confrontation, in the economic plane, everywhere," he added. "Let's believe in ourselves, help each other, protect the interests of Ukraine and know that there will be peace."

Source : https://www.newsweek.com/key-bridge-restored-russia-bombed-again-ukraine-strike-official-1735283