Speaker of the House Kevin McCarthy has joined a growing list of Republicans urging Florida Governor Ron DeSantis to reel in his crusade against Disney.
McCarthy said during a Thursday interview on CNBC's Squawk Box that DeSantis should attempt to "sit down and negotiate" with Disney instead of attempting to wage a legal battle against the company. The governor has been publicly feuding with the company since last year, when it publicly criticized his "Don't Say Gay" law, which restricts classroom discussion on sexual orientation and gender identity.
After legal maneuvering by Disney thwarted an attempt to revoke the company's self-governance agreement last month, DeSantis suggested that he could retaliate against the company by building a "state prison" next to the Walt Disney World resort. McCarthy said on Thursday that the proposal was not "the best idea," while also pointing out that Disney is one of Florida's largest employers.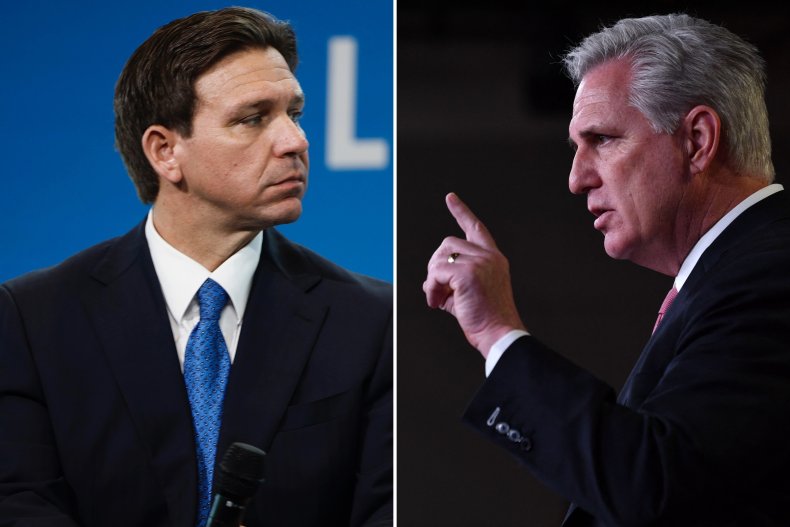 "Why wouldn't you sit down and negotiate and talk?" McCarthy said of the governor's feud with Disney. "If there's differences, you can always find ways that you can solve this problem. If you think that the only action is to go to court, I believe that's wrong."
"This is a big employer inside Florida," he added. "I think the governor should sit down with them. I don't think the idea of building a prison next to a place that you bring your family is the best idea. I think it'd be much better if you sat down and solved the problems."
Newsweek has reached out via email to the office of DeSantis for comment.
DeSantis, who is expected to launch a 2024 presidential run, shows no signs of easing off his attempts to punish Disney. This week, legislation passed through the state Senate that would undermine its self-governance. Only one Republican, who has endorsed former President Donald Trump in the 2024 election, voted against the bill.
Meanwhile, Disney has responded to the attacks from DeSantis by taking him to court. The company this week filed a lawsuit accusing the governor of engaging in a "targeted campaign of government retaliation" that is "punishment for Disney's protected speech."
McCarthy is not the only prominent Republican to have criticized DeSantis over his anti-Disney campaign. Others who have turned on the governor include Senator Lindsey Graham and several of his potential 2024 election rivals, such as former U.S. Ambassador to the United Nations Nikki Haley, former Vice President Mike Pence and former New Jersey Governor Chris Christie.
DeSantis' continued focus on "culture war" issues and the battle against so-called "woke ideology" may also be turning off potential Republican voters. It has already resulted in lost campaign donations. Billionaire GOP donor Thomas Peterffy announced this month that he and "a bunch of friends" were placing their donations "on hold" due to DeSantis' "stance on abortion and book banning."