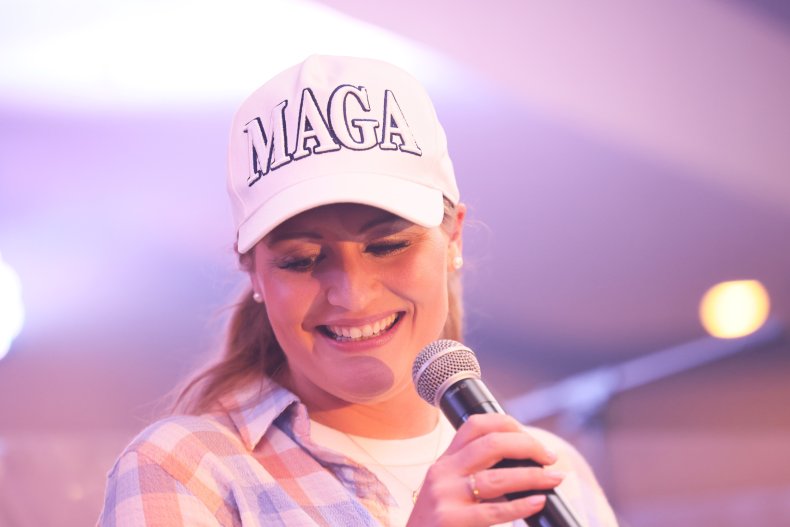 Jenna Ellis, an ex-attorney for former President Donald Trump, is facing backlash after suggesting that those killed in a mass shooting at a gay bar in Colorado are now suffering "eternal damnation" in hell.
Five people were killed and at least 17 others injured after a gunman opened fire at Club Q in Colorado Springs on Saturday. Suspect Anderson Lee Aldrich, 21, is being held in El Paso County Jail. Many have blamed the shooting on an increase in virulent anti-LGBTQ rhetoric, which has been recently focused on baseless accusations that its community is "grooming" children to be sexually abused or to become gay or transgender.
Ellis, who has previously warned that an unnamed "they" might "try to cancel Christianity," said during the Wednesday edition of The Jenna Ellis Show that the "far greater" tragedy of the shooting was her assumption that those who lost their lives at Club Q had not "affirmed Jesus Christ as the Lord of their life" and were burning in hell after being killed.
"There is no evidence at all that [the victims] were Christians," Ellis said. "So assuming that they were not, that they had not accepted the truth of the Gospel of Christ and affirmed Jesus Christ as the Lord of their life, they are now reaping the consequences of having eternal damnation … they are now in eternal separation from our Lord and savior Jesus Christ."
The remarks from Ellis were almost immediately met with condemnation after video clips were shared on social media.
"The God that I worship has some nasty surprises in store for the likes of you, my child," tweeted film critic Joe Leydon.
"Who are these people? Good Lord!" author Sophia Nelson tweeted. "Man she needs to read her Bible about those like her who are unkind, haughty, hateful, judgmental and who condemn innocents. The word says God will say: 'depart from me I never knew you.' So she better watch out!"
"Totally. It is my opinion that if there is a hell, Jenna Ellis will surely burn for all eternity," streamer Shaun Hutchinson tweeted in response to a person who defended Ellis by saying that "people are allowed to have their own opinions."
"Wow @JennaEllisEsq, you're a terrible, hateful person," sportswriter Andy Frye tweeted.
"Using Jesus to justify hate is vile, @JennaEllisEsq," tweeted actor Bradley Whitford. "You're in a cult that worships a conman who uses more makeup and hairspray than any drag queen ever did. While grooming children for sex with Jeffrey Epstein. While running a beauty pageant for teenaged girls. So f*** off. Fry."
"Jenna Ellis's words reveal her as just another among America's pews of faux Christians who cherry pick from the New Testament while demonstrating their total lack of understanding of the whole point of Christ's message (and the OT)," tweeted Pulitzer Prize-winning journalist David Cay Johnston.
"Jenna Ellis is a garbage human, fake Christian, deceptive s***bird, and worthy of every bit of scorn she receives for her ill timed reprehensible comments about the victims of the Colorado shooting from just days ago," documentary filmmaker Jeremy Newberger tweeted. "Check your bible Jenna. Jesus wasn't this."
"Jenna Ellis is not playing a character," tweeted activist Charlotte Clymer. "She is not pandering. She truly hates LGBTQ people, and she wants us to burn in hell. She has no qualms gleefully pointing this out when LGBTQ people are murdered. So, why exactly are her relationships with GOP officials not scrutinized?"
Ellis responded to some of the backlash by insisting that she had done nothing wrong, arguing that she was not "judging" the victims and only promoting "literally what the Bible teaches."
She responded to Clymer's tweet by calling it "utterly false" and saying that claims she is "gleeful" about LGBTQ deaths are "disgusting" lies.
Newsweek has reached out The Jenna Ellis Show for comment.