To every Palestinian I know, Shireen Abu Akleh's tragic death on Wednesday was personal. People whom I have rarely seen cry before were in tears. Shireen, an American-Palestinian journalist with Al Jazeera, was an icon whose name, resilience and persistence has been near and dear to every Palestinian heart since the 1990s. When she was killed so senselessly earlier this week in Jenin for the crime of doing her job, it hit every one of us deeply.
But as it so often does when it comes to this conflict, our grief quickly turned to rage as the Israeli government rushed to deflect blame and responsibility. Israeli Prime Minister Naftali Bennett insisted that "it appears likely that armed Palestinians—who were firing indiscriminately at the time—were responsible for the unfortunate death of the journalist," despite eyewitnesses in the area attesting to the exact opposite, that Israeli soldiers were responsible for her death.
Bennett posted footage of a masked Palestinian man shooting in an alleyway to suggest that Shireen's killer was Palestinian, though the human rights group B'Tselem quickly identified the location where the video was shot and showed that it was impossible the fatal gunshot came from there.
Israel then claimed that the Palestinian Authority had turned down an offer to carry out a joint investigation into Shireen's death hours before it even made that request to the PA, per a PA official, who explained that the PA would carry out its own investigation; there is no trust in the sincerity, independence and seriousness of Israeli investigations and there is nothing being done to build that trust.
The PA is refusing to hand over the bullet that killed Shireen, though a Palestinian forensics expert said the bullet was not fired at close range and that it was too early to tell if it had been fired by an Israeli weapon. Meanwhile, the Israeli government changed its tune after an initial Israeli probe indicated that Israeli troops were only 330 feet away from Shireen at the time of her death; by the end of the day, Defense Minister Benny Gantz admitted that "It can be Palestinians who shot her. Tragically, it may be on our side. We're investigating."
And then, somehow, things got worse. On Friday, as Shireen's casket was coming out of the St. Joseph Hospital in East Jerusalem, a group of men insisted on carrying it on their shoulders instead of in the hearse the family had organized. Footage then surfaced of Israeli police guards violently suppressing the funeral procession, striking mourners with clubs, beating pallbearers and almost causing the casket to fall in a horrifying display.
Even at the church where Shireen's family were accepting condolences, the Israeli police was there removing Palestinian flags, shoving people, asking incomers if they were Muslim or Christian and restricting entry to the former. A young Palestinian woman was asked by the Israeli police to take off a colorful head scarf concealed under a black one because it had the colors of the Palestinian flag. Israeli policemen were seen ripping Palestinian flags off of the hearse carrying Shireen's coffin.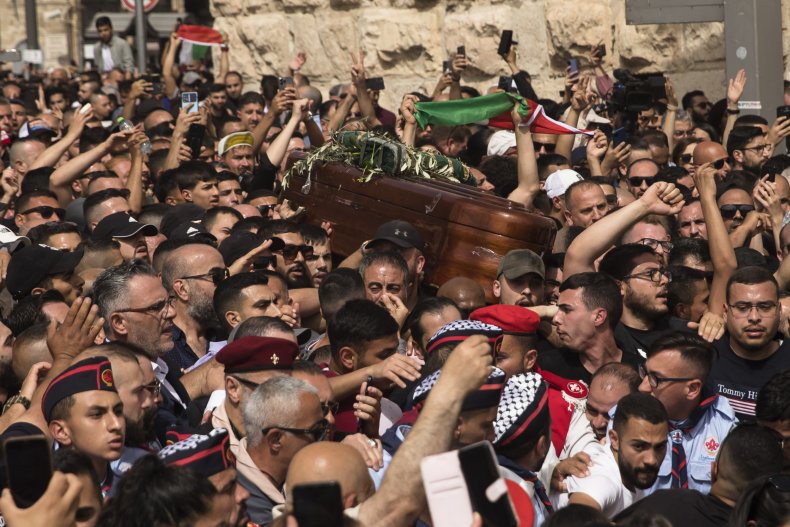 What could possibly justify such behavior? What good is gained from banning Palestinian flags? Do they think our struggle for freedom depends on symbols? What damage does raising those flags or chanting for freedom and dignity cause to Israel? Would the skies have collapsed if the procession passed uninterrupted? Why were the police guarding the procession so closely? Why were they in range of the stray rock that might have been flung at them?
Why pour gasoline on fire? Why rub salt on our wounds and antagonize us more? We just lost an iconic journalist whose name all Palestinians grew up with. Is it too much to ask that Shireen be given a dignified funeral commemorating the dignity with which she lived her life in her attempts to amplify the Palestinian struggle?
Why is it okay for the Israeli extreme right-wing to hold an annual flag march under Israeli police protection and provocatively parade through Arab neighborhoods in Jerusalem but it instantly becomes an issue of national security if Palestinians raise our flag in our own neighborhoods in East Jerusalem?
Imagine if Israel's leaders and policemen acted compassionately today for a change. Imagine if Israeli politicians showed up at Shireen's funeral like Yassir Arafat did to Yitzhak Rabin's and Mahmoud Abbas did when Shimon Perez died. Imagine if the Israeli police made way for the crowd and let them be.
The universe would not collapse if we treated one another as equally human.
It's no accident that Israel added insult to injury in its handling of Shireen's death and then funeral. It's further proof that there is no such thing as a just or benevolent occupation. There will be no end to the conflict until this cycle of dehumanization comes to an end.
Muhammad Shehada is a writer and civil society activist from the Gaza Strip and a student of development studies at Lund University, Sweden. He was the PR officer for the Gaza office of the Euro-Med Monitor for Human Rights. He is a columnist at the Forward.
The views in this article are the writer's own.



Source : https://www.newsweek.com/israel-adds-insult-injury-we-mourn-shireen-abu-aqla-opinion-1706558