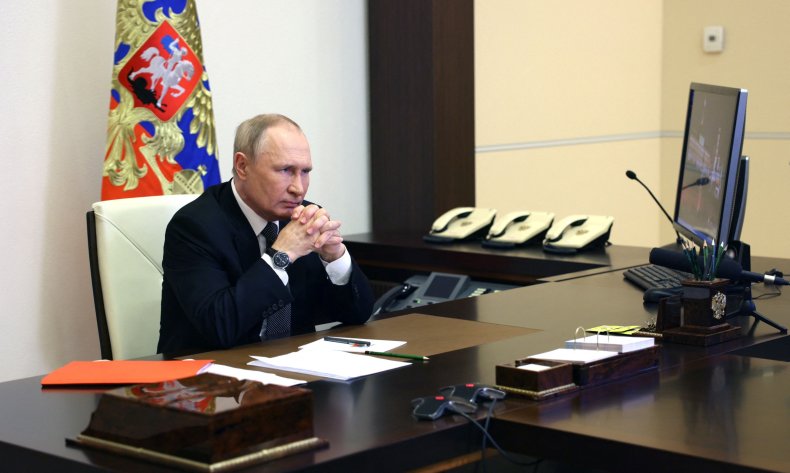 Russian President Vladimir Putin's recent mobilization of troops may soon result in about 110,000 more Russian soldiers arriving for combat in Ukraine, finalizing his push for 150,000 new fighters.
Russian Defense Minister Sergei Shoigu said on Friday that the process of drafting 300,000 reservists had been completed. Putin has stated that there will be an even split between combat roles and support roles for those drafted, meaning that a total of 150,000 new conscripts will likely be in combat by November, according to a new report from the U.S.-based Institute for the Study of War (ISW) think tank.
Since more than 40,000 new troops have already arrived in Ukraine for combat and have been ineffective due to poor training, the arrival of the remaining soldiers is unlikely to significantly boost the Russian war effort, according to ISW.
"Russia's deployment of 41,000 poorly trained combat personnel to Ukraine may have temporarily stiffened Russian defensive lines, although these reservists have not yet faced the full weight of a major and prepared Ukrainian counteroffensive thrust," the ISW report states.
"The deployment has not significantly increased Russian combat power," it continues. "The deployment of an additional 110,000 or so mobilized men to combat units therefore remains unlikely to change the trajectory of the war."
The figure of 150,000 newly drafted Russian combat troops roughly equals the number that were reportedly sent to the border between occupied Crimea and Ukraine just before the full-scale invasion was launched on February 24.
In addition to reportedly receiving questionable military training, Russian conscripts that soon arrive on the front lines may find themselves ill-equipped for battle.
Kremlin spokesman Dmitry Peskov admitted to reporters this week that Russia had not provided enough weapons for all of the new troops to fight the Ukrainian counteroffensives.
While Russian authorities say that the mobilization Putin announced in September has now been completed, more troops are set to be drafted due to a new conscription cycle that will begin November 1.
The new cycle will draft a total of 120,000 additional troops, according to Russian state-run news agency TASS. Russian military authorities reportedly said that the new conscripts would not "be engaged in the special military operation in Ukraine."
Friday's ISW report asserts that Ukrainians in some Russian-occupied areas of Ukraine may have Russian citizenship forced on them by Sunday "in part to legalize the forced mobilization of Ukrainian civilians" as part of the new conscription cycle.
"Russian forces are likely attempting to legitimize the forcible conscription of Ukrainian men as part of that cycle after their previous efforts to force Ukrainian civilians to accept Russian passports were largely unsuccessful," the report says.
Newsweek has reached out to the Russian Ministry of Defense of comment.