Hundreds of large fish have washed ashore on the banks of a South Dakota river dam in the city of Huron.
It is believed that low water levels in the James River, along with the fish suffering from a lack of oxygen because of snow cover, are to blame for the strange phenomenon, Sioux Falls TV station KELO reported. The James River is home to a variety of fish species, including carp and alligator gar.
This area of South Dakota is experiencing a drought. Huron's is considered moderate, according to the U.S. Drought Monitor, but other parts of the state are seeing severe drought. This has likely caused the James River's water levels to drop because of the lack of precipitation.
The fish are trapped between rocks installed on the river bank for safety, so they are not making their way back down to the water. Kelly Wolf, a Huron resident, told state newspaper the Mitchell Republic: "This is crazy. I'm all for them getting the fish out because they're going to die anyway being trapped by the rocks."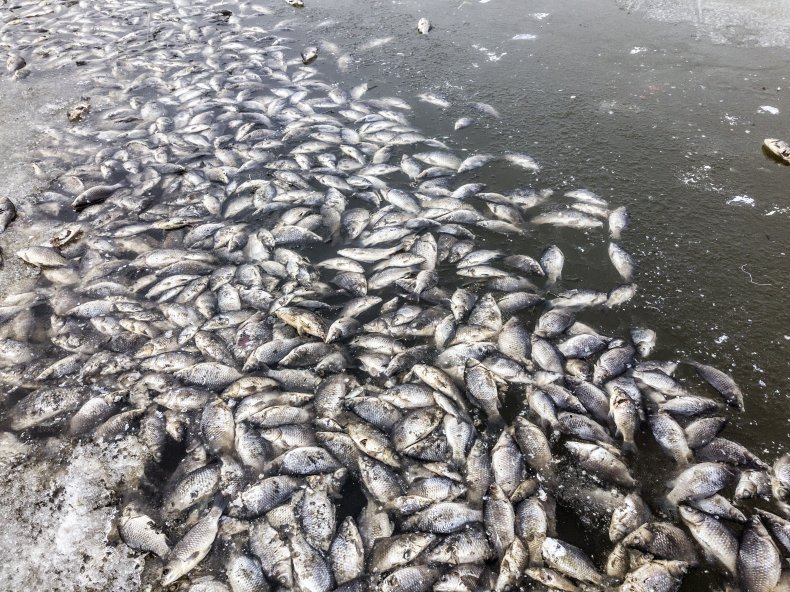 A spokesman for the state's Game, Fish and Parks Department, Nick Harrington, told TV broadcaster Dakota News Now that low oxygen levels in the river may be stressing the fish, which can lead to their death over a long period.
"Winterkills such as this can happen in lakes and streams when water levels are low and heavy snow prevents sunlight from reaching the water column," he said.
Newsweek has contacted the Game, Fish and Parks Department for comment.
As the problem continues, Huron residents are preparing to go down to the James River dam and clean up the fish themselves. Huron Mayor Gary Harrington told KELO: "We'll probably have to get the pitchforks out and get down there and clean it up because we don't need that. It's pretty unsightly."
The southeastern part of the state is experiencing freezing winter conditions, with some areas receiving 10 inches of snow. This could help the state's drought status. Whether the snowpack level is high enough to replenish rivers and other bodies of water will be determined in the spring, when the snow runs down from the mountains, KELO reported.
The James is not the first river in the country to show low water levels amid a drought. Many large rivers in the U.S. are experiencing such declines as abnormally dry conditions grip parts of the country, such as the Colorado River and its reservoirs.
Do you have a tip on a science story that Newsweek should be covering? Do you have a question about drought? Let us know via [email protected]