When you think of NFL teams with passionate fanbases, it's tough to overlook the Dallas Cowboys and the Las Vegas Raiders. And while that might not be fully on display on Saturday night—it's hard to fill a stadium for a preseason game, even in Dallas—both teams have business to take care of on the gridiron.
And what exactly is that business? Well, while both teams will enter Preseason Week 3 with their rosters fairly established, there are always some positional battles that go down to the wire.
Let's check some of those out. Here's everything you need to know about the Raiders vs. Cowboys game.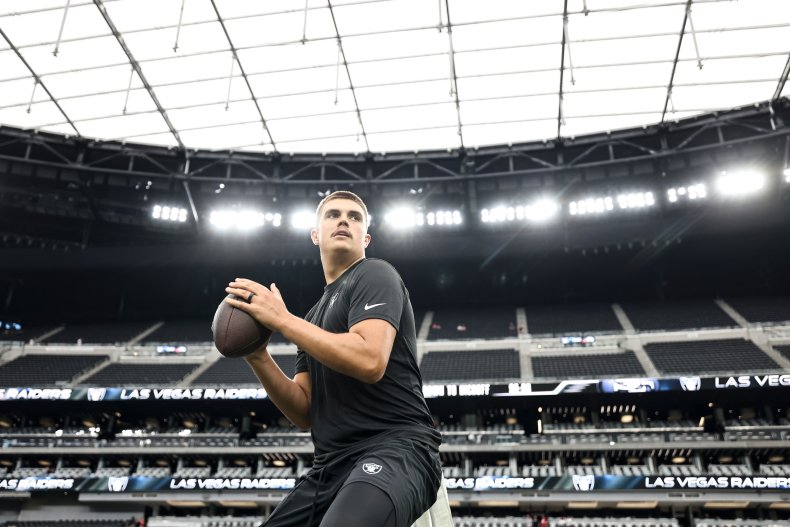 How to Watch Raiders vs. Cowboys
During the regular season, the Dallas Cowboys usually get their fair share of time on national television. During Week 3 of the preseason, though, America's Team won't be in the spotlight.
When the teams take the field on Saturday, August 26, at 8 p.m. ET, the game will be airing on local TV and radio. For Vegas fans, that means Fox5 in Sin City. Los Angeles, the Bay Area, Salt Lake City, Hawaii, Bakersfield, Reno, Juneau, Fairbanks, and Anchorage will also be able to catch the game on their local affiliates.
In Dallas, the action will be on CBS11.
For those completely out-of-market, streaming will also be available on NFL+.
The Cowboys Could Have Some Less Glamorous Positions to Watch
In the world of football, quarterbacks and wide receivers always receive a good deal of attention. The other positions, however, are also important parts of building out a roster. In Dallas' final preseason game, some of those other roles will come into the spotlight.
One of those positions is kicker. While Brandon Aubrey sits atop the depth chart, he hasn't gotten much work during the first two preseason contests. There's no reason to doubt his abilities, but kicking is about rhythm and confidence. Dallas would probably like to see him get some attempts under his belt in Week 3, just to make sure everything is running smoothly when the regular season starts.
Cowboys fans will also have an eye on the offensive line. Given that depth is essential in the trenches—remember how the Kansas City Chiefs collapsed in Super Bowl LV after injuries ravened their front? The preseason provides a valuable opportunity to see who can be relied upon. Consider the likes of rookies Asim Richards and T.J. Bass. Can they show enough during the final week of preseason to prove they can be relied upon? Or will they leave lingering doubts in the back of the coaching staff's collective mind?
The Raiders Still Have Some Uncertainty at Quarterback
Speaking of less-than-glamorous roles, let's turn to the Las Vegas Raiders and their backup quarterback position.
Derek Carr has left Sin City, and Jimmy Garoppolo has taken over the starting job. Brian Hoyer is nominally the number two option, but Aidan O'Connell is pushing him.
Through the first two games of the preseason, the Purdue product has been putting on a show.
"He just hasn't missed a throw yet," Pro Football Focus head of football product Steve Palazzolo said on The Ross Tucker Podcast (H/T SI.com). "He's been incredible, big time throws, smooth working within rhythm, outside of rhythm, on time, accurate. Aidan O'Connell is one of those guys when you watched his best plays at Purdue, he looked like a first rounder."
Hoyer, on the other hand, has struggled, leaving head coach Josh McDaniels with a decision to make. Will both quarterbacks make his active roster? Or has O'Connell shown enough to push Hoyer into the emergency QB role?
"You have to figure out exactly how you feel based on the week and/or the situation," McDaniels said, according to Vic Tafur of The Athletic. "It wasn't the same rules, but a long time ago, we had [Doug] Flutie and [Matt] Cassel. And Doug was a veteran player obviously, and Matt was a young player. So, you're making choices based on how you would feel about what happens in the third quarter versus if we had an entire week to practice, etc. It could change from one week to the next."
Maybe Preseason Week 3 will provide a clue as to the head coach's current gut feeling.
Betting Line, Over/Under for Raiders vs. Cowboys
While there are positional battles and some general roster uncertainty—you never quite know how many snaps each player will play in the preseason—the Raiders and Cowboys are still playing a football game. That reality means that you can place a bet on the action.
As of Friday, August 25, FanDuel Sportsbook lists Las Vegas as a 5-point favorite. If you prefer the Over/Under, that line is currently set at 38.5 points.