Diesel supplies in the U.S. are at their lowest level since 2008, raising concerns over the impact this could have on the country's economy.
As of Friday, October 14, the U.S. had 25.4 days of diesel supply left in storage, according to data from the Energy Information Administration (EIA).
For the past two years, amid pandemic closures and climate pledges promising to invest more in renewable, green energies, refineries in the U.S. have significantly reduced their capacity—leading to less diesel produced in the country.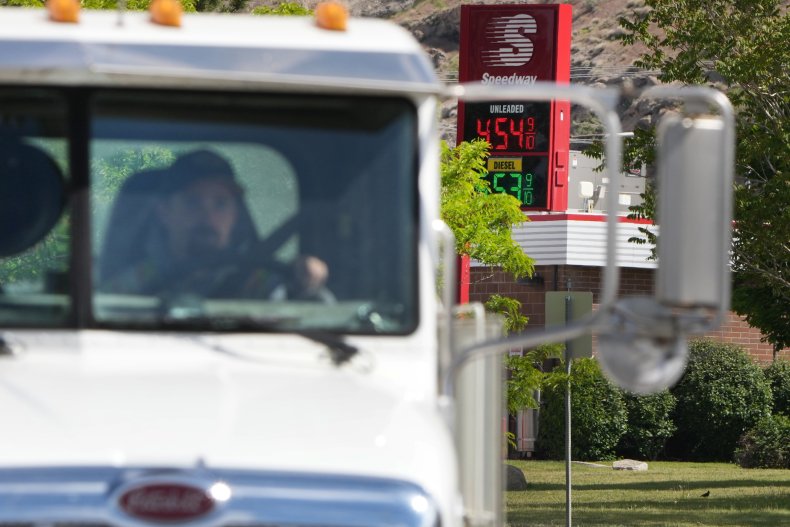 This tight supply of diesel—which has been exacerbated by a ban on Russian imports after the beginning of the country's invasion of Ukraine and by U.S. refineries undergoing seasonal maintenance—is expected to send prices soaring this winter, when demand is likely to increase.
"The demand for diesel tends to rise as you get close to the winter, because the molecule that makes up diesel is very similar to the molecule that you use for heating homes in the U.S., for winter fuels in Europe," Tom Kloza, dean of U.S. oil analysts at Oil Price Information Service (OPIS), told Newsweek.
The issue is global, said Kloza, adding that diesel inventories around the world are the lowest as they've been since 1982, "and we've added about 3.4 billion people in that time." In the U.S. alone, inventories stand at about 106 million barrels.
"While the diesel-supply issues in the U.S. are widespread, it is most acute on the East Coast. also known as PADD 1 [Petroleum Administration for Defense Districts]," Denton Cinquegrana, chief oil analyst at OPIS, told Newsweek.
"East Coast inventories stand at about 24 million barrels, and that is more than 20 million barrels below what is normal for this time of year.
"Other regions (except the West Coast that sees a small surplus to the five-year average) also see deficits to the seasonal norm, but they are much more manageable.
"For example, the Midwest is about 4 million barrels below normal, but also this is the time of year diesel supplies bottom out in that region with harvest demand."
As a result of this nationwide diesel-supply crunch, "we're going to see [prices] move considerably higher," said Kloza. "And those prices could be anywhere broadly between $5 and $7 [a gallon]."
What Impact Would Higher Diesel Prices Have on the Economy?
While an increase in gas prices is immediately felt by citizens at the pump, that's not the same in the case of diesel.
"It's not a thing that gets the same attention from the public as gas does. Most people don't use diesel and they don't see the relevancy, but it is something that infiltrates every nook and cranny of inflation because everything moves around the country in the waterways, on the rails or on the roads, with diesel powering it," said Kloza.
Diesel is used in farming, construction, heating and transportation, with trains, trucks and ships all running on it.
"The economy runs on diesel," said Cinquegrana. "Think about everything you buy in the store, it got there by trains and trucks. Construction, etc. High diesel prices could slow economic activity down. Prices have come down from the all-time highs in mid-June, but not enough to ease concerns."
While gas prices have dropped by 24 percent since reaching a record high in June, diesel prices have gone down only by 8 percent.
A surge in diesel prices might lead to moving goods between manufacturers and retailers and between stores and our homes getting more expensive, which would in turn continue to fuel inflation.
The goods transported across the country could also, consequentially, become more costly—something that the public would not fail to notice in their day-to-day life.
"High prices get passed on to the consumer in the transportation of goods through fuel surcharges. Higher prices for jet fuel, for example, lead to higher airline tickets," said Cinquegrana.
The EIA has specified that the figure available to them, the 25.4 days of supply distillate fuel left in storage, "is only a measurement of the amount of distillate fuel in storage."
"Days of supply does not consider the amount of distillate fuel being produced at U.S refineries, and it doesn't account for the amount of distillate fuel imported into the United States."
Some relief to the diesel shortage is on the way. At least two ships carrying a total of some 90,000 metric tons of diesel and jet fuel have been diverted from their original destinations in Europe to the East Coast, as reported by Reuters on October 14. The vessels carrying 1 million barrels of diesel are due to arrive in New York.
"If I were betting on what happens in the next few months, I would probably bet that diesel prices, along with heating oil and jet fuel and kerosene, are biased towards record high prices. It would be one way of looking at it," said Kloza.
The OPIS analyst said that this is a situation that was caused by low stocks after the COVID-19 pandemic and Russian exports rather than politics, and it is hard for politicians to try to fix.
"There's not much you can do to prepare for very tight supplies of diesel," Kloza said. "So this is going to be a serious issue. I think the White House is monitoring it, but I don't see many levers that they could pull that really might impact the prices because it's a global problem."