Holly Madison made Harvey Weinstein's lawyer her "Hater of the Week" after he tried to call her to testify in Weinstein's defense.
The former Playboy Playmate was discussing the situation on the latest episode of her podcast Girls Next Level. It was revealed on Tuesday by a judge that Madison wouldn't be called to testify during Weinstein's ongoing Los Angeles trial involving actress Ashley Matthau.
The incident at the heart of the trial relates to Matthau accusing Weinstein of sexual battery, as she claims the disgraced Hollywood producer masturbated on her at his hotel in 2003 in Puerto Rico while they were shooting the Dirty Dancing sequel Havana Nights.
Madison discussed her potential involvement in the trial on her podcast, naming Weinstein's lawyer, Mark Werksman (though she didn't mention him by name), as her "Hater of the Week."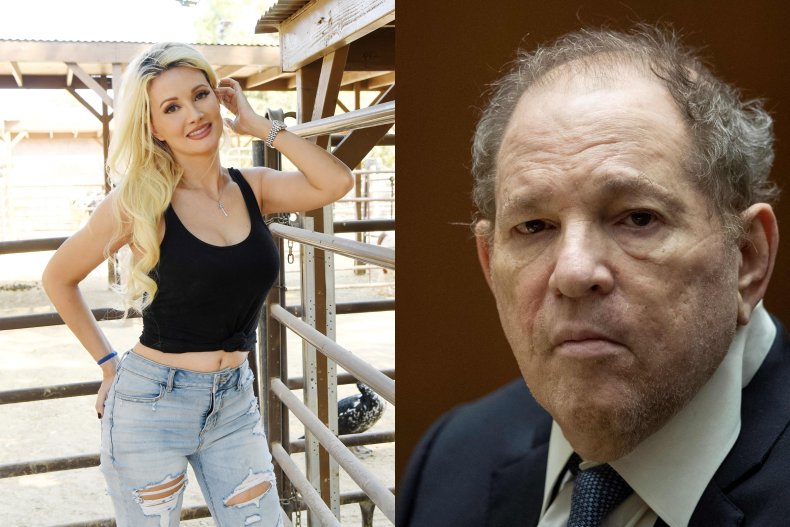 "I would be very willing to testify for the record if I could contribute anything to him being put away," Madison said. She read excerpts from a Variety article to her co-host Bridget Marquardt.
"I know how attorneys work. I know they would put me on the stand and ask me questions that would elicit an answer they could use. Even if that answer was not what I meant, know what I mean?" Madison said.
Madison stated that Weinstein's lawyers are approaching the wrong person if they're trying to make Matthau look bad for attending Playboy Mansion parties.
"They're completely barking up the wrong tree because this person in question was not up there for any like illicit reason at all. First of all, she was up there because she was a friend of the family, she wasn't trying to be in the magazine, she wasn't trying to be with [Hugh Hefner], she wasn't trying to be with any of Heff's friends. She wasn't doing anything up there.
"Her grandfather was Heff's musical director on a show he did back in the '60s. So it was like a friend of the family thing. And also as I've said on this podcast before. The Playboy Mansion parties in the 2000s were just the coolest parties to go to if you were young in LA. It didn't necessarily mean you were going to hook up with someone when you went there," Madison explained.
She paraphrased Judge Lisa B. Lench who ruled against Madison's testimony. "It doesn't matter if somebody went to a party. It doesn't matter what your social life was. That doesn't mean you should get assaulted. So thank god," she said.
The model took issue with a disparaging statement made by Werksman about her. The Variety article reads: "'Holly Madison had been down on her luck financially and used Hugh Hefner as a meal ticket,' he said, noting their age difference." Madison read this passage aloud.
"I know what point he's trying to make. He's trying to turn it around like 'oh the women are the problem. Women are taking advantage of these powerful men,' which is absolute bulls*** obviously," Madison said. "I mean I had been down on my luck financially obviously, but the kind of situation that Heff created and that existed years before I ever came along was one where only women who were financially down on their luck, or needed some help in entering into that situation, because otherwise nobody would having […] stayed."
Looking ahead to the trial, Madison told her co-host what she'll do if the trial gets the result that she was hoping for.
"So they're barking up the wrong tree trying to get anything like that [from me], and when he's found guilty I'm gonna celebrate. I'm gonna get some pizza, I'm gonna get a bottle of Cristal, might go Live [online]. I don't know. I'll just be really happy," Madison said.