A shark responsible for attacking a California swimmer last week has been estimated to be about 20 feet long based on bite marks on its victim.
Steve Bruemmer, a 62-year-old from Monterey, was attacked while swimming off Lovers Point in the city of Pacific Grove on June 22.
Two paddleboarders and a surfer saved his life when they came to his rescue after hearing his cries for help. Together they managed to pull Bruemmer to shore where he received medical attention.
"I was in the ambulance, thinking I don't know if I was going to survive, but at least I could breathe," Bruemmer said in a statement to local news station KION-TV. "Then I don't remember anything for a while."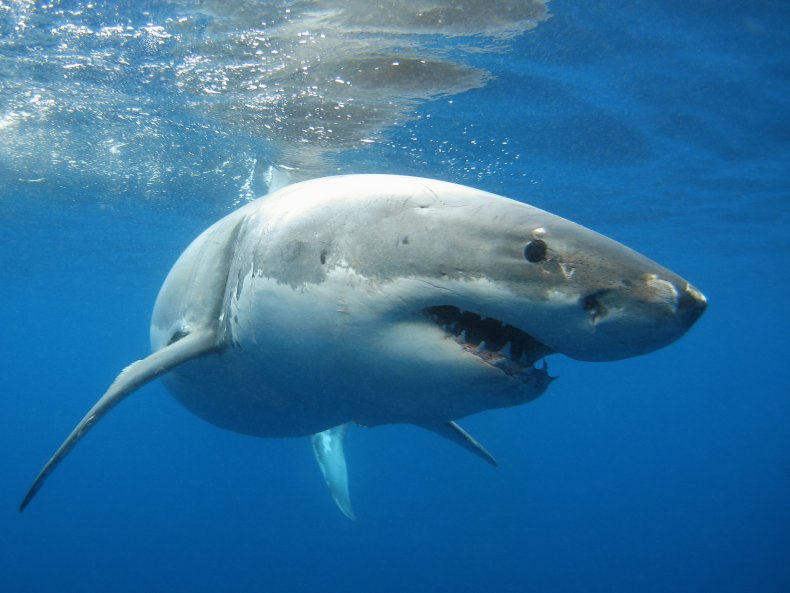 Bruemmer said that doctors told him he lost "a tremendous amount of blood" but the bites he had suffered had not caused any major injuries. He is expected to make a full recovery.
After the attack, the California Department of Fish and Wildlife (DFW) carried out forensic examination of the bites and concluded that the shark responsible was a great white. The DFW estimated that the shark could have been up to 20 feet long based on examination of the bites according to California news outlet SFist. Bruemmer said he was told the same according to news outlet Fox 59.
This would make the shark a particularly large individual since 20 feet is cited as the upper length that great whites can reach, according to wildlife charities Oceana and the World Wildlife Fund.
Great white sharks are perhaps the most famous and notorious shark thanks to their role in attacks on people and their large size. The species is credited with more fatal attacks on humans than any other type of shark and has been responsible for 354 unprovoked attacks around the world according to the Florida Museum's International Shark Attack File on June 27.
However, Oceana states that great white shark attacks are "extremely rare" and that their bites typically end up being a single "exploratory bite" after which the animal realizes that the person is not its preferred prey. Because of the shark's large size though, even these bites can be fatal.
Great whites have a wide distribution and can be found off both the U.S. east and west coasts.
When taking all shark species into account, California is the state with the third-highest number of confirmed unprovoked shark attack reports behind Hawaii and Florida, which has seen the most such reports.
Last year a California shark attack victim spoke out after he was bitten on the leg whilst surfing. He managed to swim back to shore where he was airlifted to hospital.
Earlier in June a great white shark with a suspected gunshot wound was filmed swimming off the southern Califronia coast.

Source : https://www.newsweek.com/great-white-shark-20-foot-california-attack-bite-1719399