A great white shark nicknamed "Ironbound" has been tracked just 40 miles off the Maryland coast.
A tracker fitted to the adult white shark, measuring more than 12 feet in length and weighing just under 1,200 pounds, "pinged" on November 24 at around 5 p.m. Eastern Time, data from marine research non-profit OCEARCH showed,
Scientists from OCEARCH first tagged the shark with a tracking device in the waters off West Ironbound Island, Nova Scotia, Canada, in October 2019. They have been monitoring his movements ever since.
OCEARCH has been tagging sharks all around the world since 2007. The data collected in that time has revealed Nova Scotia is an important hotspot for great whites in the Northwest Atlantic, alongside Cape Cod.
Every year, great white sharks in the Northwest Atlantic tend to migrate south from the waters off Nova Scotia and Newfoundland to the warmer climes around the Carolinas, Georgia and Florida, where they spend the winter.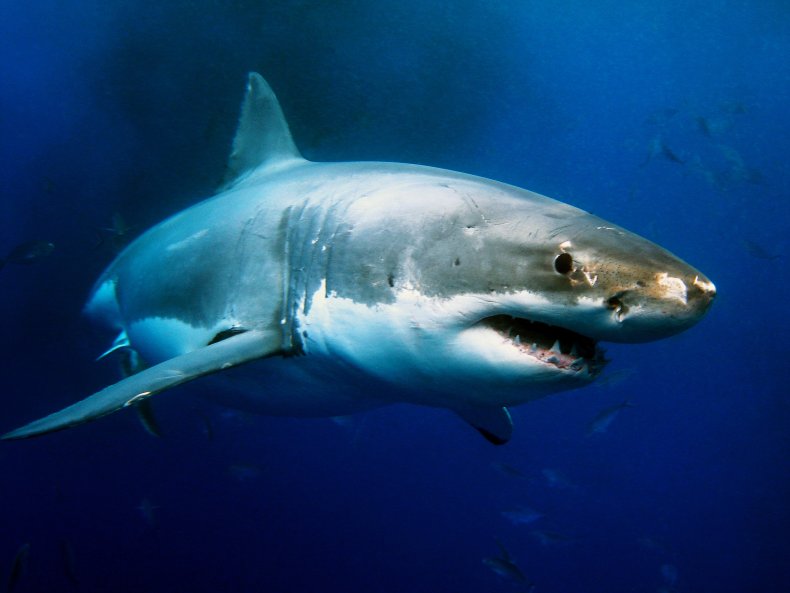 "Most, but not all, species of highly mobile sharks in the Northern hemisphere move southward in the winter as they are following their food," Gavin Naylor, Director at the Florida Program for Shark Research, previously told Newsweek.
OCEARCH is about to embark on its 44th white shark research expedition as these animals migrate toward the Southeastern United States, which will take place between November 28 and December 14.
Currently, the white sharks OCEARCH is tracking are scattered up and down the east coast of North America, with several gathered off the coast of the Carolinas, according to their most recent tracking data.
"Some of our sharks like Cabot and Ulysses are enjoying the last moments of their summer/fall foraging off Atlantic Canada while others like Hali and Andromache have begun their winter residency off of Florida," OCEARCH said in a Facebook post on November 14.
Since first being tagged with a tracking device in 2019, data indicates that Ironbound has traveled more than 16,200 miles, which is equivalent to about two-thirds of the circumference of the Earth.
Over the course of his travels, Ironbound has zig-zagged up and down almost the entire East Coast of North America, from the waters of Nova Scotia to the Florida Keys.
Ironbound has been generally moving southward since the end of October as he appears to be making his way toward the Southeastern United States.
The tracking tags OCEARCH use "ping" every time the dorsal fin of the shark in question breaks the surface of the water. Whenever this happens, the device emits a signal, enabling OCEARCH scientists to pinpoint its location.