Videos shared on social media show the devastation caused by a tornado in the town of Gaylord, Michigan on Friday afternoon that caused significant damage to buildings including local businesses.
The tornado has left one at least person dead and 44 others injured in the city that has a population of around 4,000 as vehicles were flipped and trees were torn down.
Some Facebook users in the local area uploaded videos of what they witnessed to the social media site. Those videos showed the destruction and debris the tornado had caused.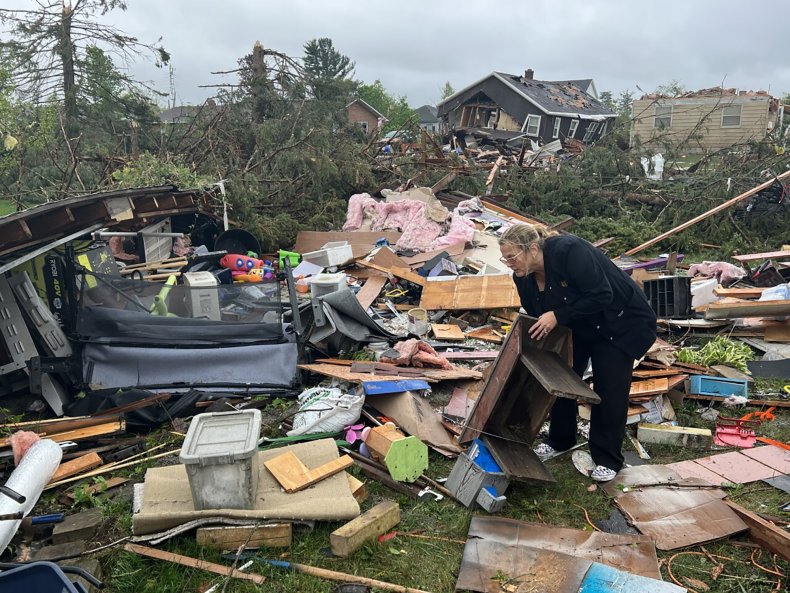 In three videos shared by local resident Mike Young, he explained that his home had been destroyed and he became emotional as he recorded the debris around the area where his trailer had stood.
"I can't find anything but the motorcycle," Young said in one video, showing debris surrounding the bike.
"My trailer used to sit right here," Young said in a second video, pointing behind him. "It's gone. My Harley's over there on the ground. None of this stuff is recognizable. I wonder if it's—a lot of it's my neighbor's stuff."
"It's literally just like it was never here," Young said and panned the camera to show a large amount of debris.
Young said he wanted to try to find some things "but nothing looks like it's mine."
"I don't even know where my trailer's at," he said.
In another video, a tearful Young showed his Harley-Davidson motor bike amid the debris and said: "I wonder if that's the frame to my house. Here's my motorcycle."
In a video shared by Facebook user Mikayla Bradley, high winds can be heard and a nearby tree can be seen blowing in the wind.
Steven Bischer shared a 54-second video to Facebook showing some of the damage caused by the tornado. It showed a significant amount of debris, including on a road, and a large local business sign badly damaged.
"We survived the tornado in Gaylord," Bischer wrote on Friday. "We picked the right store to hide. People stay out of Gaylord you won't get in town your slowing the rescuers down. Took me 1 hour to get out using back streets."
Bischer, who said he is a first responder himself, said he was begging people to avoid the area.
Lt. Derrick Carroll of the Michigan State Police said on Friday that the tornado had torn through a trailer park and a business area in Gaylord and knocked out the power
Michigan State Police had tweeted on Friday: "Trees and power lines blocking roadways. Multiple homes and businesses damaged. Avoid the Gaylord area. Emergency crews are responding."
Governor Gretchen Whitmer has also declared a state of emergency in Otsego County, where Gaylord is located.
"Michiganders are tough. We are resilient. We will do what it takes to rebuild. There's no challenge we can't get through together," the governor said in a tweet.

Source : https://www.newsweek.com/gaylord-tornado-videos-show-total-devastation-michigan-1708828