Fox News is the latest company to become the target of a boycott campaign after it celebrated Pride month.
Calls from conservatives to boycott popular brands including, Bud Light, Target and Hershey's for their partnerships with LGBTQ people or acknowledgment of the LGBTQ community have gained traction over the past few months.
Now, Fox News has earned the ire of some people accusing the media organization of jumping on the "woke bandwagon."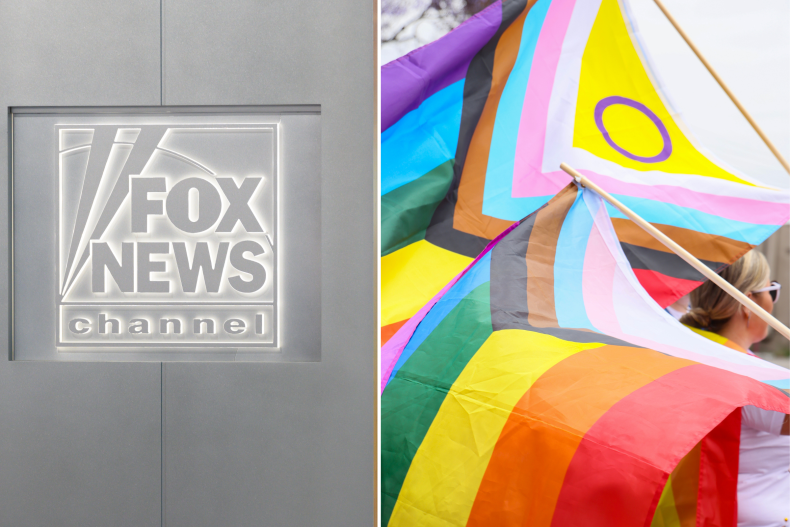 Self-described children's author Matt Walsh went viral when he tweeted a screenshot of a page on the Fox News website that celebrated diversity, including this month's celebration of LGBTQ+ Pride.
Under its "America Together, Celebrating Diversity" initiative, Fox News wrote: "Fox News Media celebrates the contributions to America by the LGBTQ+ community." Other minority groups celebrated on that page include Women's History Month and Black History Month, among others.
But Walsh was not impressed and tweeted: "Your trusted conservative news source is celebrating diversity this LGBTQ+ Pride Month," alongside the screenshot.
That tweet has been viewed 1.7 million times and many people commented in agreement.
"The woke bandwagon beckons," replied one person and another added: "I'm glad I cancelled our Fox Nation subscription. I wish I could cancel it twice!"
Elsewhere on Twitter, some people pointed out Fox News is known to be conservative and previously dedicated many hours to coverage of the controversy surrounding chain store Target. The retail company found itself in the middle of a culture war over its 2023 Pride collection and the inclusion of several trans-friendly clothing items in its collection.
One person wrote on Twitter: "Happy Pride y'all!!! Just wanted to leave these poll #'s on LGBTQ issues here. Which tells me what we already know, Fox News and every MAGAt politician are fear mongering in order to not deal with gun reform or any other major issues that affect the American public."
Another tweeted: "Fox News covered Pride Month displays in Target for more than two hours; by contrast, the network covered a new report detailing sex abuse in the Catholic Church in Illinois for just 22 seconds."
It's not the first time Fox News has come under fire for celebrating Pride month.
In June 2022, the network aired a promotional video to "celebrate Pride month with Fox News" and to "meet important voices of the LGBTQ+ community."
It also aired a Pride month special segment featuring a transgender teenager named Ryland and his family.
But more recently, a Fox news anchor suggested the company's nod to diversity was only there because of state law requirements.
Fox's Harris Faulkner implied in May that the network follows the Diversity, Equity and Inclusion (DEI) guidelines in New York State and may have to follow in the footsteps of fast food chain Chick-fil-A.
"Can they keep the DEI in the front-view mirror, the front of the car, because many states are mandating it now. Here at Fox, other corporations, there will be things they're going to have to change because the state of New York requires it," she said on the show Outnumbered.
Chick-fil-A faced backlash and calls for boycotts after someone discovered the DEI content on its website, even though the initiative has been supervised by a company official for nearly three years.
Faulkner did not elaborate on which state law she was referring to. Fox News told Newsweek in a statement it is compliant with all human rights laws that are mandated by the cities and states where it operates, including New York and California.
As more companies face backlash and lawmakers across the country attempt to introduce anti-LGBTQ legislation, the Human Rights Campaign (HRC) issued a "state of emergency" for LGBTQ people.
The HRC, the U.S.' largest LGBTQ rights organization, cited legislation introduced in 41 of the 50 states as the "worst year on record."
In 2023, more than 525 bills focusing on the LGBTQ community were introduced in different states, with 220 of those bills specifically targeting transgender people.
"The multiplying threats facing millions in our community are not just perceived—they are real, tangible and dangerous," HRC President Kelley Robinson said in a statement. "In many cases they are resulting in violence against LGBTQ+ people, forcing families to uproot their lives and flee their homes in search of safer states, and triggering a tidal wave of increased homophobia and transphobia that puts the safety of each and every one of us at risk.
"Our number one priority will always be ensuring that LGBTQ+ people are safe and have the tools they need to defend and protect themselves against acts of hostility, discrimination and—in the most extreme cases—violence."