Legal experts say an upcoming book authored by a former prosecutor with the Manhattan District Attorney's Office could potentially derail the office's ongoing case against former President Donald Trump for a number of financial crimes by revealing key facets of the case, potentially giving the former president and real estate developer the tools he needs to escape prosecution.
Authored by white collar lawyer Mark Pomerantz, the upcoming book—titled 'The People vs. Donald Trump'—offers insights into Pomerantz's role within the D.A.'s office as he worked to build a case that, eventually, led to the indictment of the Trump Organization and its chief financial officer, Allen Weisselberg.
But it also laid the groundwork for a possible indictment against Trump that Manhattan D.A. Alvin Bragg reportedly declined to fully pursue, leading Pomerantz to resign from the office and write his book.
Bragg has been facing increasing pressure to prosecute the former president for those crimes and has already asked Pomerantz to delay publishing the book so his office could decide whether it imperiled the office's ongoing investigation into Trump.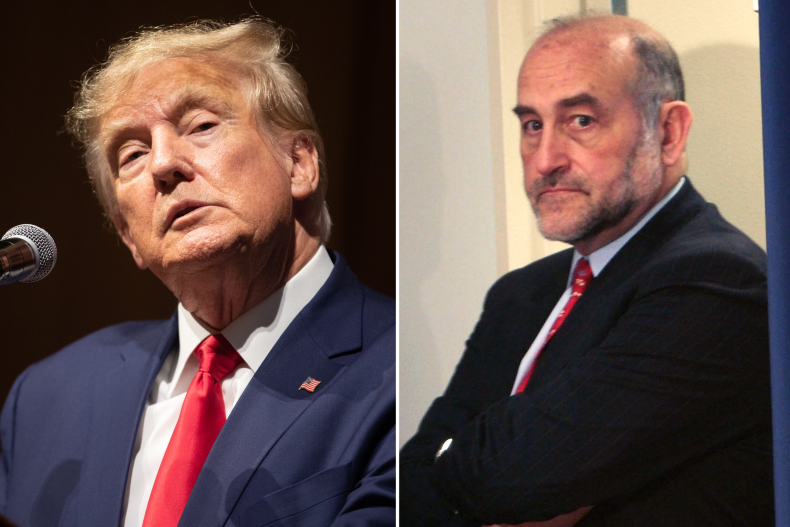 Pomerantz declined, saying he believed the contents of the book were strongly in the public interest, including the fact that, according to Bragg, the Manhattan District Attorney's Office was allegedly just weeks away from filing criminal charges against Trump toward the end of 2020 but apparently backed off after city lawyers working under then-Manhattan D.A. Cy Vance downplayed Trump's alleged undervaluing of his property at 40 Wall Street.
However, many top legal minds who have had a chance to review the book—scheduled for release February 7—have determined Pomerantz's book almost certainly will derail any case against the former president.
Not only did the book outline what some in the office were thinking in developing the ongoing case against Trump, some note, but it also opened an avenue for Trump's attorneys to call Pomerantz as a witness to describe those conversations with Bragg under oath—which those attorneys could use to build a case that Bragg's charges were developed with a clear political motivation.
"If there are Manhattan District Attorney charges, this book will be Exhibit A in all sorts of motions that Donald Trump could make," former U.S. Attorney Andrew Weissman told MSNBC's Lawrence O'Donnell Monday night.
"Having a book written in the middle of an investigation causes all sorts of problems," he added. "That is one of the many reasons that people are upset by the book."
Newsweek has reached out to Pomerantz's office for comment. However, Pomerantz could already be facing severe consequences for breaking the confidentiality agreements that are inherent in the conduct of a prosecutor's work.
On Friday, the Association of Prosecuting Attorneys wrote a letter to Bragg suggesting Pomerantz could potentially be disbarred for revealing confidential case information in the middle of an ongoing investigation, arguing such a book could potentially prejudice a potential jury as well as the entire judicial system against Trump, compromising his inability to receive a fair trial and potentially leading to the outright dismissal of the case.
"Prosecutors hold an office of public trust and have an obligation to preserve the presumption of innocence for every citizen until the facts and evidence have been presented to a judge or jury, who are the only parties allowed in our system of justice to declare guilt," read a copy of the letter obtained last week by the New York Law Journal.
"In addition to prejudicing the rights of a defendant to an impartial trial, any public disclosure of confidential communications can improperly influence the future jurors or judges who may later be asked to decide the guilt of the defendant."